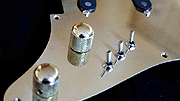 Blog Post Categories

Pages
Recent Forum Posts
Recent Comments
Archives
Links
Meta
Latest updates and news
Tweets by @mk_guitar_com
Tag cloud
Tags
Top Comment Authors
Ingo (421)
Jean-François (166)
Jeff - Anthony (36)
Erik (33)
Fletch (29)
J.Francois (29)
Dermot O'Reilly (28)
Arthur Luz (23)
TheWizzard29 (22)
zach (22)
John (20)
Knopfleberg (20)
Philipp (19)
Eduard (18)
Morten (17)
danny (14)
Jim (14)
thomas (13)
Alex Mircica (12)
Lapelcelery (12)
Chris (11)
Ryan T. (11)
David (10)
liftedcj7on44s (10)
dave (9)
Posted in: Guitars by Ingo on March 13, 2013
With the help of my Dream Machine-style  pickguards and the Dream Machine brass tremolo I was able to built myself a kind of Schecter Dream Machine Strat (the one I compared to Mark Knopfler's sunburst Schecter Dream Machine in these videos). What I am working on at the moment is a range of products for the Telecaster to upgrade any T-style guitar to a Telecaster Dream Machine, or to build one from scratch with aftermarket bodies and necks.
I already have the brass or white enamel aluminium pickguards, and the tapped Telecaster Dream Machine pickups will come any day now – the final prototypes I have are really great :). I decided to install these into two different guitars: one will be a project with a genuine Schecter vintage neck and a fine one-piece mahogany body. The other project is based on a  neck and body I just found on ebay for really little money, it just looked right (with a kind of sunburst very similar to the one on Mark's Schecter Strat), and a neck without dot markers. When these arrived I was pleased to find out that both are very light and seem to be very resonant (knock, knock,..

) so this second project seems very promising as well.
I already started to plan a brass Tele Dream Machine bridge and will likely also produce some control plates in brass. As it seems I will put golden hardware on these two projects, but I will also release a chromed version for those who want to build their own Walk of Live Tele

I will report about building these two with a little blog post series, with this post being the first, and others to come as the project advances. Here are some pictures of what I already have:
To be continued, stay tuned …
"Buy me a beer" - donate for the site via PayPal. Or buy a backing track in my online shop :)
Related articles
6 comments to "Building a Telecaster Dream Machine"