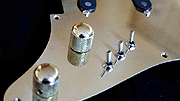 Blog Post Categories

Pages
Recent Forum Posts
Recent Comments
Archives
Links
Meta
Latest updates and news
Tweets by @mk_guitar_com
Tag cloud
Tags
Top Comment Authors
Ingo (421)
Jean-François (166)
Jeff - Anthony (36)
Erik (33)
Fletch (29)
J.Francois (29)
Dermot O'Reilly (28)
Arthur Luz (23)
TheWizzard29 (22)
zach (22)
John (20)
Knopfleberg (20)
Philipp (19)
Eduard (18)
Morten (17)
danny (14)
Jim (14)
thomas (13)
Alex Mircica (12)
Lapelcelery (12)
Chris (11)
Ryan T. (11)
David (10)
liftedcj7on44s (10)
dave (9)
I guess most of you know that the value of the volume pot  affects the sound of your pickups. I already wrote a blog post on this some time ago – please refer to this to understand terms like 'resonance peak' and what it means for the sound. Today I will cover some more details of this phenomenon, especially with regard to Mark Knopfler's guitar sound.
Does only the volume pot matter or the tone pot as well?
This was really a valid question for me which I was unsure about myself. Of course a smaller value tone pot – e.g. 100k instead of 250k – will act like the 250k pot set to something like '9' instead of '10' even when turned fully up. But here I am talking about a possible effect on the height of the resonance peak of the pickup.
From a technical point of view (skip this part if this is nothing for you), I had reasons to believe that it does not, and also some reasons to believe it does. This is because the tone pot – unlike the volume pot – does not bridge the hot wire directly to ground but does so via the tone capacitor. If you measure the total load of both pots to the pickup, your meter will only show the volume pot value (this is because the capacitor does not pass DC). This was reason to believe it does not affect the resonance peak height. However, a guitar produces AC (alternate current, DC is direct current), and the tone pot passes AC more or less (depending of the AC frequency, and at the frequency where the resonace peak of a pickup sits –  some kHz – it passes AC even very well). This is reason to believe it affects the resonance peak height.
I could not find the answer easily in the web, so I simply decided to measure it myself. I found that the tone pot DOES MATTER, equally to the volume pot. For this reason, we need to look at the total load that both pots put on the pickup (two resistors in parallel – this is what the pots are – combine due to a special formula, two identical values will result to half the value – 2 x 250k to 125k – but e.g. a 250k and a 500k will result to 167k). Theoretically, the AC resistance of the tone capacitor has to be considered in the equation as well, but this results to changes < 1%, so I left it out.
Load of the guitar pots for different guitar types
Here I list the load of both pots for the various guitars that are relevant for us MK fans.
small value – soft and sweet (or muddy, depending on the other settings)
high value –  bright (or harsh, depending on the other settings)
Fender Strat (any pickup combination except middle & neck or bridge pickup only)
2 x 250k
125k
Fender Strat (bridge pickup only)
1 x 250k
250k
Fender Strat (middle  & neck pickups together)
3 x 250k
83k
Schecter Dream Machine  (Strat or Tele)
2 x 500k
250k
Fender Tele (>1967, e.g. the black Water of Love Tele)
2 x 1000K
500k
Fender Tele (<1967, e.g. Mark's sunburst Tele Custom)
2 x 250k
125k
Les Paul (bridge or neck pickup)
2 x 500k
250k
Les Paul (bridge & neck pickup)
4 x 500k
125k
 Total load  for different guitars and effects/amps setups
Besides the load of the guitar pots, the load of other devices in the signal chain also matters. These will combine with the load from the pots following the same formula (parallel resistors). However, not all effect devices matter, only those up to the first in the chain that transforms the signal to a low output impedance (most effects will do, even when switched off, but some, e.g. the volume pedal, do not).
small value – soft and sweet (or muddy, depending on the other settings)
high value –  bright (or harsh, depending on the other settings)
Fender Strat (125k) into rack or tube amp or through Active Lead cable (1996 – 2001 tours, 1000k)
111k
Schecter (250k) into rack or tube amp or Active Lead (1000k)
200k
Live in 1979: Fender Strat (125k) into Morley volume pedal (68k) into MXR Analog Delay (500k )
40.5 k
Water of Love Tele (500k) into Morley (66k) into MXR (500k ?)
53.5k
Making Movies album: Schecter (250k) into Music Man (319k )
140k
Alchemy: Schecter (250k) into Nady Guitar Transmitter (500k ?)
166k
Studio: Fender Strat (125k) into Ernie Ball volume pedal (250k) into rack (1000k ? )
77 k
Les Paul (bridge or neck pickup) into Ernie Ball volume pedal (250k) into tube amp (1000k)
111 k
The effect is less pronounced with a Les Paul but still existing (the resonance peak is less strong than with single coils). On guitars with active pickups, e.g. the Pensa/Suhr MK 1, the pots and other loads do not matter at all.

 Can I get any benefit of this and shape the sound of my guitar with my setup
Here is a good and very short answer: yes! You can decrease the load value by simply adding a small resistor – a part for a few cents – into the signal chain to emulate other values in the list above. The resistor connects hot and ground, and can sit anywhere in the signal chain, e.g. between the hot wire and ground on the volume pot, between hot and ground at the output jack, or in the guitar cable plug.
You can use an online resistor calculator like this one to calculate the value you need. Simply put the value of your guitar alone (see list above), for your first effect(s) or amp (you will find most values in the list above as well), and for the resistor into the fields of the online calculator, and press 'calculate'. Change the value of the resistor until you reach the target value for the sound you are looking for, found in  the second list above.
Example: you have a normal Strat (125k) that you play into a tube amp (1000k, try 500k for a non-tube amp), and want the soft MK 1979 live sound (Strat, Morley, MXR -> 40.5k). Enter 125 and 1000 into the first fields and some start value into the third, calculate, clear the result and change the resistor value until you get near 40.5. In this example you will need anything about 50k. Buy a 50k resistor – the smallest wattage, usually 0.25W will do, more will not hurt either – and put it into your guitar, or into the plug of a dedicated guitar cable for this sound.
If you want to increase the value, you can exchange the pots in your guitar, or put a standard effect device (500k or 1000k input impedance) before e.g. your passive volume pedal (250k for an Ernie Ball, 68k for a Morley). This way the volume pedal value can be neglected, only the one of the effect will matter.
I might make a future video to demonstrate the change of sound with different values, check out.
"Buy me a beer" - donate for the site via PayPal. Or buy a backing track in my online shop :)
Related articles
A few days ago I wrote a blog post in which I compared the first Sultans of Swing solo played with 010 strings and with 009 strings. With today's blog post I want to have a closer look at some details of that sound: I recorded a video to compare lots of different pickup combinations, and to compare 009 to 008 strings. I used the same Japanese Strat copy with the Sultans pickguard with VFS-1 pickups. This way I could emulate sounds that Mark might have created with both Fender pickups or with his DiMarzio FS-1. I recorded the guitar directly into the desk, using the same setup as the last time. Maybe I should have used an amp and mics to get a more authentic sound, this way Mark's version always sounds much better (well, his would still sound better if I had used an amp anyway

). If you have questions about the setup and effects and such, refer to the last blog post.
I compared a few licks with Mark's original, using the guitar track that came available with the Guitar Hero game. I must say that after listening to so many pickup versions, it is not easy to judge which one is best. Depending on the speakers or the listening situation, sometimes this one sounds best, and then again another one. Please don't forget that
I setup a poll again so that you can judge for yourself, and also see what others say. I only included the combinations that seem to be most likely, if you prefer something not mentioned here, let us know using the comments for this blog post.

Loading ...
As most of you voted for the thinner strings last time, I decided to go more into the details here.  A the end of the video I am also comparing 009 and 008 strings. Remember, we have a hint that Mark used 008 strings. As both sets share a 011 b-string, I contrasted some single tones on the g-string and on the high e-string. I was surprised to hear how those ultra-thin strings sound, but listen for yourself. I also made a poll for the strings:

Loading ...
"Buy me a beer" - donate for the site via PayPal. Or buy a backing track in my online shop :)
Related articles
Listening to Sultans of Swing in 1979 was one of the reasons I started to learn the guitar. From this time on I wanted to get that magic guitar sound. One major component for a guitar sound is the right string gauge. I guess you all have heard about using heavier strings to get a fuller sound. On the other hand thinner strings are easier to play, and they give you a different kind of attack which can be nice as well.
For most of the big guitarists we know which brand and gauge they played during the different stages in their career. Of course we know a lot about Mark Knopfler's strings, too, but unfortunately there is almost no information about his strings during the time of the original Dire Straits setup. And the guitar sounds of the first two albums are still the holy grail for many of us. Check this blog post for the earliest info we have, including the possibility that Mark played 008 strings.
I personally change string gauge periodically. After playing thin strings for some time I start to miss something and sooner or later I change to heavier strings, and with heavier strings the same is true so that I go back for thinner strings again.
This is why I recorded a video today in which I play the first Sultans solo with heavier and thinner strings for a side by side comparision.
I used a 1983 Japanese Squier Strat on which I installed the Sultans pickguard with the VFS-1 pickups. It seems Mark played a DiMarzio FS-1 (13k!) in the middle position of one of his two Strats  in early 1978, combined with a normal Fender pickup at the bridge. With the 'Sultans' pickguard I can switch each of the three VFS-1 pickups individually to the DiMarzio or Fender sound. This is great as with a DiMarzio in the middle I would get new sounds but at the same time would lose not only the normal middle pickup sound but also certain flavours of  the traditional bridge & middle sound. The same is true for a DiMarzio in the neck position – this is where Mark's DiMarzio went to in October 1978. With the Sultans pickguard I have all these combinations, all normal Strat sounds plus any DiMarzio/DiMarzio or DiMarzio/Fender combination. 26 different sounds!
I put new Fender 'regular' nickel strings (010 -013-017-026-036-046) on the guitar and recorded the solo over the backing track. Then I changed the three unwound strings to 009-011-015 and recorded it again (with some subtle volume and EQ adjustments to match the differences). I left the bass strings so that I do not have to adjust the trussrod on the guitar and do a complete new setup. I did not try with 08 strings (008-011-014) as these should be similar to the 009s. If the 009s sound clearly better, I thought to examine the difference between a 008 and a 009 and a 014 vs. a 015 later.
I recorded the guitar straight through a treble booster into the mixing desk. You normally need a trebly amp setup (e.g. a vintage  Fender or a Jazz Chorus) with a lot of reverb for this sound, plus a little bit of chorus. I added these ingredients in the recording software, just for convenience. Of course I cannot get the original sound 100% this way, as it requires a tube amp, some good microphones, a great recording room,  a 1961 Strat, and more, but I was hoping to get something close enough to judge the strings.
So which string gauge sounds closer to the original sound? – I must admit I am lost a bit here. I first recorded with the 010 strings and felt that something was missing. With the 009 strings I felt it was better during recording. However, when I listen to what I recorded later I am not sure anymore…
Maybe you should judge for yourself. You can let us all know which you think is better with the poll below, or use the comment option below this blog post to share your thoughts.

Loading ...
"Buy me a beer" - donate for the site via PayPal. Or buy a backing track in my online shop :)
Related articles