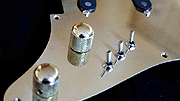 Blog Post Categories

Pages
Recent Forum Posts
Recent Comments
Archives
Links
Meta
Latest updates and news
Tweets by @mk_guitar_com
Tag cloud
Tags
Top Comment Authors
Ingo (421)
Jean-François (166)
Jeff - Anthony (36)
Erik (33)
Fletch (29)
J.Francois (29)
Dermot O'Reilly (28)
Arthur Luz (23)
TheWizzard29 (22)
zach (22)
John (20)
Knopfleberg (20)
Philipp (19)
Eduard (18)
Morten (17)
danny (14)
Jim (14)
thomas (13)
Alex Mircica (12)
Lapelcelery (12)
Chris (11)
Ryan T. (11)
David (10)
liftedcj7on44s (10)
dave (9)
Today I was just sitting around and playing bits and pieces of Setting me up from the first Dire Straits album. As the camera and recording gear was still in place from the last video, I spontanously decided to film a short sequence.
It is not really a performance of the song in the sense of playing the right pieces in the proper order but rather some jamming with myself within the groove of the song. In such a situation I usually play a mix of original licks from both the studio version and numerous live versions which I have somewhere in my head, plus some improvisation, so it is not an authentic version of the original. Still there are many riffs you will recognize from the record and might be interested to see how I play them.
The guitar is my 1983 Squier Strat from the first Japanese vintage series. These are really great guitars with a nice sound. Unfortunately they are getting rare, especially the fiesta red ones, and prices have started to rise considerably.
I replaced the original pickguard with a Sultans pickguard with the VFS-1 pickups. Here I am playing the bridge pickup in the tapped position. The guitar has 008 strings and is tuned to open A.
I did not use an amp but played into a portable PCM recorder, and added some basic effects (reverb, compression, dealy… plus some slight phasing) in the recording software. This approach is just for convenience, as I don't have to mess around this way with the amp settings, mic positions etc.
"Buy me a beer" - donate for the site via PayPal. Or buy a backing track in my online shop :)
Related articles
With the following video I was trying to demonstrate the basic sound difference between a vintage Schecter Dream Machine and a 'traditional' Strat.
The Dream Machine is from about 1980, it has a Koa body and a one-piece Pau Ferro neck. The three pickups in the brass pickguard are the tapped F500T's. It has s a hardtail brass bridge.
The Strat is a 1983 Japanese vintage Squier Stratocaster, unmodified.
Of course the amp & effects settings are 100% identical for both guitars. Also they both have new strings of the same brand and gauge (Fender 09 – 40). Each of the three pickups on the Schecter can be switched to the 'normal' coil (tapped) or the overwound (full) coil but I will only use the tapped pickup positions of Schecter in this video, as these are more comaparable to the Fender pickup sound.
Beside the sound difference, note that there is less hum and noises with the Schecter as the metal pickguard and the copper tape around the pickup coil provide a better shielding.
"Buy me a beer" - donate for the site via PayPal. Or buy a backing track in my online shop :)
Related articles