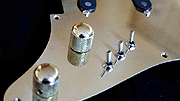 Blog Post Categories

Pages
Recent Forum Posts
Recent Comments
Archives
Links
Meta
Latest updates and news
Tweets by @mk_guitar_com
Tag cloud
Tags
Top Comment Authors
Ingo (421)
Jean-François (166)
Jeff - Anthony (36)
Erik (33)
Fletch (29)
J.Francois (29)
Dermot O'Reilly (28)
Arthur Luz (23)
TheWizzard29 (22)
zach (22)
John (20)
Knopfleberg (20)
Philipp (19)
Eduard (18)
Morten (17)
danny (14)
Jim (14)
thomas (13)
Alex Mircica (12)
Lapelcelery (12)
Chris (11)
Ryan T. (11)
David (10)
liftedcj7on44s (10)
dave (9)
Posted in: Misc by Ingo on March 25, 2016
With this blog post I want to recommend a free Android app that I use myself not only for listening to music but also for figuring out licks, riffs, or lead stuff. It is the AB Repeat Player.
The feature I love most on it is not the one that gave it the name – the ability to define two loop points – but the three 'Jump' buttons. These are labelled with 7,5 / 5 / 2.5 and simply make the music jump back for 7,5 / 5 / 2.5 seconds as soon as you press one of these. You are listening to e.g. a fancy Mark Knopfler guitar lick, thinking 'Wow, what was that?' – press one button to hear it again. This is to me the best solution, as rewinding or moving the position slider in other apps is very inaccurate and take too much time. You can also combine the three buttons or press one of them several times, e.g. press the 7.5 seconds button twice to jump back for 15 seconds to repeat a longer part.
The rest of the app is fine, too – it simply does what you expect of a music player app.
Here is the feature list:
* AB Repeating Function (Ad hoc and saved)
* AB Points post-adjustment Function with "Check Mode"
* Interval (Pause) between AB Repeats
* Easy traverse inside A and B points
* Easy to play recorded A and B points list.
* Customizable three Jump Buttons
* Bookmark Function (Ad hoc and saved)
* Bookmark position adjustment function with "Check Mode"
* Unlimited recording of AB points and Bookmarks
* Editable list of AB points and Bookmarks
* AB points and Bookmark database clean up
* Backup and Restore of AB points and Bookmark database
* Display order in AB points and Bookmark list. Creation date, name and A point with reverse order for each.(New)
* Mp3 Lyric Display.(Font size and previous position memory)
* Playlist (same as Google's standard media player)
* Setting to the Ring Tone (same as Google's standard media player)
* Shuffle modes (same as Google's standard media player)
* Search (same as Google's standard media player)(Enhancement: can be invoked from menu)
* Artwork Display (same as Google's standard media player)
* Audio and Video Support
* Automatic pause/resume on received calls.
* Automatic pause on headset unplugging.
* Controls by Bluetooth.
* SD card installable for Android 2.2 or later.
* Database Migration to a new device.
* Sleep Timer
* Float Pad: Translucent Control Button Pad floating over any other apps.
* Saving the sound between AB as a ringtone, alert, Ankidroid flashcard sound and othe
"Buy me a beer" - donate for the site via PayPal. Or buy a backing track in my online shop :)
Related articles
On April 18, 2015, some 'historical' Dire Straits recordings were officially released for the first time – four tracks from the 'Honky Tonk Demos', a demo tape the band recorded in July 1977. These were the first recordings of Dire Straits at all, five tracks recorded in a little London studio for a demo to help get a record deal. The four songs released now are Wild West End, Sultans of Swing, Down to the Waterline, and Water of Love. The fifth song from the original tape, a David Knopfler composition called Sacred Loving is not included unfortunately.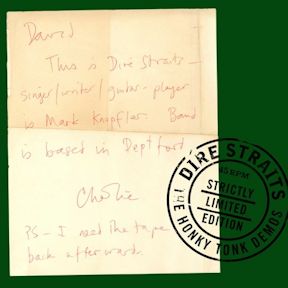 Only the Sultans of Swing version has been available before: it was released on a sampler called 'The Honky Tonk Demos' on vinyl, and later also on CD. The other songs were only available from two bootleg sources: one was a tape I got from a friend in the early 80ies, and the other was the silver CD bootleg 'Early Demos'. The quality on both was rather bad, only mono, and a poor frequency response. The CD bootleg was even about 8% too fast and almost 'unusable' for this reason.
Some notes on guitar aspects
With this blog post I want to concentrate on some guitar aspects of these recordings, mainly on some details we can hear now for the first time.
Down to the Waterline: I already mentioned that both bootleg sources were only mono. What we did not know was that they were not both stereo channels to one mono channel but in fact only the left channel of the original stereo recording. In other words, all information of the right stereo channel was not included on the bootlegs, e.g. David's rhythm guitar is mainly on the right channel and was hardly audible for this reason. David plays a 16th-rhythm similar to the later version from the first album but here without the phaser.
The lead guitar on the left channel should be Mark's 1961 Strat(he got his other Strat later in 1977) which was not red yet but had a wood finish. This should be the bridge & middle pickup combination. Unlike on the first Dire Straits album, the whole demo features hardly any compression on the guitars so whe hear Mark's guitar with a wide dynamic range.
The demo version features a third electric guitar that only comes in with some chords for the bridge solo part in the middle of the song. This is probably Mark on guitar, and it might be the neck pickup of his Strat.
Sultans of Swing: As this one ws available in even CD-quality, there is nothing new to discover here. The guitar is also the 1961 Strat with what sounds like the middle pickup. Unless Mark dialed in a very bright amp setting, it does not sound like the hot 13k DiMarzio FS-1 pickup that Mark had in the guitar later.
While it seems that Mark played all three electric guitars on the album version, the right rhythm guitar here should be David's.
Wild West End: Just like on the album, we have an electric lead guitar (Mark), the rhythm on the National (Mark), and an acoustic rhythm guitar (David). The lead seems to be the bridge & middle pickup again. While the acoustic guitar only plays some rather rudimentary chord work on the album, we have a more steady rhythm here.
Water of Love: The bottleneck lead guitar is a National, just like on the first album. I guess it is not his famous Style-0 but his Tricone National from the late 1920ies.  This guitar is more on the right stereo channel and can be heard much better for this reason than on the bootleg sources. As the quality on the bootleg is very poor, I was not sure if it is a National or even an electric (as on stage) but now it is clear.
Just like on the album, Mark played a second guitar but now it is an electric instead of the acoustic on the official album version. David plays acoustic rhythm guitar.
The picture
On the inner sleeve of the double vinyl single we find one of the earliest Dire Straits pictures, from the gig at the Clapham Common bandstand on September 10, 1977. This plus some more pictures from the same gig have been released before but in much worse quality. We can definitely see the wood grain on Mark's Strat body, which was not red yet.
David seems to play the 'Water of Love' Telecaster thinline. To me it looks (?) as if it still has the original finish here, with a white or pearloid pickguard (later the body holes were filled, and the body and also the pickguard (!) were painted black).
"Buy me a beer" - donate for the site via PayPal. Or buy a backing track in my online shop :)
Related articles
Posted in: Misc by Ingo on July 31, 2014
J.J. Cale – who sadly died last year – has been a huge influences for Mark Knopfler.  Especially for the early Dire Straits sound, J.J. Cale was probably the biggest influence at all. So it is no wonder that Mark appears on the tribute album The Breeze that was released on July 25. The project was organized by Eric Clapton, so the official artist is "Eric Clapton & Friends". Mark sang and played guitar on two tracks, Someday and Train to Nowhere. These were recorded at Mark's British Grove studio in London.
While the other "friends" – illustre names like Eric Clapton, Tom Petty, John Mayer, Willie Nelson, and more – all covered some of J.J. Cale's best-known 'hits' , Mark decided two cover two rare and unknown songs, which in fact only exist as unreleased demos.
Someday is a very typical J.J. Cale song but it is really astonishing how much Mark can make it sound like J.J. Cale, not only the guitar sound but especially the vocal style on this song is so close that I can easily imagine to hear J.J. Cale himself. Mark seems to play one of his Strats with a clean sound, played very 'laid-back'  – the 'official'  term to describe J.J. Cale's  cool and relaxed playing, where the notes are played almost 'behind the beat'.
The chords (one verse / solo) of Someday are:
Dm  Dm  Dm  Dm G  G  Dm Dm
C  G  Dm Dm
G  Bb (1/2) C (1/2) Dm Dm …
Train to Nowhere is a typical 'one-chord groove song' – the one and only chord being C. Mark plays a rhythm riff and sings the vocals except on one of verses which features Don White. Between the verses Mark plays a few solos and licks, also with a clean guitar sound. Also a nice one.
You can buy the album and listen to a preview of all songs here on Amazon.
"Buy me a beer" - donate for the site via PayPal. Or buy a backing track in my online shop :)
Related articles
I am planning various new products and projects for the next weeks or months, and just thought you might be interested in what is coming. I must say I found myself involved in more and more different ideas lately, but as what is basically a "one-man company" it is often difficult for me to keep them all going at the same time. Whenever I dig more intensively into one thing I have to delay other projects but – well, I think this is the way things simply are. So what is going on?
MK61 pickups
There are probably enough companies who make clones of pre-CBS Fender pickups but I found that the pickups in Mark's red Fender Strat of the early Dire Straits era had some unique features that I would like to have for my personal guitar as well (to be precise I should say the pickups in Mark's greenish pickguard – the one with the black volume knob – as he used to swap this pickguard from one of his two Strats to the other frequently). It seems that other fans often like the same stuff as me – no wonder, we all want the same sound – I thought to offer these to everyone. What I am talking about is a Strat pickup that is not only a faithful replica of a 1961 Fender pickup but also has all  features that differ from pickup to pickup – like pole pieces height for example – as close as they were in Mark's guitar. It's a bit too early to tell what other details I have in mind, but there will be some that make not only an cosmetical difference but also a subtle sound difference. Planned for summer 2014.
Walk of Life Telecaster set
You know that I have the Walk of Life pickups – replicas of the tapped Schecter pickups of the Van Nuys era Dream Machine Teles, and I already offer brass or white aluminium pickguards for such Tele clones. You need two push/pull potis to switch the pickup taps, and do some soldering for these. So I am planning to offer pickups and the metal pickguards as a set including the control plate (of course from brass like Schecters then) with all controls and switches already wired. So it is easy to turn any Tele style guitar into a Dream Machine copy with the sound of these. One set will have the golden brass pickguard and control plate, another one the white aluminium pickguard with a chrome plated brass control plate. Planned for summer 2014.
Walk of Life Telecaster bridges
A major part of the Dream Machine sound comes from the brass bridges that I already offer for the Strat. We still need a brass Tele bridge with the typical brass saddles to get the real Walk of Life sound. These will be available in brass and chrome-plated brass. Coming summer 2014.
Serial number plates
So many of you built yourself Dream Machine clones but a nice little detail to have might be the matching serial number neck plate. Maybe we are moving more into the "mad fans only" area here, but many of you already asked for these so I thought to offer them not only with the different serial numbers of Mark's most important Dream Machines (of course of brass or chrome-plated brass) but also for the red Fenders of the early Dire Straits days (chrome-plated steel). Also hopefully available in summer 2014.
Van Nuys Dream Machine style bodies
Mark's Dream Machine Strats all had bodies from rather unusual woods, and not from ash or alder like Fenders. But not only the kind of wood was different. Did you sometimes have the impression that for example the horns on Mark's guitars were somewhat different, or other contours? In fact the horns, the cutaways, the edges, the forearm and belly contours, even the size was different on the Van Nuys Dream Machines. I am not talking about drastic differences but about many details, some subtle,  some rather clear. As it seems bodies with these specs are not available anywhere, I thought to produce some by myself, of course from high quality tone wood. I already have the first prototypes

Probably I will offer them unfinished and finished. With the unfinished bodies you can not only see the wonderful wood, you can also let it be finished by yourself in the quality (nitro, poly,..) you want, or are willing to pay. In fact the original nitro finish is very expensive as it is extremely labour intensive ( I heard Fender estimates nitro finishing costs at about one third of the price of the complete guitar). I might offer them with such a high quality finish neverthelessl. First bodies (unfinished) might be available in summer 2014.
And before you ask for matching necks (birdseye maple): yes, makes sense, we will see ..

Loaded Dream Machine Strat pickguard in chrome finish
In addition to the loaded brass, white and black enamel aluminium loaded pickguards, I will produce some with chrome plating. However, as there seems only little demand for this non-Knopfler related finish, these will be limited, with more in case of a demand for more. Summer 2014…
Guitar tutorial DVD
Many readers asked me for tutorials, e.g. for the MK style right hand techniques.  I thought to start with these on a DVD, but still cannot say for sure when this will be available. Possibly autumn 2014.
"Buy me a beer" - donate for the site via PayPal. Or buy a backing track in my online shop :)
Related articles
This week I had the pleasure to work an a Schecter Dream Machine. It is a really lovely hard-tail Strat with gold hardware. I am not sure about the wood (none of the codes that normally identify these) but the neck might be Pau Ferro ("Bolivian rosewood"). I am rather lost with the body, maybe ash that is stained, or Shedua, walnut,… ?? Any help is welcome so use the comment function to let me know what you think.
The main "problem" with the guitar is that the pickups have been replaced with some kind of  Seymour Duncan Hotrail humbuckers – surely good pickups but at leat not my cup of tea for a Dream Machine. The Hotrails required a completely different wiring of the mini switches and also the addition of two push-pull switches. To be honest, I did not fully understand the way the up and down positions of the mini switches were combined with the two push-pull potis.
As I had a set of original F500T pickups waiting for a guitar like this, it was no question that these two had to come together.
In the following you will find a photo tour that  demonstrates the work –  hoping some folks will find it interesting or useful.
After assembling the pickups – it was a complete set with all wires still being taped together – I found it impossible to follow which wire end belongs to which of the three pickups. I connected a volts meter and touched the pickups with a screwdriver until the meter reacted to identify the corresponding pickup.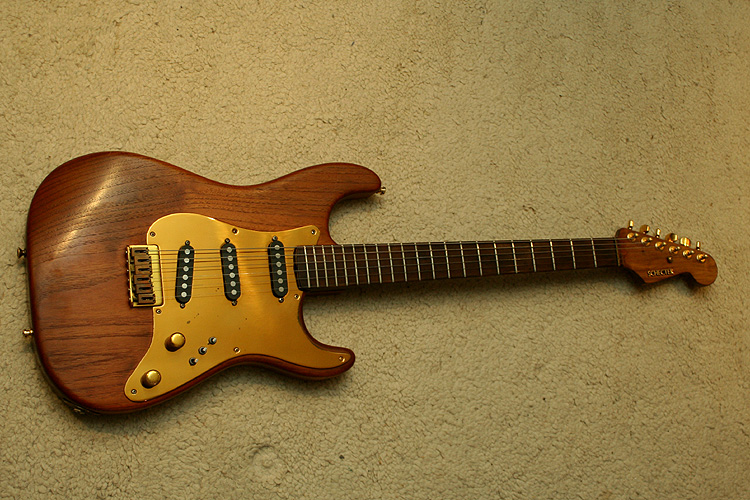 Watch out for more details and pictures of this wonderful guitar in a future blog post.
"Buy me a beer" - donate for the site via PayPal. Or buy a backing track in my online shop :)
Related articles
Older Posts »