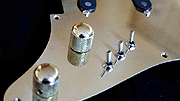 Blog Post Categories

Pages
Recent Forum Posts
Recent Comments
Archives
Links
Meta
Latest updates and news
Tweets by @mk_guitar_com
Tag cloud
Tags
Top Comment Authors
Ingo (421)
Jean-François (166)
Jeff - Anthony (36)
Erik (33)
Fletch (29)
J.Francois (29)
Dermot O'Reilly (28)
Arthur Luz (23)
TheWizzard29 (22)
zach (22)
John (20)
Knopfleberg (20)
Philipp (19)
Eduard (18)
Morten (17)
danny (14)
Jim (14)
thomas (13)
Alex Mircica (12)
Lapelcelery (12)
Chris (11)
Ryan T. (11)
David (10)
liftedcj7on44s (10)
dave (9)
I often get emails from people who ask me for help with playing some particular Mark Knopfler stuff, for tutorial videos, or for personal video tutoring via e.g. Skype. In fact I have been thinking about this for some time but am not sure yet in which direction to go (DVDs, online tutoring,…), or how many fans are out there who might be interested in this.
If you are interested you can help me to get this clear and do this quick survey. If I see that there is much interest, I will put more effort in preparing this stuff and get something running soon.
Just tick the best answer (or several answers). There are some text fields where you can enter additional information in case none of the provided answers matches your needs, or to leave a comment or make suggestions.
You can leave out any of the individual questions if you feel to.
(Sorry, the layout of this survey is not ideal yet – need to find the associated CSS styles and edit these… –  but it should be alright for now.)
Online Guitar Tutoring
"Buy me a beer" - donate for the site via PayPal. Or buy a backing track in my online shop :)
Related articles
I recently realized that I used to play the foghorn chord wrong (the very first notes  in the intro of Down to the Waterline). I played those foghorn sound on only the two lowest strings – this way I explained it in a Youtube tutorial on Down to the Waterline. In fact  it is played on three strings. Not a big deal, and I guess many of you were already aware of this, but for me it was again one of those little bits that make such a nice effect, and I simply did not think about it at all before. By the way, the same chord appears in the intro of Radio City Serenade on Mark's Privateering album.
The chord consists of the notes B, F, and A. With B being the root nore, it is a B7b5 chord (the F is a semitone below the fifth note of a Bm chord – the F# – and thus denoted as b5, while the A is the 7th). It is mainly the b5 that makes the mysterious, misty foghorn association. The interval from the B to the F is a so-called tritone. It was called the 'Diabolus in Musica' (devil in music) centuiries ago, and was avoided, almost banned, as it was regarded as evil. Tritone means three whole notes. The tritone divides an octave in two identical intervals, in other words,  B – F is a tritone, and so is F – B.
"Buy me a beer" - donate for the site via PayPal. Or buy a backing track in my online shop :)
Related articles
In the following you will find a tab of a lick in the song Bluebird from Mark Knopfler's last album Privateering. It is the lick the last solo starts with (2:40 – 2:43). I like this lick because I thought it sounds unusual and thus interesting  when I first heard it. While I often immediately know on what scale or idea a MK lick is based when I hear it, I was lost a bit with this one. I was assuming something chromatic and was curious so that I figured it out today. Now looking at it, it does not  really seem unusual anymore, it is based on the same scale as the lick in the break of Calling Elvis, but it is nice anyway.
The song Bluebird is in the key of Ebm / D#m (both Ebm or D#m have the same number (6)  of sharps or flats,  to my humble knowledge it is a matter of taste which one you prefer). The blues- scheme like chord progression consists of the chords Ebm , Abm, and Gb (or D#m, G#m, and F#). The lick runs over the last chord (Ebm / D#m) of the chord progression.

The chromatic feel I refered to is on fact only because of just one note, the flattened fifth (b5, here an A) that connects the Bb and the Ab (the blue note in the tab, in fact it is a "blue note" of the scale), all other notes are simply notes of the Ebm / D#M scale. Note how laid-back Mark plays the high Eb (the 11 in magenta)!
Make sure not to play too loud, play rather very softly but accentuated. I cannot say for sure if there are pull-offs or not (e.g. between the two first notes), when played with such soft attack it makes almost no audible difference. Lay your left hand index finger over  all four strings, just like you do when playing barre chords, and keep it pressed down during the whole first bar. This helps to make the lick sound more legato.
Have fun!
"Buy me a beer" - donate for the site via PayPal. Or buy a backing track in my online shop :)
Related articles
This week Privateering was released, Mark's new double-CD album. As there will be a lot of reviews anyway, I will focus on some particular aspects like guitars, sounds, songwriting techniques etc in my review. Likewise, I will not discuss anything related to lyrics. I will tell you what I love but also what I personally would have liked to be different. The album is still very fresh for me after listening to it for only a few days so I might see some things a bit different after some more time of listening.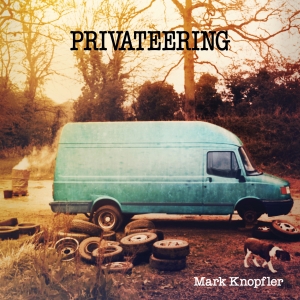 The album consists of 20 songs, 10 on each of the two CDs.  Mark always wrote a lot of songs for his albums, even the  Love over Gold album (1982) was initially considered for a double CD. It seems that he writes more and more these days so his first double-CD had been overdue for some time. Like with all his last albums, Mark focused on his musical roots so that we find a blend of Irish / Celtic melodies, rock, jazz, folk, and blues again. However, it is namely the blues that is much more dominant on Privateering than on any other MK album before. I think I heard Mark saying that one day he will record a blues album for the first time back in the 90ies –  Privateering is not just blues but maybe the outcome of what has been in the cards for some time.
Song for Song
1 – Redbud Tree
This one has been played on the radio for some weeks, it is not the single (there is none yet) but was called the 'focus song' for the radio (although I don't see it as the most typical of the album). A strummed acoustic guitar leads you through the song, the chords and chord changes are typical MK  (Dm, C,  Bb, F…  a la Sultans of Swing, or the change from D to Dm a la Six Blade Knife or Telegraph Road). And we have time-signature changes all over the song, mainly half bars, as in countless other MK songs (in fact I consider these time changes as THE typical element in his songwriting).
The middle section of the song consists of something I am sure many of us love to hear: a long solo on a clean Strat – I heard it was a MK signature Strat – not played with a pick like Mark often did to get the Hank Marvin sound in the past but fingerpicked).
I love the melody of the verses, the chorus is catchy, too, but somehow "too much" for my taste. Also I wonder how the song would sound if the other instruments – mainly the drums – were not mixed so low?
All in all a great song.
2 – Haul Away
Here Mark opens the "Irish folk tunes" drawer. He has always used ingredients from here but I think the first time we heard him singing such a tune was Lily of the West with the Chieftains, or All the Roadrunning a bit later. This song is really beautiful, it has a strong melody, and the blend of violin, accordion, and whistle sounds nice. Nothing to dislike here.
3 – Don't forget your Hat
Here the blues comes for the first time. It is closer to tradtional Muddy Water blues than anything we heard from Mark before (although You can't beat the House  from the last albums was already a hint in this direction). We have the blues piano, slide guitar (the Danelectro?), a shuffle rhythm, and … the harp (played by Kim Wilson of the Fabulous Thunderbirds).
Luckily it is not the standard 12-bar chord progression but something on its own, again including time changes. If you like the song or not has probably to do with if you like blues or not. I was surprised a bit when I heard the song for the first time but got used to it and like it. I think it is fair to say that it proves that Mark can play authentic blues (in case anyone doubted it).
4 – Privateering
The title song is one of the strongest songs of the album. The mix of vocals and guitar lines with a unique melody and lots of fancy rhythm is really cool, and it catches you (I notice it plays a lot in my head these days). Major parts of the song rely mainly on vocals and acoustic guitar, the drums did not come in before more than two minutes in the song. Unfortunately they are restricted mainly to the instrumental 'chorus' part of the song, I can imagine some nice groovy stuff over the verses as well.
5 – Miss you Blues
Another side of the blues, going back even more in musical history. This song would have fit on the Notting Hillbillies album perfectly. The slide solos are beautiful, so is the acoustic guitar intro. A nice little song for me (the melody is based on a traditional by the way).
6 – Corned Beef City
Here the rocker of the album comes. Throaty guitar riffs (wah boosted?) and melodic slide licks over a straight rock rhythm. Not bad, nevertheless this one is not my cup of tea yet. It reminds me a bit of Gravy Train (which I like but don't see as Mark's strongest song either). I guess many will disagree with me on this one which means this song has its right to be there as well…
7 – Go, Love
This one is one of my favourites of the album at the moment. Especially the melody of the verses is wonderful. Also the way the chorus resolves into the guitar solo. The chorus itself seems a bit weaker to me than the verse but it "destroys" nothing for me (as the chorus on Je suis desolé did for me) so I am happy with the song as it is.
8 – Hot or what
Blues again, all I wrote about Don't forget your hat is true for this one, too (the key – C – is also the same, however no time changes this time). Some nice guitar solos.
9 – Yon two Crows
This song seems like a mix of Celtic sounds and instrumental parts with a rock song a la Silvertown Blues to me. It has a 'spooky, foggy  mood' and I  must admit I like it much.
10 – Seattle
A slow ballad with lots of hidden beauty. I love the first line of the chorus ("Seattle, you got to love the rain…"). There are some nice low guitar lines that sound like the '54 Strat with  a pick with some pedal steel sound floating above in the outro, really nice.
11 – Kingdom of Gold
Kingdom of Gold is another example of Mark's approach to write folk songs. It would have fit on on the previous albums, but at the same time I hear that melancholy of e.g. Sands of Nevada in it. It is not one of my favourites of the album, but it might grow on me a bit more.
12 – Got to have something
This is the third song of the album's blues set. It starts with a cool guitar rhythm and has more of a rock song. The key is not too far away from the other two mentioned so far ( B now instead of C), and we have time changes again (a half bar before each vocal like).
13 – Radio City Sereneade
Another slow song, with some nice melody lines. Not a bad song but very slow so you have to be in the right mood. I like the horn hook starting at e.g. 4:29. Did you hear the Down to the Waterline fog horn at 0:04?
14 – I used to could
Another one of the 'blues session', starting with a great Walk of Live riff (also in E), not too fast, not too slow. The vocal melody sounds 'traditional' but has something special that I like. There are various harp and guitar solos, this time not slide guitar but some 'open strings' stuff over E.
15 – Gator Blood
Still bluesy but more rock on Gator Blood.  The guitar lick is abit similar to the one on Do right to me, Baby from Slow Train Coming (I guess open G tuning with capo at the third fret). I can imagine that the breaks in the middle where Mark plays those slide quarter-note triplets on the high e string will blow us away when played at high volume live on stage (like the break in Calling Elvis). The rest of the song is really simple (which is not meant in a negative way), only few chord changes, a time change in the chorus, only a few instruments (which is something I must say I like as a contrast to the growing number of  instruments during the last years).
16 -Blubird
This song seems like a mix of Fade to Black and  the Argentinian tango approach of e.g. El Macho. It might grow on me a bit more but up to now I find myself skipping it often. I don't like that harp-sounds-like-accordion solo in the middle but the guitar solo at the end is not bad, especially how it starts (click here for a tab and an analysis).
17 – Dream of the Drawned Submariner
A beautiful song again, just listen to the line "far away…… on the water". The acoustic guitar is great that comes after the clarinet solo. And I like the synth string sound that creates a nice mood, with the Les Paul (?) licks between the clarinet at the end of the song.
18 – Blood and Water
Another side of the blues, more jazzy chord changes. Is it Paul Franklin on pedal steel guitar who plays those wah-wah chords occasionally? Lots of guitar solo stuff. Maybe it is because the song is towards the end of an album with 20 songs, I still am not sure what to think about this one.
19 – Today is Okay
Again a bluesy song, with harp solos, guitar riffs, blues piano, shuffle rhythm… . This time we have a true 12-bar chord progression for the solo sections. If you love blues and love MK, you should love this one.
20 – After the Beanstalk
The last song might be a skipper for some. It reminds me of a Ry Cooder song (still wondering which one, should be from the Boomer's Story or Paradise and Lunch era). The instruments (e.g. the mandolin) also remind me of Cooder. Not one of  my favourites (not yet?).
All in all
After writing this review I notice that some of the words that appeard many times were "nice", "blues", "beautiful", so maybe these sum up the album. With 20 songs at such an early stage some things might grow on me a bit more so it is too early for a final conclusion.
The strong emphasis on blues is  new, gone are folk waltzes (compare the number of songs in a 3/4 meter with the last two albums). I like that Mark avoids the traditional 12-bar blues scheme. And – no surprise – many songs are the continuation of what Mark did over the last let's say two decades.
I think there is more cool stuff on Privateering than on the last two albums, this is something  I like because  the cool sound is what I  love so much about  the very early Dire Straits stuff.
One last word about something I do not like at all: I bought the limited super deluxe edition which is great with the additional DVD ( A Life in songs) , a  CD with three bonus songs, the vinyl LPs, and the artwork. However, it does not include the bonus CD of the normal deluxe edition (5 songs from rehearsals), and there is another bonus song (Your perfect song) if you buy the mp3 album at Amazon. I must admit it is not too important for me to have these as well, but if it was I had to buy the deluxe edition in addition (nice pun) to the super deluxe edition – and this is simply ridiculous. This might have to do more with a decision from the record company than from Mark but still it is a no-go I think (and there were similar complaints about the Get Lucky deluxe box before).
"Buy me a beer" - donate for the site via PayPal. Or buy a backing track in my online shop :)
Related articles
I found this in the AMIT forum and thought it might be very useful info for us guitar players. The author – nickname foma – allowed copying it, so here it is, a list of all keys with the songs in that key. It even included the songs of Privateering, Mark's coming album (to be released September 2012).
Thank you, foma

Quote:
>>>>>>>>
It's the statistics of almost all Mark's songs and scores keys.
Don't know when (and why lol) I've done this, probably five years ago.
So, here it is (I'm working on list constantly, so it's becomes accurately and hopefully will be spot-on):
31 in D MAJOR (D-dur): Water of Love, Wild West End, Skateaway, Les Boys, It Never Rains, Ticket To Heaven, How Long, The Rocks and the Thunder, Whistle Theme, Smooching, Going Home, Irish Love, A Secret Place Where Will You Go, Waiting For Her, Last Exit To Brooklyn, Victims, Wag The Dog, Imelda, Are We In Trouble Now, Do America, The Long Highway, Kingdom Come, Devil Baby, Coyote, Donegan's Gone, Red Staggerwing, If This Is Goodbye, Let It All Go, The Car Was The One, Miss You Blues, Go Love
24 in E MAJOR (E-Dur): Real Girl, Eastbound Train, If I Had You, So Far Away, Walk Of Life, Why Worry, The Bug, Heavy Fuel, The Way it All Starts, In The Heartland, Cannibals, The Last Laugh, Gravy Train, The Next Time I'm In Town, The Ragpicker's Dream, Everybody Pays, Our Shangri-La, Whoop De Doo, Beyond My Wildest Dreams, Heart Full Of Holes, Monteleone, Remembrance Day, I Used To Could, Today Is Okay
19 in G MAJOR (G-dur): Angel Of Mercy, Two Young Lovers, When It Comes To You, Freeway Flier, Irish Boy, The Road, Father And Son, Potato Picking, The Long Road, Annick, Metroland Instrumental Theme, Drooling National, Golden Heart, Don't You Get It, Tall Order Baby, The Other Side of the Moon, Who's Your Baby Now, Daddy's Gone To Knoxville, The Fizzy And The Still
23 in C MAJOR (C-dur): Portobello Belle, Hand In Hand, Love Over Gold, Wild Theme, Boomtown, Metroland, We're Going To War, I'm The Fool, Nobody's Got The Gun, One More Matinee, My Clame To Fame, Beachcombing, Donkey Town, All The Roadrunning, True Love Will Never Fade, Secondary Waltz, Hard Shoulder, You Can't Beat The House, Piper To The End, Haul Away, Don't Forget Your Hat, Corned Beef City, Hot or What
17 in D MINOR (D-moll): Sultans of Swing, Making Movies, Single Handed Sailor, Tunnel Of Love, Expresso Love, Telegraph Road, The Man's Too Strong, Fade To Back, Think Fast, Comfort, Joy, Silvertown Blues, Your Own Sweet Way, Why Aye Man, You Don't Know You're Born, Sucker Row, Punish The Monkey
16 in E MINOR (E-moll): News, Follow Me Home, Private Investigations, Private Dancer, Ride Across The River, One World, My Parties, A Fistful Of Ice Cream, He's the Man, Down Day, A Walk In Paris, She's Gone, El Macho, Camerado, Hill Farmer's Blues, Summer of Love
15 in A MINOR (A-moll): Six Blade Knife, Southbound Again, Once Upon A Time In The West, Where Do You Think You're Going, On Every Street, Planet Of New Orleans, An American Hero, Tralala, No Can Do, Rudiger, Speedway At Nazareth, Say Too Much, A Place Where We Used To Live, Behind With The Rent, Before Gas And TV
14 in B MINOR (B-moll): Down to the Waterline, Lions, Millonaire Blues, Iron Hand, Just Instinct, Je Suis Desole, Baloney Again, Florin Dance, Let's See You, Back To Tupelo, Don't Crash The Ambulance, I Dug Up A Diamond, We Can Get Wild, Madame Geneva's
14 in A MAJOR (A-dur): Setting me Up, Communique, Solid Rock, Industrial Disease, Twisting By The Pool, Brats, Meeting Under the Trees, A Love Idea, Working On It, Darling Pretty, Sailing To Philadelphia, Vic And Ray, A Night In Summer Long Ago, Time In The Sun
11 in F MAJOR (F-dur): Romeo And Juliet, The Ceilidh And The Northern Lights, Stargazer, Badges Posters Stickers T-Shirts, What I Have Got To Do, Quality Shoe, In The Sky, Good As Gold, Redbud Tree, Yon Two Crows, Seattle
7 in C MINOR (C-moll): Prairie Wedding, Sands Of Nevada, Fare Thee Well Northumberland, Scaffolder's Wife, The Fish And The Bird, Border River, Early Bird
8 in B MAJOR (B-dur): Calling Elvis, Sons of Scotland, Four in a Row, Quiet Theme, Stand Up Guy, Get Lucky, Got To Have Something, Radio City Serenade
5 in G MINOR (G-moll): Money For Nothing, You And Your Friend, Marbletown, Boom Like That, The Trawlersman's Song
4 in G-Sharp MINOR (G#-moll): Brothers in Arms, Stretching Out, Training, Rollin' On
4 in B-Flat MINOR (Bb-moll): In the Gallery, Junkie Doll, Postcards From Paraguay, So Far From The Clyde
3 in F-Sharp MINOR (F#-moll): Wanderlust, What It Is, Two Brothers And A Stranger
8 in E-Flat MAJOR (Eb-dur): The Rocks And The Water, All That I Have in the World, 5:15 a.m., All That Matters, Privateering, Dream of The Drowned Submariner, After the Beanstalk
3 in D-Flat MAJOR (Db-dur): This Is Us, Cleaning My Gun, Pulling Down the Ride
4 in B-Flat MAJOR (Bb-dur): Done With Bonaparte, Hard Cases, Gator Blood, Blood and Water
3 in C-Sharp MINOR (C#-moll): Lady Writer, Your Latest Trick, Kingdom of Gold
2 in F-Sharp MAJOR (F#-dur): Old Pigweed, Home Boy
1 in E-Flat MINOR (Eb-moll): The New Laird, Bluebird
1 in F MINOR (F-moll): Small Potatoes
1 in A-Flat MAJOR (Ab-moll): Right Now
All 24 keys are used. Mark is like Bach

154 majors and 91 minors.
Hope it can be interesting for someone.
<<<<
Quote end
"Buy me a beer" - donate for the site via PayPal. Or buy a backing track in my online shop :)
Related articles
Older Posts »