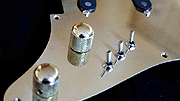 Blog Post Categories

Pages
Recent Forum Posts
Recent Comments
Archives
Links
Meta
Latest updates and news
Tweets by @mk_guitar_com
Tag cloud
Tags
Top Comment Authors
Ingo (421)
Jean-François (166)
Jeff - Anthony (36)
Erik (33)
Fletch (29)
J.Francois (29)
Dermot O'Reilly (28)
Arthur Luz (23)
TheWizzard29 (22)
zach (22)
John (20)
Knopfleberg (20)
Philipp (19)
Eduard (18)
Morten (17)
danny (14)
Jim (14)
thomas (13)
Alex Mircica (12)
Lapelcelery (12)
Chris (11)
Ryan T. (11)
David (10)
liftedcj7on44s (10)
dave (9)
The song Portobello Belle has been played as a great 'Irish-reggae-calypso' version on the Love over Gold tour. An edited version has been released on the Money for nothing compilation sampler a long time ago. However, it was not included on the Alchemy video, and there is no youtube video at all of this song from that tour.
For this reason we do not know much about the guitar on this song. The only info came from myself on my old Dire Straits guitar page where I stated that it was played on a black Fender Stratocaster. The source of this info is my own memory, as I visited the concert in Cologne, May 16, 1983. But I never have seen the guitar I remember well on any picture, until recently when the following picture appeared: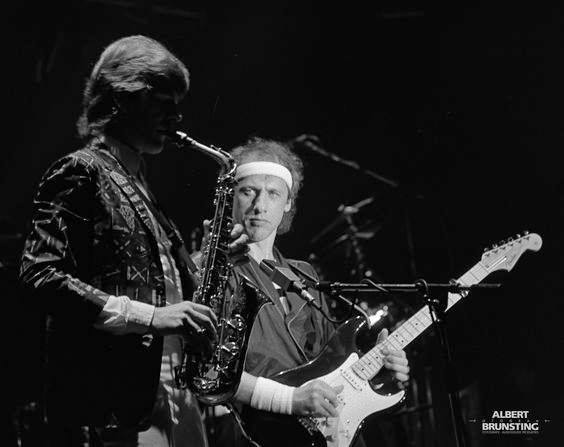 Note the capo at the third fret, a clear indication for an open G tuning, shifted to Bb by the capo, the key of Portobello Belle on this tour (it is C on the Communique album and D on the Making Movies tour!). The guitar might be the Amercican vintage reissue which was released just a year before (it does not llok like 50ies vintage guitar).
Mark played a lot of cool solo licks in the long outro of the songs, often in dialog with Mel Collins on the saxophone, as seen in the picture.
"Buy me a beer" - donate for the site via PayPal. Or buy a backing track in my online shop :)
Related articles
On July 5, 1981, Dire Straits played on the Werchter festival in Belgium. The concert was broadcasted on the radio and on TV and is one of the very few soundboard recordings from the 1980/81 On Location tour.
There is one thing that always strikes me about that recording: Mark's guitar sound was what I'd call 'strange', and completely different from all other recordings of the same tour we have (and there are many…). It had a very different, harsh kind of treble. To my ears it sounds like a direct out of the amp, and not like the mic'ed guitar speaker you would expect here.
You will probably know that a typical guitar speaker is a 'woofer', a loudspeaker aimed mainly at low and midrange frequencies. It has a pronounced treble roll off, which means it hardly produces high treble frequencies over maybe 6 kHz. For this reason it strongly colours the sound; it automatically filters out unwanted harsh, crisp frequencies. Without the guitar speaker especially a distorted guitar would not sound as we all expect it to sound. For this reason there are – unlike in a PA system – no tweeters (high frequency speakers) in a guitar cabinet.
What is strange about the Werchter guitar sound is that I feel to hear exactly these frequencies that should not be there. How is this possible, as we know that Mark of course used guitar speakers on this tour, Marshall 4 x 12″ cabinets to be precise? And on all other recordings from the tour the sound is not like on this one.
It seems unlikely to me that they had a completely different setup for this day – especially as Mark's live sound required a full effect rack that is not easy to substitute. And even if a guitar speaker suddenly fails, you can simply put the microphone in front of another one – there are four of them in each cabinet! The only theory that makes sense to me is that there was a second signal path involved, one without the guitar speakers. This 'direct out' was blended with the signal from the microphones/speakers. One possible reason to do so might be that this way you have more high end and low end to enrich the 'normal' sound of the speakers to a desired extend.
I guess for the radio/TV broadcast the concert was mixed separatedly from the PA mix, most likely by engineers of the broadcasters . This is not unusual, you normally want to mix to a much wider stereo signal than you'd do for a PA system. And the sound guys responsible for this mix simply used the direct signal rather than the mic'ed speakers signal, they maybe did simply not know why there were two different sources and what to do with these.
Interestingly the youtube video of this concert includes a few songs that were missing on the radio/TV broadcast. These came from an audience recording in bad quality (see video description), but you can clearly hear that on these songs the sound is very much as it is on all other recordings from the tour, not as thin and trebly as on the radio mix!
Of course this is speculation but if I am right indeed it tells us something about the way Mark created his stage sound on this tour (or even on others, too ??) .
"Buy me a beer" - donate for the site via PayPal. Or buy a backing track in my online shop :)
Related articles
This was a nice surprise: someone posted a link to a youtube video in the A Mark in Time forum showing Mark recording The Last Post for a tribute project to soldiers who died in World War I. More information about this project here: http://www.superact.org.uk/thelastpost/
Mark plays the tune on his 'Blue Ice metallic'  Pensa. It is the guitar we could already see in the BBC Guitar Stories video from 2012. It has two Lindy Fralin soapbar pickups, a Hipshot tremolo and Hipshot locking tuners, 22 frets, swamp ash body.
Mark uses the bridge pickup. In the background we see a Komet amp played into what looks like a vintage Marshal cabinet.
"Buy me a beer" - donate for the site via PayPal. Or buy a backing track in my online shop :)
Related articles
Adrian Boot is one of Britain's best-known music photographers. You might know his name  from  pictures in magazines  (e.g. in NME or Melody Maker) or books – e.g. from the Dire Straits book by Michael Oldfield  which features a lot of his pictures.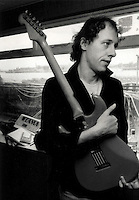 While searching the web for unknown Dire Straits pictures, I recently found a website – urbanimage.tv – which has about 65 pictures of Dire Straits / Mark Knopfler by Adrian Boot. I have seen many of them before but I was surprised to also  find many which I did not know. As you know I am always investigating on all aspects of Mark's gear – especially the gear used in the old days of Dire Straits. So I was pleased about some pictures from their rehearsal room that e.g. showed Mark's 1961 Fender Strat from the back (5 tremolo springs, more details about this in one of the next blog posts), or some of the stolen sunburst Schecter Strat (it seems Adrian's pictures from this photo session are in fact the only ones that exist of this guitar).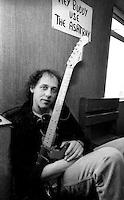 You can buy the pictures there, for personal or commercial use. Prices for personal use depend on the resolution, and are 10, 20, or 30 GBP. As I was hoping to find some new details, and being also curious about what is possible to see at the highest resolution of a professional photo, I decided to buy one. After paying with Paypal, you can immediately download the picture in a size of 2,500 pixels, and you will get a link to the full resolution picture (the resolution displayed below each pictures) in an email a bit later.
It is really fascinating how good the quality of such a picture is compared to the versions we see in a magazine. I was almost able to read the serial number of the guitar (at least if you already know it, for some reason the 68354 rather looked a bit like 68345 to me).
Personal use includes the right to print a picture (your favoured picture as a poster on your wall), use it as screen saver, or in the classroom etc. The price for a commercial licence is of course higher and depends on many aspects, like the place and type of your company, picture size, duration, and purpose.

"Buy me a beer" - donate for the site via PayPal. Or buy a backing track in my online shop :)
Related articles
Mark's Privateering tour has started, and they played the first 8 concerts around south-east Europe and Italy. One song that has been played on some of these  – compared to previous tours they vary the setlist a lot – is Gator Blood. I saw the picture of Mark with the white Strat – it seems to be the 1964 of Sailing to Philadelphia – some days ago and was wondering on which song it was played. The capo at the 3rd fret and the bottle neck are a hint of course, but I did not associate it with Gator Blood. In fact the sound of the album version is different from a typical Strat sound, maybe he played his Danelectro on the album, his main axe for bottle neck these days.
Here are some youtube videos showing Gator Blood. The tuning is open G (D – G – D – G – B -D), capoed at the 3rd fret (key of Bb). Mark played a similar picking 34 years ago on a song called Do right unto others on Bob Dylan's Slow Train Coming album by the way. Enjoy!
"Buy me a beer" - donate for the site via PayPal. Or buy a backing track in my online shop :)
Related articles
Older Posts »