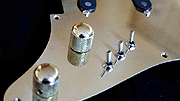 Blog Post Categories

Pages
Recent Forum Posts
Recent Comments
Archives
Links
Meta
Latest updates and news
Tweets by @mk_guitar_com
Tag cloud
Tags
Top Comment Authors
Ingo (421)
Jean-François (166)
Jeff - Anthony (36)
Erik (33)
Fletch (29)
J.Francois (29)
Dermot O'Reilly (28)
Arthur Luz (23)
TheWizzard29 (22)
zach (22)
John (20)
Knopfleberg (20)
Philipp (19)
Eduard (18)
Morten (17)
danny (14)
Jim (14)
thomas (13)
Alex Mircica (12)
Lapelcelery (12)
Chris (11)
Ryan T. (11)
David (10)
liftedcj7on44s (10)
dave (9)
Posted in: Amps by Ingo on November 25, 2015
I recently had a problem with a Music Man HD130 amp (the one Mark Knopfler used in the early days of Dire Straits). One speaker was creating a scratchy, distorted sound, surprisingly only at very low volume while it was fine at medium or high volume. I managed to cure it with an easy trick, nothing too special or secret but nevertheless something I want to share in case someone runs into similar problems with his amp.
When I removed the speaker to have a closer look at what might be wrong with it, I immediately noticed that infamous scratchiness when moving the cone carefull with two fingers. It was worse when pushing more on particular places while it disappeared when doing so at some other spots. I quickly came to the suspect that the problem came from "standing" upright for decades (it was a 1976 amp with original speakers). The voice coil is not really a heavy part but still it has some small weight, and after years this weight can deform the cone slightly so that the voice coil scratches on one side. For the same reason you should always store speakers horizontally but who stores a combo amp or a speaker cabinet this way?
The solution was very easy and inexpensive, even without any costs at all: all I had to do was turning the speaker for 180 degrees, so that what pointed to the top became the bottom end. I did the same with the second speaker, not only to prevent similar problems with it in the future but also to make the connectors of both speakers look to the middle between the speakers again, which means I also swapped the left and the right speakers. Hopefully it will work fine for the next 41 years now

Of course this easy fix does not always work, if the cone or the voice coil is damaged only a recone job will help. But before doing so you should give it a try.
"Buy me a beer" - donate for the site via PayPal. Or buy a backing track in my online shop :)
Related articles
Posted in: Amps by Ingo on March 31, 2014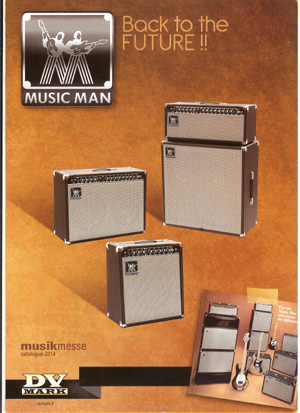 What a nice surprise on this year's Frankfurt Music Fair:  Music Man amps are coming back.  DV MARK (dvmark.it) displayed reissues of those  silver-black Music Man amps that were popular in the seventies and eighties.
Clapton played Music Man amps, Albert Lee played them, and of course Mark Knopfler. He used 130 watts combos on the Communiqué and Making Movies tours. The complete Music Man amp line was discontinued in the early eighties.
DV MARK presented reissues of three popular amp models and one speaker cabinet: the HD 130 Reverb top (the model Eric Clapton played) with a 4 x 12″ cabinet, the 112 RD 50 (a very popular small combo with an additional tube for the overdrive), and of course the "Mark Knopfler model" 212 HD 130.
Here are some first impressions on the 212 HD 130 combo: The reissue looks similar but not identical to the original. They all have of course the black tolex cover and the silver front grill, also the familiar Music Man logo on the front. The logo is the inverted "silver on black" version of the late Music Man amps (after 1980) instead of the original "black on silver" logo on Mark's amps. It is also a bit smaller.
All controls were identical but some of the cosmetics were a bit different, e.g. the shape of the bright switches. Unfortunately the reissue is not the version with the tube driver (all Music Man amps had a solid-state pre amp and a tube power amp section, but the amps before 1978 had a tube in the driver stage that sits between pre and power amp). I am not sure if Mark had the version with the tube or not – the change was in 1978, about the time when Mark got his first Music Man amp so both is possible but generally the ones with the tube are regarded as better sounding.
The amp features two speakers with round ceramic magnets. The original amp line came with square alnico magnets up to 1978, when they first got speakers with square ceramic magnets and about 1980 with round ceramic magnets. I know that Mark had square speakers but not for sure if these were the ceramic or the alnico ones. I personally would have prefered to see the alnico speakers in a reissue.
Another difference became obvious when I wanted to play the amp. Just like the original it has a power switch on the front (with  a high and low swtting for reduced output power), but when I reached for the back of the amp to switch on the standby switch I had to find out that there was no switch. I cannot tell if the amp I played was a prototype with non final specs, at least it had no standby switch at all. Judging on the sound is difficult as a music fair is not the ideal situation to check out an amp with all its tonal capabilities. At least it did not seem to sound completely different.
I learned that these amps are produced in Italy by DV Mark licenced by Ernie Ball who also still produce the Music Man basses and hold the right for the Music man label. The amps should be available in September 2014, I have no info yet on the price.
"Buy me a beer" - donate for the site via PayPal. Or buy a backing track in my online shop :)
Related articles
A few days ago I jammed a bit with a friend of mine – Thomas Schwarze – in our little home studio. Thomas is a great guitar player and also plays fingerstyle, using a technique similar to the MK style. Our first idea was to play "something" and upload it to youtube. We tried out a few tunes and then attempted to play a rather complex tune – a song I wrote some time ago and recently started to arrange for a proper recording. Unfortunately it did not really happen  with this song this day – too many parts and details to get it done properly in a little jam – so we decided to drop the idea of the youtube upload, and just jammed over some of the chord progressions of this song. For some reason we simply let the camera run, and also the audio recording software.
When we were watching the result we thought it was not that bad, so we finally uploaded it last week. Most comments on youtube so far were favourable, some people seemed to enjoy the relaxed mood of the tune. For this reason I thought some of you also might want to watch it, so here it is.
The gear  used
The red Strat I am playing is a "Parts-o-caster", it is something like a clone of Mark Knopfler's red maple-neck Strat of early Dire Straits days, consisting of an old Fender neck with a (non-original) laminated maple board, a Japanese vintage body, and a vintage Squier pickguard loaded with the US vintage replica pick-ups of those first Squiers.
The amp was a Music Man 212 HD 130, mic'ed with a Shure SM 57. Effects are a Morley volume pedal and the green MXR analog delay.
Thomas is playing a Fender Telecaster from the early 70ies, a beautiful guitar that always sounds great, also played through a Music Man amp (a 65-112), mic'ed with an Audio Technica AT 4050.
By the way, the chord progression is
E D A E (repeat)
C#m, B, A, G#m, F#m, E, A, E
Hope you will enjoy

"Buy me a beer" - donate for the site via PayPal. Or buy a backing track in my online shop :)
Related articles
Normally I use my Music Man 212 HD 130 amp for clean guitar sounds, but the other day I was tinkering around with the Les Paul jamming to Brothers in Arms. The Music Man has a solid state pre-amp section which is not ideal for distorted sounds. Yet, I was surprised to get some really nice, fat and warm sounds out of this combination.
Knopfler uses Marshall cabinets which allow a very deep bass sound, but I was pleased with the rich bass response from the Music Man, not bad for an open back combo amp.
I feel that it is important for that Brothers in Arms tone to play really softly and gently, don't bash the strings or tear them. This way you get a great dynamic range.
And before I forget to mention: I rolled back the tone control on the guitar to 2.5 !
Unfortunately the sound on my youtube videos is not as good as it is before uploading a video. I don't know what exactly it is, seems like a built-in denoiser or something, which produces a wobbling sound and other artefacts. Any help how to eliminate this is really welcome.
"Buy me a beer" - donate for the site via PayPal. Or buy a backing track in my online shop :)
Related articles
I recently saw this extremely rare amp offered on ebay  – a 1974 Musitek combo amp that looks very similar to the "Dire Straits" amp – the Music Man 130 HD 212.
In fact Musitek was one of the names  under which the very first amps were produced before the company was renamed to Music Man (see this article for more info on Music Man amps). As this was the first and only time I have ever seen such an early model, I want to feature it with this article.
The overall control layout was already identical to the later Music Man amp. The only difference I can see is a rotary switch with the positions 'Off – Low – Normal – High' at the position where normally the power switch is located. The later switch also allows  a low and high power position, but not the third 'Normal' mode.
The rear panel looks very different from the Music Man version – almost like a  self-labelled prototype (which possibly is the case here – or there was originally a proper panel which is missing on the pictured amp).
The 12AX7 phase inverter tube and the Accutronics reverb tank seems to be the same as they were later. Note that the Celestion speaker is not original. The other one is a 1974 Alnico speaker by Eminence, however with a smaller magnet than the model used in the Music Man.
"Buy me a beer" - donate for the site via PayPal. Or buy a backing track in my online shop :)
Related articles
Older Posts »