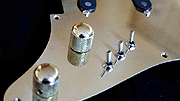 Blog Post Categories

Pages
Recent Forum Posts
Recent Comments
Archives
Links
Meta
Latest updates and news
Tweets by @mk_guitar_com
Tag cloud
Tags
Top Comment Authors
Ingo (421)
Jean-François (166)
Jeff - Anthony (36)
Erik (33)
Fletch (29)
J.Francois (29)
Dermot O'Reilly (28)
Arthur Luz (23)
TheWizzard29 (22)
zach (22)
John (20)
Knopfleberg (20)
Philipp (19)
Eduard (18)
Morten (17)
danny (14)
Jim (14)
thomas (13)
Alex Mircica (12)
Lapelcelery (12)
Chris (11)
Ryan T. (11)
David (10)
liftedcj7on44s (10)
dave (9)
I guess most of you know the the Dire Straits concert at the Nelon Mandela 70th birthday tribute concert in Wembley Stadium, 1988, and have probably – just like me –  watched the video of it many times. I at least have never noticed that on this gig Mark has two output jacks on the famous National Style-O, have you?
One of the two, the one with the lower output jack, is definitely the Ashworth pickup (AJ21)  he already had during the Brothers in Arms era, just compare the look and position of the cable to the famous CD cover picture. The Ashworth is a passive piezo element pickup.
About the other we have no information yet. We can see that that the cable runs under the string holder, probably then it goes through a hole in the 'chicken feet' on the resonator plate into the guitar body, where the resonator itself rests. We can only speculate what it is exactly: I see mainly two possibilities, one is another pickup that is attached to the resonator cone, or a little microphone. Many acoustic guitar pickup systems use a combination of a microphone and a pickup, like the L.R. Baggs that is used in Mark's Martins.
Well, it does not matter too much for the sound on this concert because it seems it was not in use here; I can see a plug in only one of the two output jacks. But it shows that Mark always tried out new stuff to improve his guitar sound.
"Buy me a beer" - donate for the site via PayPal. Or buy a backing track in my online shop :)
Related articles
*******************
Update: Soon after Sky Arts aired  Guitar Stories, the full video appeared on youtube:
*******************
As most fans will already know,   Sky Arts 1 will broadcast Guitar Stories on October 16 at 10pm  (some more info on Guitar Stories' facebook page). Presented by John Illsley, Mark talks about his most important guitars.
In addition to the first trailer, a few more preview clips appeared recently which I put together for you here:
Trailer:

Clips 1 – 4:
The National Style-O

1961 Fender Stratocaster

Hofner V2

Another clip, with the 1958 Les Paul, cannot be embedded. You can watch it directly on youtube.
"Buy me a beer" - donate for the site via PayPal. Or buy a backing track in my online shop :)
Related articles