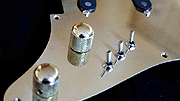 Blog Post Categories

Pages
Recent Forum Posts
Recent Comments
Archives
Links
Meta
Latest updates and news
Tweets by @mk_guitar_com
Tag cloud
Tags
Top Comment Authors
Ingo (421)
Jean-François (166)
Jeff - Anthony (36)
Erik (33)
Fletch (29)
J.Francois (29)
Dermot O'Reilly (28)
Arthur Luz (23)
TheWizzard29 (22)
zach (22)
John (20)
Knopfleberg (20)
Philipp (19)
Eduard (18)
Morten (17)
danny (14)
Jim (14)
thomas (13)
Alex Mircica (12)
Lapelcelery (12)
Chris (11)
Ryan T. (11)
David (10)
liftedcj7on44s (10)
dave (9)
Here are just two quick pictures of what I have been spending time with lately: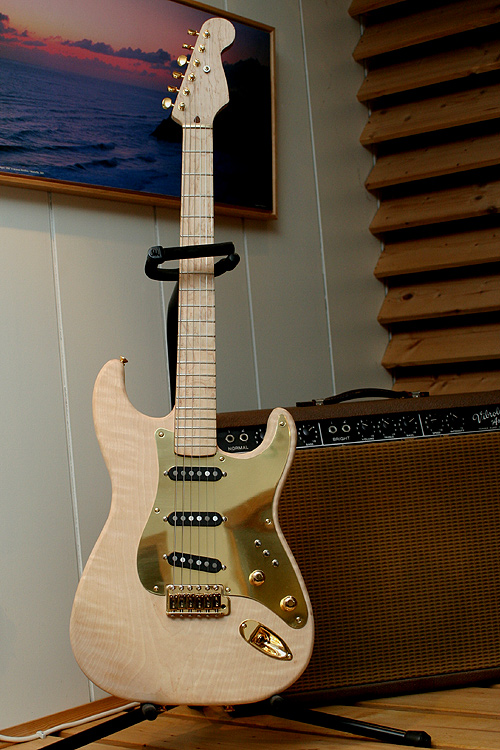 This is a body of one-piece (!) flamed (!!) birch (!!!), shaped like a Schecter Dream Machine body (yes, the shape is slightly different to a Fender body, e.g. slimmer horns and cutaways) . The neck is a one-piece birds-eye neck, the neck profile is copied from a Van Nuys era Schecter neck.
The wood is not finished at all yet, not even finally sanded. I admit I just could not wait to hear this guitar so I assembled it for a true 'preview'.

The guitar sounds very cool !!! And before you wonder why this neck has no dots on the front (Mark's Schecter – the one that was stolen – had dots): there are a few more bodies waiting around here, of different kinds of mahogany, birch, and ash. I have not decided yet on which body this neck will end (Mark's other Schecters were dotless).
Here is the video of the first soundcheck:

"Buy me a beer" - donate for the site via PayPal. Or buy a backing track in my online shop :)
Related articles
Finally, I finished the second Telecaster-style guitar with Dream Machine brass hardware. You might remember my first build report about a Dream Machine Telecaster clone. Even back then when I started that first project, I already got the body and neck to start a similar project with these but never found the time to complete it. The idea behind the project was to assemble an affordable guitar that looks great, and – most important – sounds great and gives you the 'Walk of Life' Schecter Tele sound of the tapped F520T / F521T pickups and the brass bridge, in other words a guitar with high-quality brass hardware and electronics but without any parts so cheap that they might ruin the sound of the guitar. It turned out to be a really great guitar, great look, great feel & great sound. As I already have more guitars  than I have room for, I put it for sale into my online shop.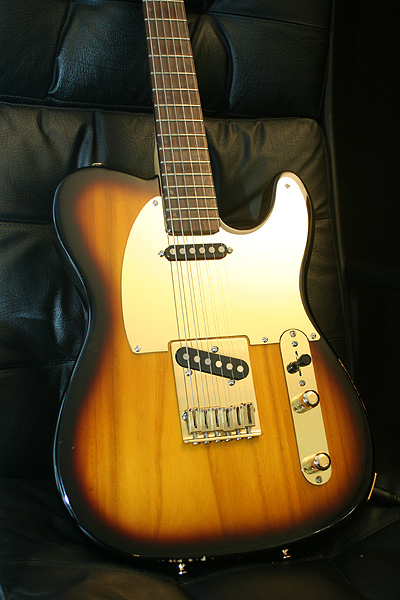 The body is a really nice looking, extremely light sunburst Tele body. I have no idea how old it is exactly (I guess you can call it 'vintage'), or who made it. It is not 100% accurate compared to the Fender specs, e.g. it is only about 90% (ca. 40 mm) of the Fender body depth (44 mm) but still it seems to be a great piece of wood without anything indicating inferior quality. The grain looks great, the tap tone is nice, and, given its age, it is completely dry tone wood. There are some dings & dongs, e.g. at the edges of the body, so it looks  a bit 'naturally relic'ed'.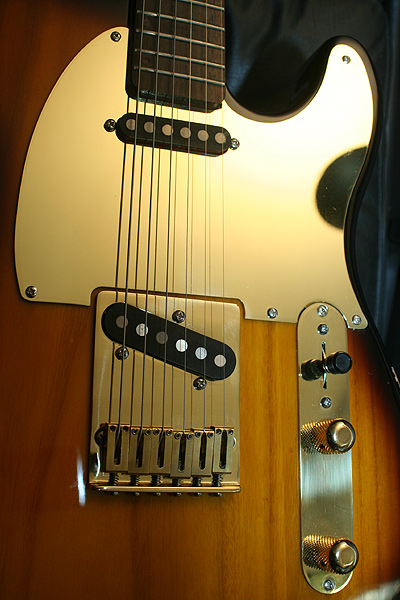 I got the neck together with the body. It has a rosewood fingerboard without center dots (like Mark's 'Walk of Life' Tele, although this one has little dots on one side of the fingerboard, between the two lowest bass strings). So the look is similar to a dotless Schecter but you still have something that helps to orientate. The neck even has a slight flame on the peghead.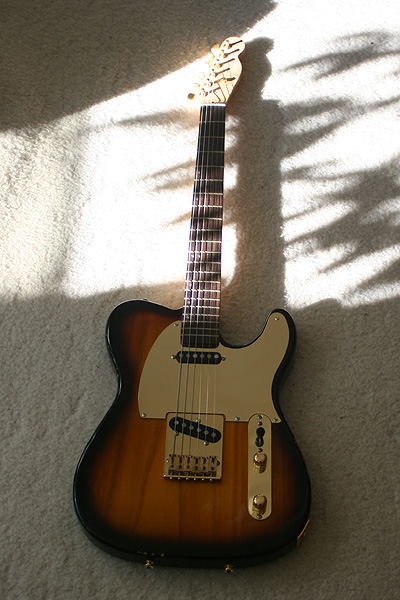 I used a set of brass hardware that I produce myself, even the control plate is brass like on vintage Schecter Dream Machines. The pickups are two 'Walk of Life' pickups, clones of the original Dream Machine pickups of the early 80ies.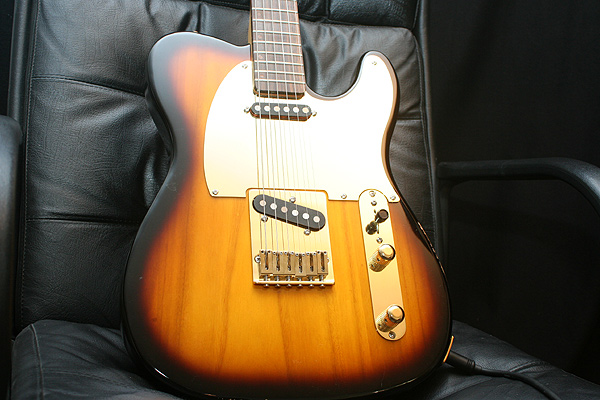 Here is a first video:

"Buy me a beer" - donate for the site via PayPal. Or buy a backing track in my online shop :)
Related articles
With the following video I was trying to demonstrate the basic sound difference between a vintage Schecter Dream Machine and a 'traditional' Strat.
The Dream Machine is from about 1980, it has a Koa body and a one-piece Pau Ferro neck. The three pickups in the brass pickguard are the tapped F500T's. It has s a hardtail brass bridge.
The Strat is a 1983 Japanese vintage Squier Stratocaster, unmodified.
Of course the amp & effects settings are 100% identical for both guitars. Also they both have new strings of the same brand and gauge (Fender 09 – 40). Each of the three pickups on the Schecter can be switched to the 'normal' coil (tapped) or the overwound (full) coil but I will only use the tapped pickup positions of Schecter in this video, as these are more comaparable to the Fender pickup sound.
Beside the sound difference, note that there is less hum and noises with the Schecter as the metal pickguard and the copper tape around the pickup coil provide a better shielding.
"Buy me a beer" - donate for the site via PayPal. Or buy a backing track in my online shop :)
Related articles
Posted in: Guitars by Ingo on March 31, 2015
In 1980, shortly before recording the Making Movies album,  Mark Knopfler got several Schecter Dream Machines. It was a sunburst Schecter Strat (serial number S8136) that was used at least on the song Tunnel of Love and that was stolen from the boot of a car near the band's rehearsal room in Greenwich soon after.
There are only a few pictures of this guitar available. They are all from the same photo session with photographer Adrian Boot, and only two of these are in colour. One of these two pictures was on a cover of the Greek 'Pop Rok' magazine from December 1980, and medium quality scans of the cover could be found on various sources in the web.
I recently got hold of a copy of this magazine. It features a 3.5 pages story/interview with a live picture from summer 1979 plus various press kit pictures of the Making Movies album.
As Adrian allowed me to use detail parts of his pictures for our 'scientific purposes' here in this blog, I can show the guitar itself at full resolution here: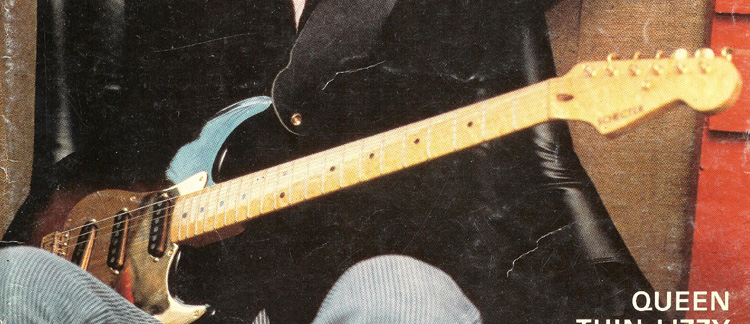 From this view we can see the pickguard and the neck very well but unfortunately hardly anything of the two tone sunburst and the beautiful flame of the birch body. We cannot see the bridge completely, neither. In fact there is not one picture at all available that shows  whether this guitar has a tremolo or a hardtail bridge (!). I'd guess it is the tremolo version like Mark's other Schecter Strats all are but who knows.
The pickup screws and (probably) the six bridge screws are nickel while the pickguard screws seem to be gold, also gold Kluson tuners and brass strap buttons. The nut is brass, as on all Schecter Dream Machines (brass hardware was essential for their hardware philosophy). The neck is what was called 'figured maple' in the Schecter catalogue, in this case flamed birdseye maple. However, the flame and the birdseyes are less prominent than e.g. on Mark's red Schecter Strat. Note the dots on the neck surface, all of Mark's other Dream Machines are dotless.
The guitar strap in this pictures looks similar to the black Music Man strap that Mark had in the late 70ies, but it is not a Music Man strap.
"Buy me a beer" - donate for the site via PayPal. Or buy a backing track in my online shop :)
Related articles
It is a while ago that I started my Tele Dream Machine project. The project advanced and got to a stage where I had a playable fine instrument some months ago (which can be seen e.g. here when I was demoing the Walk  of Life pickups with this guitar). However, various parts were not finished yet, mainly as I was missing some of the required brass parts. Meanwhile I have (almost) all I need to finish the project.
Let's start with the control plate. The one you can see in the demo video was a gold-plated one, bought rather cheap on ebay. Unfortunately it did not fit properly into the contour of the pickguard but even overlapped the pickguard (see picture).
Was my brass Tele pickguard wrong or the plate too wide? Of course it was the plate, what shows us that you can never trust no-name products to be compatible to the standard specs. Besides, the gold-plated steel looks a bit different than the polished brass on Van Nuy era Schecter Dream Machines. Well, if I can produce brass pickguards I should be able to produce brass control plates I thought, and this is what I did. I made a few more, and chrome-plated some of them to go along with my white aluminium Tele pickguards for a real "Walk of Life red Tele clone" set (with pickups, pickguard and wired controls, coming very soon, I basically only have to take some pictures  to put it into the online shop). By the way, it is not that you cannot get chrome-plated ones everywhere, but try to find one of chrome-plated brass instead of steel …  – and it has to be brass for an "authentic" Dream Machine clone!
So here is the picture with my brass control plate. I also added the switch tip button (which was missing on the video): Schecter had these round black Tele buttons, but occasionally also Strat-style tips of brass.
While doing the brass plates, I also made the serial number plates, of chrome-plated brass and – brandnew – polished brass, vintage-correct clear laquer coated, with the S8001 serial number. I replaced the gold-plated steel plate I had on the guitar (without any number) with this one for the vintage-correct look, with an S serial number of the correct size, font, and at the correct position.
Please note that I only made these with three serial numbers of Mark's most famous Dream Machines (red Strat, red Tele, sunburst Strat, plus the two red Dire Straits Fender Strats ), no other numbers are available, or will be. The idea here is to have the right-looking part without a danger of misuse,  not providing the possibility to fake a Dream Machine and sell it as original. I mean faking one and insstalling one of  the most famous serial numbers is like faking a pre-CBS Strat and give it the 0001 serial number of David Gilmour's famous blonde Strat – cannot fool anyone.
The next thing I did was to replace the original vintage NOS Schecter bridge that I bought for a fortune a while ago with one of "my" new Dream Machine style bridges. As I copied all important Dream Machine specs and made sure to have it milled from best quality solid brass (nothing die cast), the sound will be identical but the look fits better to the other parts – the Schecter bridge has darkened with age, being about 35 years old (see one of the pictures above).
Last not least a few words on the three (!) strap buttons of the Dream Machines (most of them had three but there were also some with two, even in the 1980 Schecter catalogue). My mahogany body already had two holes at the usual positions, so I had to drill two new holes. I used a piece of tape and drilled through it to avoid crackling of wood or finish, something very important when drilling into a laquered body! The distance of these is about 9.5 cm (3  3/4 ") on my guitar. Only thing left to do: filling the unused hole. I used normal gold-plated strap buttons for now. Unfortunately these look rather different to the original ones which were made of raw brass, without laquer and rather dull looking for this reason. Thinking about it, it should not be impossible to make these from raw brass myself …  Well,  let's leave something for the future

Watch out for the the next blog post in this Building a Telecaster Dream Machine series with the full photo album of the final guitar.
"Buy me a beer" - donate for the site via PayPal. Or buy a backing track in my online shop :)
Related articles
Older Posts »