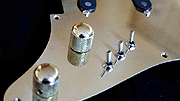 Blog Post Categories

Pages
Recent Forum Posts
Recent Comments
Archives
Links
Meta
Latest updates and news
Tweets by @mk_guitar_com
Tag cloud
Tags
Top Comment Authors
Ingo (421)
Jean-François (166)
Jeff - Anthony (36)
Erik (33)
Fletch (29)
J.Francois (29)
Dermot O'Reilly (28)
Arthur Luz (23)
TheWizzard29 (22)
zach (22)
John (20)
Knopfleberg (20)
Philipp (19)
Eduard (18)
Morten (17)
danny (14)
Jim (14)
thomas (13)
Alex Mircica (12)
Lapelcelery (12)
Chris (11)
Ryan T. (11)
David (10)
liftedcj7on44s (10)
dave (9)
Posted in: Amps by Ingo on May 31, 2011
This post is about two of Mark Knopfler's Fender vintage amps, the brown Fender Vibrolux – the  Sultans of Swing amp that was covered in this blog article – and the similar-sized and similar-looking brown Fender Vibroverb.
The Fender Vibrolux (model 6G11a) was one of Knopfler's earliest guitar amps. Probably it belonged to Dire Straits' bass player John Illsley and was used for the first demo recordings of Dire Straits, and also for the first record and for their live gigs of this time (late 1977 – early 1978). He still owns this amp and used it regularly on the last albums.
The brown Vibroverb (model 6G16) was a much later addition to Knopfler's amp arsenal. From what I heard he got it probably in the late 1990ies with some help of John Suhr, and used it e.g. on some Notting Hillbillies gigs of that time.
Both amps were only produced for a very short time: the brown Vibrolux from 1961 – 62, and the brown Vibroverb in 1963  only. Consequently, both are ultra rare. The Vibroverb was reissued in the early 1990ies (1990 – 95).
Both amps have a lot in common: two channels with a  similar pre-amp layout (same tone controls, same pre-amp circuit), about 30 watts from two 6L6 tubes,  tremolo, and of course the same design like as all amps from the brown tolex era (wheat cover grill, brown barrel knobs, brown tolex etc.). Note that both – like all brown face amps – don't feature bright switches. Nevertheless, the little capacitor to boost treble that is normally added with the bright switch is still present on the right channel of both amps, so imagine these amps as bright switch off for the left channel and bright switch on for the right channel.
Differences
The major differences are the speaker configuration – one 12″ Oxford speaker in the Vibrolux but two 10″ Oxford speakers in the Vibroverb – and the reverb which was only  featured in the Vibroverb. In fact, the Vibroverb was the first Fender amp with reverb, and the only one of the brown tolex era. The Fender spring reverb was available with the brown tolex reverb unit and was later – to be concrete with the introduction of the black face design – added to most of the Fender guitar amplifiers. This combination of features – two 10″ speakers with reverb and tremolo in a middle -sized tube amp – turned the Vibroverb to one of the all-time favourites for many players.
Normally it is easy to distinguish both amps on pictures because only the Vibroverb had the grill-mounted Fender logo, while the Vibrolux and other small Fender amps had no grill logo. However, Knopfler's Vibrolux has a non-original Fender logo that was apparently added later (the logo itself looks like the ones from the black or silver face era).  Normally there is a special piece of wood for the logo screws, but not so on the Vibrolux. For this reason, the logo on Knopfler's amp had to be moved extremely into the upper left corner of the grill so that the  logo screws hit the wooden frame of the grill front. Other optical differences: only the Vibroverb has those tilt legs on the sides, and the Vibroverb has one additional control – the reverb control on the second channel – so that is has a total of 9 controls (vol, treble, bass / vol, treble, bass, reverb / speed, intensity). This and the two 10″ speakers are the reasonwhy the Vibroverb is a bit wider than the Vibrolux.

The amp in the background on this video clip from is the brown Vibrolux, as the position of the logo tells.
"Buy me a beer" - donate for the site via PayPal. Or buy a backing track in my online shop :)
Related articles
Today while surfing youtube I found this rare video which I have never seen before, showing Mark Knopfler as a guest on a Brendan Crocker gig in Leeds, June 18, 1989 (the youtube video title says July 18, June 18 is confirmed and I doubt that there was a second gig one month later). For those who don't know him, Brendan Crocker is an old friend of Mark's, also a member of the Notting Hillbillies.
Another guest on this gig was Dire Straits keyboarder Alan Clark.
Mark plays his Pensa MK-1, and on the right side of the stage- next to the bass player – we can spot his Sultans-of-Swing amp, the brown Fender Vibrolux.
I still have a vinyl Brendan Crocker EP single with three tracks from this gig (You Don't Need Me Here, Railroad Blues, Georgia Crawl)
"Buy me a beer" - donate for the site via PayPal. Or buy a backing track in my online shop :)
Related articles
Dire Straits' first hit was Sultans of Swing, recorded in Basing Street studios, February 1978. But did you know that there was a different studio recording before (demo version, Pathway Studios, July 1977), and also a later recording (Pathway Studios, April 1978) that was recorded to be released as a single in some countries?
The demo version
This version was recorded on July 2, 1977, together with four other song (Wild West End, Down to the Waterline, Water of Love, and Sarcred Loving which was written by David Knopfler and was never released). The band had just started a few weeks before, and after rehearsing these first original songs they decided to book a small studio – Pathway Studios  – to produce a demo tape. The session cost them about 180 GBP. We all know what happened later: Radio DJ Charlie Gillet played these demo tapes in his Honky Tonk radio show, and the band finally got their record contract at the end of that year.
Pathway Studios was a tiny 8-track demo studio in Islington, London. Here is a quote I found about it in the Wikipedia. Note that it seems to refer to some later point as Alesis digital reverbs were definitely not available in 1977:
"The studio was very small, about 8 x 8 metres with a 2 x 2m control booth in the corner and an upright piano next to it. You could just squeeze three people into the control booth! The tape deck was a Brenell 1 inch 8 track. The monitors and desk were custom made, and they had a pair of Auratones as well, fed from Quad power amps. The desk was quite small, pushed hard against the front wall with the custom monitors hung above and the Auratones on the meter bridge. Outboard was very basic: a Bel delay line, an Alesis digital reverb and Drawmer gates, but they had a nice plate reverb in a cupboard in the office upstairs. I can't recall all the mics but they were the industry standard stuff. We got big warm sounding mixes and despite the cramped conditions the mixing process seemed effortless compared to the difficult digital learning curve I have been on in the last two years."
The following two pictures show Squeeze recording there in 1976.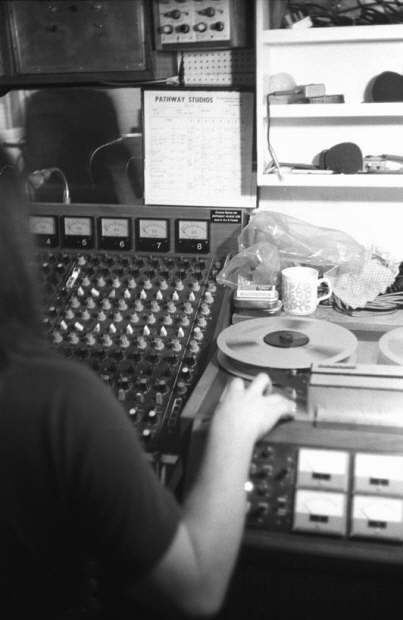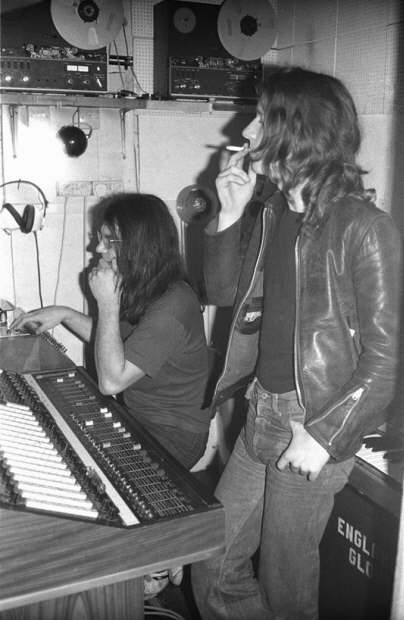 This Sultans of Swing version (and only this song) was later released on a compilation album called the Honky Tonk demos by Oval records (see below for sound clip).
The single version
After the recording of the first Dire Straits album at Basing Street Studios (February 13 – March 5, 1978), the results were played to Phonogram's marketing people. Some of them thought that Sultans of Swing was too polished and smooth sounding for a single that is accepted by the radio, so they re-recorded this song on April 20 / 26, 1978, again at Pathway Studios. This single was released in some countries, among them England and Germany, while in others the album version was released (e.g. in the Netherlands or the US). In some countries,  e.g. the former Yugoslavia, one verse (#5, "And a crowd of young boys…") was cut off to decrease the overall length which – with almost 6 minutes – was rather long for the radio. This version features more distortion and compression, it indeed sounds more like  rock music. It even appears to be a bit faster although it is practically not. It seems it was never released on CD (see below for sound clip).
Sound and gear on these versions
On the demo version Mark Knopfler played most likely his 1961  Stratocaster (S-No #68354) , at this time he only had one Strat. It was probably not painted red yet but had a wood finish. The pick-up position seems to be the middle pick-up. The sound engineer at Pathway – Chas Herington – was later the  lighting designer on the Brothers in Arms tour  in the mid 80ies. It was 1985 in Arnhem, Netherlands, when I spoke with him and asked him about the equipment on these sessions. He told me that Mark played an old Fender Vibrolux amp which was recorded with a Neumann microphone. He also stated that Mark's typical sound came out of the amp this way, and was not created with outboard effects and processing.
I assume that on the single version Mark Knopfler played his maple-neck Strat (S-No. #80470), also through the Vibrolux. This time there is a subtle distortion, possibly also compression (remember the rumour about the Dan Armstrong Orange Squeezer). The pick-up position seems to be bridge & middle to achieve that nasal sound.
Sound clips
Here are sound clips with excerpts from both versions.
Demo version (from CD)
Audio clip: Adobe Flash Player (version 9 or above) is required to play this audio clip. Download the latest version here. You also need to have JavaScript enabled in your browser.
Single version (from vinyl single)
Audio clip: Adobe Flash Player (version 9 or above) is required to play this audio clip. Download the latest version here. You also need to have JavaScript enabled in your browser.
Note that Mark also plays one of the two rhythm guitars on both tracks.
"Buy me a beer" - donate for the site via PayPal. Or buy a backing track in my online shop :)
Related articles
Mark Knopfler got his first Strat only shortly before Dire Straits were formed. Before that time he had played a Gibson Les Paul Special through a Selmer tube combo amp in a band called The Cafe Racers. It is not clear if he owned the Selmer amp or if it was borrowed. What we know is that when he got the Strat, he plugged it into a Fender Vibrolux which probably belonged to Dire Straits' bass player John Illsley. Today however, it is still in Knopfler's possession.
This amp was a Fender Vibrolux from the early 60ies  – from the brown-tolex era. Internally Fender called this model 6G11 (first revision), or 6G11-A (second revision, the more common version to be found).
The brown Vibrolux is a really wonderful amp: with about 30 watts from two 6L6 tubes it has enough power to be played in a band with drums and bass, yet it is  small and light. It has one 12″ speaker (an Oxford 12L6 or 12M6)  and a tremolo effects. Unfortunately it has no reverb (a feature Fender introduced with the later black face series, the only brown amp with reverb was the 2 x 10″ Vibroverb from about 1963), with reverb the Vibrolux might have been the ultimate small combo amp. The rectifier is also a tube.
The controls are pretty much standard: One channel with Volume, Treble, Bass, the second channel with Volume, Treble, Bass, and two tremolo controls (Speed, Intensity) which affect both channels. There are no bright switches – another feature introduced with the black face amps. However, the second channel is called "Bright" as a small condenser across the volume poti adds some treble – the same circuit as a bright switch, just not switchable.
The Vibrolux does not have a Fender logo on the front grill cloth – the one on Knopfler's amp is not original.
Knopfler played this amp live in 1977 and early 1978. There is only a limited number of live pictures  from 1977, and most do not show any amps.  We have the following sources from this period that mention the Vibrolux:
a) Knopfler himself said in a an interview that Sultans of Swing was first written in open tuning on a National steel guitar, but it was totally changed when he got his Strat and played it through the Vibrolux.
b) There are two pictures from an early live gig at the bandstand on Clapham Common, London, September , 1977 (two months after recording the demo of Sultans of Swing, five months before the recording of the first album in February 1978)
c) Two pictures from the Roundhouse, London, January 1978 (more info).
d) One picture from the Marquee, March 1978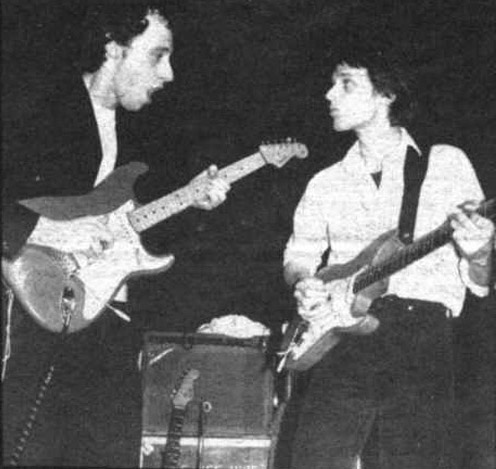 e) A personal interview with Chas Herington who was the engineer on both the demo and the single version of Sultans of Swing (both recorded at Pathway studio, July 1977 and April 1978, the song was re-recorded two months after the recording of the first album because the record company wanted more of a rock sound for the single). He also told me that it was mic'ed with a Neumann mic.
There is no evidence that this amp was played on the Sultans of Swing version of Dire Straits' first album (recorded in February 1978). Possibly different amps were used here (Twin Reverb, Jazz Chorus, and the Vibrolux). In about May 1978 Knopfler started to play Fender Twin Reverbs on stage. The Vibrolux reapperad with the Notting Hillbillies and is still frequently used these days in Knopfler's British Grove studio.
I know that Knopfler's amp does not have the original Oxford speaker anymore. I talked with Knopfler's guitar tech Glenn Saggers about this amp some years ago on on a Notting Hillbillies gig, and he told me it had a Celestion speaker. Unfortunately he did not remember which model (they can sound very different) so I gave Glenn a self-addressed postcard and asked him if he might send it to me after checking the amp the next time. I did not really expect he would remember it, or find the time, but some months later I in fact  got a card with the answer: a Sound City speaker  -these were often produced by Fane (Thank you Glenn if you ever read this

)
Here are some detail pictures of a 1961 Vibrolux:
"Buy me a beer" - donate for the site via PayPal. Or buy a backing track in my online shop :)
Related articles
The bootleg Dire Straits – Leeds – January 30 (31?), 1978 is one of the earliest Dire Straits live recordings (actually the only earlier live recording is  only one song – Eastbound Train from the Hope & Anchor pub, London, December 1977). This bootleg concert was recorded about one week before the recoding sessions for the very first Dire Straits album. This gig was the last of a short England tour, where Dire Straits played support for the Talking Heads. For this reason they did not play a full-length concert set.
The bootleg is from a soundboard recording on a tape cassette and contains the following songs: Southbound Again – Eastbound Train – Down to the Waterline – In the Gallery – Water of Love – Setting me up – Me and my friends – Real Girl – Sultans of Swing
Unfortunately the original tape  was damaged in the solo of the first song – Southbound Again – the reason why the last part of this song is missing. It continues with Eastbound Train (first seconds also missing), but we don't know how long it took to fix the tape problem (or even to notice the problem) so we don't know whether there have been any other songs in between or not.
There are no pictures or videos of this concert, but there are a few pictures around from the concert one day before, January 29, at the Roundhouse in London. These pictures are all black&white, but on some you can see a part of the backline gear, which has been very likely the same for all concerts on that tour. The best picture is the following, a rather small picture from a story in Q magazine from 1987.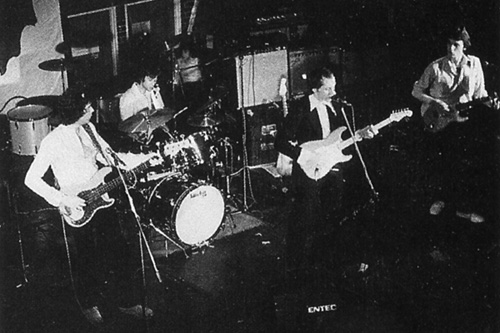 It is rather hard to see any details. What you can see are three amps. The one in the middle (behind Knopfler's head) is the brown Fender Vibrolux (he still owns this amp and uses it in his British Grove studios). The square-shaped amp on the left of it is also a Fender, as it seems a black face, and according to the proportions a 4 x 10″ combo. I first suspected it to be a Super Reverb, but meanwhile think it is a Fender Concert Amp (no reverb). The amp on the right is a Music Man, and is probably played by Mark's brother David. It is not the 212 Music Man that Knopfler used later this year because this would be higher than the Vibrolux. It must be a 2 x 10″ combo.
The guitar is Mark's maple-neck Fender # 80470, with its white non-original pickguard (see this article for more information on the pickguard issue). The guitar behind Mark seems to be his rosewood Fender # 68354, I suspect it is still bare wood finish here, I assume it was painted red not before summer that year.
As it seems David plays his Fender Strat, the one that later was black, but here it is also still wood finish (possibly both were refinished at the same time). Unfortunately you cannot see any effects or other details.
"Buy me a beer" - donate for the site via PayPal. Or buy a backing track in my online shop :)
Related articles