I recently found this picture showing Dire Straits on one of their probably earliest gigs – I guess 1977 or early 1978 at the latest. Not the earliest picture, but I think a nice one which I at least  haven't seen before.
It is only b/w, but  Mark's '61  Stratocaster should still have the bare-wood finish it had when he got it. I am almost sure that it got the later red paint at the same time when his brother David's Strat got its black finish – here also with a wood finish (right).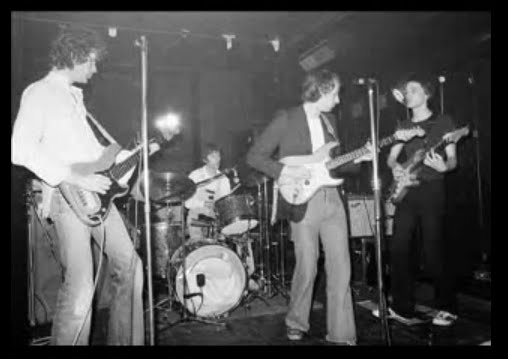 Unfortunately we cannot see which amp Mark is playing – the Fender amp on the right seems to belong to David (although he theoretically can also play some other amp outside the visible range).  I wish the picture would show just a bit more of the floor so that we could have seen any effects he had at that time (did he already play the Morley and the MXR then?), but we can't 🙁
John Illsley (left) already had his Precision bass here (at some earlier pictures from September 1977 he played some weird bass), also Pick did not have the black Eddie Ryan drum kit here yet.
If some day time-travel hyperlinks on pictures will be invented (click on it and be in that room), this is a picture I would click on 🙂