The Mark Knopfler Signature Stratocaster was introduced by Fender in 2003. Officially it was available in one colour only – Hot Rod Red. However, the first production run was in a different colour. I remember when I first saw one in a shop in 2003: it did not look like on Fender's product pictures, or like Mark Knopfler's famous red 1961 Strat, instead it was much darker. Without the headstock decal with Knopfper's signature you would not have believed that this guitar should have anything to do with Mark Knopfler. I saw two more of these in other shops only a bit later, and both also had the darker red, something that looked similar to Fender's Dakota red of the 60ies (see this blog post for more info on Fender's different red finishes).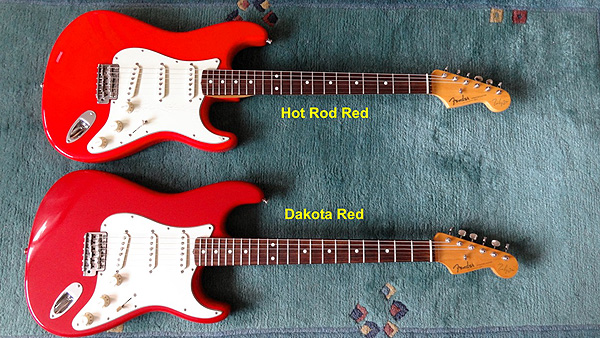 I must say that I was disappointed by the look of the first signature Strats, and I could not understand why the ones that Knopfler played on stage looked so much brighter. Was it just the stage lights that caused this impression? A few months later I saw another one on the Frankfurt Music Fair, and this one was as I always had imagined it to be: a bright red like in the early days of Dire Straits. From an insider I got the information that indeed the first production run was a wrong colour due to a mistake. Rumours say that when Knopfler found the first signature Strat in a London guitar shop that also had the wrong colour, he was upset and made Fender to correct the mistake immediately.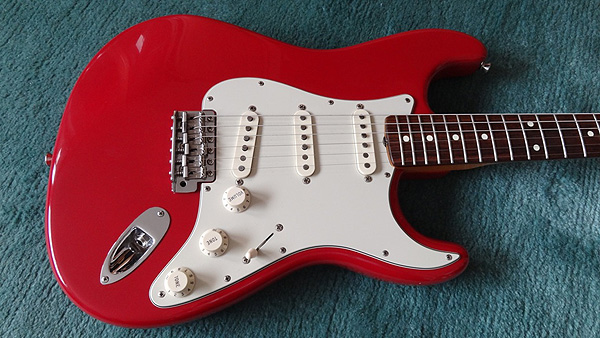 It seems noone knows exactly how many of the darker ones were produced. I somewhere read a figure like some 30, but if I take into consideration that alone in my city I saw three of them in the shops, plus what I read in internet forums,  I believe there must be far more.  As it seems the serial numbers do not really give an answer to how many there are because darker ones  exist with serial numbers higher than of Hot Rod red ones. I heard that Glenn Saggers, Mark Knopfler's guitar technician, started to file a list with the serial numbers of the wrong-coloured  guitars. If you own one of the dark ones, you might use the comment function of this blog post to tell us the serial number, maybe we can find out more this way.
Otherwise those darker guitars were identical to the later ones, and theoretically they might become a special collector item due to their limited number.