Black 'Water of Love' Telecaster
Late 60ies Telecaster Thinline Replica
!!! For sale at 229 € (+ shipping costs*) - read below !!!
The aim of this project was to set up a guitar which emulates tone and feel of Mark Knopfler's black Telecaster Thinline. This is the guitar that can be heard on all early Dire Straits live recordings. Mark used it for bottleneck guitar on Water of Love, David Knopfler (who still owns this guitar today) played it on Wild West End or Les Boys. It seems Mark also played it on Setting me up on some very early live recordings - so theoretically it might have been used on the studio version of this song as well.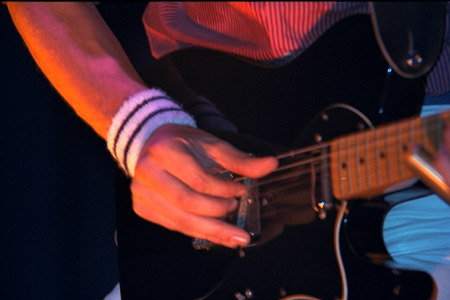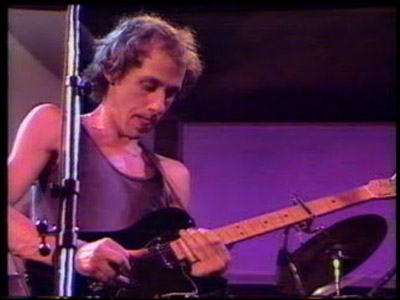 Originally this guitar was a Fender Telecaster Thinline from probably 1969, serial no. probably 226254. "Was" because the f-holes - typical for the Thinline - were closed by Mark's friend Steve Phillips, who also painted it black. So the guitar still has the hollow tone chamber of the Thinline, and for this reason weighs less than the standard Telecaster, but looks like a solid body. It still looks different from the standard Telecaster because of the completely different pickguard shape.
A light guitar like this is very resonant and consequently ideal for slide guitar. The look is totally unique.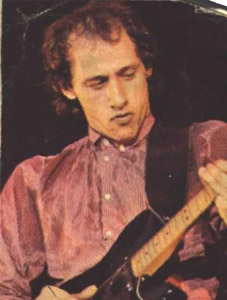 ************************************************************************************
The Project
To use the

E-Phonic MP3 Player

you will need

Adobe Flash Player 9

or better and a Javascript enabled browser.

listen to sound sample when player is not available:
Water of Love/Wild West End

(guitars and bass by Ingo Raven over a drum loop from a Dire Straits live recording)

Lead guitar tuned to open A, capo'ed 5th fret, neck PU, end of Wild West End are both PUs, over Music Man HD 212 HD 130, Morley Volume pedal, MXR Analog Delay, no external effects or EQ
(click on picture to enlarge)
This guitar here is based on a budget Thinline replica which nevertheless features high quality solid woods and solid hardware to guarantee a good sound base.
The light-weight construction in combination with the solid but light woods results in a tone which is both clean and warm. The neck is maple with a laminated maple cap, just like the original. No skunk stripe!
I modified the guitar to the following specs of the original Dire Straits guitar:
black pickguard with the Thinline shape
strings-through-body construction for more sustain, important for slide guitar playing
(on copies the ball ends of the strings often are attached to the bridge so that the strings don't go through the body)
typical Telecaster peghead shape (copies often have a different peghead shape)
Fender Telecaster waterslide decal
nitro laquer overspray on neck for comfortable feel (budget replicas often have no real laquer or some dull or sticky finish)
I did not close the f-holes (this would have been difficult and time consuming) but painted the interior around the f-hole black so that the look is similar to a closed f-hole (see pictures). Also, this way the guitar is a bit louder when played acoustically at home.
I made an identical spare copy of this guitar (same sound quality) that is currently for sale at a price of 229 € + shipping*. A must have not only for all Dire Straits fans but also the ideal slide guitar at an affordable price.
| | |
| --- | --- |
| * shipping costs: | 10 € within Germany |
| | 20 € within EU |
| | 50€ outside EU |
Please email me for further questions.