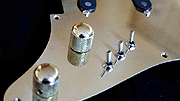 Blog Post Categories

Pages
Recent Forum Posts
Recent Comments
Archives
Links
Meta
Latest updates and news
Tweets by @mk_guitar_com
Tag cloud
Tags
Top Comment Authors
Ingo (421)
Jean-François (166)
Jeff - Anthony (36)
Erik (33)
Fletch (29)
J.Francois (29)
Dermot O'Reilly (28)
Arthur Luz (23)
TheWizzard29 (22)
zach (22)
John (20)
Knopfleberg (20)
Philipp (19)
Eduard (18)
Morten (17)
danny (14)
Jim (14)
thomas (13)
Alex Mircica (12)
Lapelcelery (12)
Chris (11)
Ryan T. (11)
David (10)
liftedcj7on44s (10)
dave (9)
Many Mark Knopfler fans like Eric Clapton and are familiar with his work. Especially his live album Just one Night from 1979 was a milestone in his career. It features a live version of Setting my up – a Mark Knopfler song from Dire Straits' first CD. However, many do not realize that this cover version has not much to do with Eric Clapton. Instead this song was meant to feature Albert Lee who plays the second guitar on this tour. He had just recorded Setting me up in the studio for his solo album Hiding (1979). In a similar way Mark Knopfler played one of his songs –  Money for Nothing – when he went on tour with Clapton in the late 80ies.
The album Hiding was not available on CD until a few year ago when it was reissued. It is a well-produced album with about 20 laid-back country-rock songs,  something many Mark Knopfler fans will probably like.
Albert Lee is a fantastic guitarist of course. He is one of the ultimate Telecaster players (although today he plays his Music Man signature model a lot). He perfected the pick-plus-two-fingers approach, a bit similar to Richard Thompson's picking technique.
Here is a short sample of this studio version of Setting me up by Albert Lee (from my vinyl):
Audio clip: Adobe Flash Player (version 9 or above) is required to play this audio clip. Download the latest version here. You also need to have JavaScript enabled in your browser.
You can buy the CD on Amazon, simply follow the link for your country (US, Germany, UK) below.
"Buy me a beer" - donate for the site via PayPal. Or buy a backing track in my online shop :)
Related articles
In this article I will cover a little chord progression that Mark Knopfler apparently discovered some day and – as he sees himself mainly as a songwriter – directly translated into a song. He often learned such little patterns and licks by accident – finding something when playing for hours – or learned them from one of his mates, people like the great Chet Atkins, pedal-steel player Paul Franklin, or Richard Bennet.
Here is a little audio clip where Knopfler plays the particular riff I am going to talk about. Here he plays it in the key of G, one full note lower than in the Vic and Ray example below.
Audio clip: Adobe Flash Player (version 9 or above) is required to play this audio clip. Download the latest version here. You also need to have JavaScript enabled in your browser.
This pattern appears in the song Vic and Ray from Knopfler's first solo album Golden Heart (1996). It starts with an A7 chord fragment, followed by a G chord with the B in the bass, and finally another A chord, with the C# in ths bass.
First as a tab: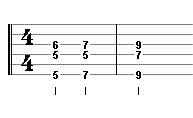 Here as pictures, showing each of the three shapes you have to play in red:



Note that from shape one to two, one note (the g on the d-string) remains the same and can be sustained, and that the third shape is the same as the second, just two frets higher which means you simply need to slide two frets higher. Check out my video below for left hand fingering (I found there are two ways that work for me).
Adding a chromatic transition chord for Money for Nothing lick
It was only recently when I realized that the funny chromatic licks that Knopfler played at the beginning of Money for nothing in Nimes on the On Every Street tour (1992) make use of the same pattern, you only have to add another shape – the chord between shape two and three in the pictured above:

Then move it to the key of G (two frets lower), followed by the same pattern in C, next in D, and you have those chords for Money for nothing (see my video, at 5:10 it also contains a link that takes you directly to a clip showing Knopfler playing that thing in Money for Nothing).
"Buy me a beer" - donate for the site via PayPal. Or buy a backing track in my online shop :)
Related articles
Summer is here and with it my summer holidays, so the ideal opportunity for some more song tutorials here in my Mark Knopfler guitar blog. This time I will explain the song Down to the Waterline – the first song on the first Dire Straits CD (1978).
Down to the waterline is surely another highlight of early Dire Straits. It is one of the oldest Mark Knopfler songs, one of 5 songs included on the demo tape Dire Straits recorded in summer 1977. It is the opener of the first album and was planned (however never released) as a second single, following the band's first single success Sultans of Swing.
It is in the key of Bm and features many guitar licks and stuff that is typical for this key but also a lot of surprises like some unusual chord changes in the middle solo or some chromatic notes.
I am explaining the whole song in a youtube video or – to be precise – in two parts since youtube allows only clips up to 10 minutes. I am showing the song as I would play it – which is a mixture of the studio or some live versions. As always, it is not about the most accurate transcription of a particular version, but about the idea behind those licks, chords and solos.
Video Part 1 (Intro, verses, chords, first solos)
Video Part 2 (middle and last solo)
Knopfler probably played his Fender Strat S.-No. 80470 on the CD version of this track, possibly over a Fender Twin and/or his brown Fender Vibrolux amp. Besides some reverb and slight distortion from the amp, the guitar sound is compressed, possibly by the Dan Armstrong Orange Squeezer. However, noone knows for sure about the gear actually used on the first two CDs, and there is a lot of rumour around.
Some notes on the gear I used for this video
self-built clone of the Mark Knopfler Fender Strat S.-No. 80470 (mainly of Fender parts) , into Morley Volume pedal, into MXR analog delay, into Music Man HD 212 amp
recorded by the mic of a digi cam.
"Buy me a beer" - donate for the site via PayPal. Or buy a backing track in my online shop :)
Related articles