Please use the comment function at the bottom of the page to add any missing relevant info.
Facts
| | |
| --- | --- |
| Manufacturer: | Schecter |
| Model: | Dream Machine (upgraded Stratocaster copy) |
| Year: | 1980 |
| Serial No.: |  S8136 |
| Colour: | two-tone sunburst |
| Woods: | birch body / birds-eye one-piece maple neck |
| Pickups: | Schecter F500T |
| Strings: | possibly 09 (Fender Extra lights ?) |
| First seen with MK: | 1980, recording of Making Movies |
| Still in MK's possession/Last seen: | no (stolen in 1980) |
Info
Info: I wrote a dedicated blog post with all info we have about this guitar some time ago which you can find here. In short: this guitar was played on Tunnel of Love and was one of Mark's favourites. Unfortunately it was stolen out of a car in Deptford so he needed a replacement to go on tour with. The replacement was his second sunburst Schecter Strat, the one you can see e.g. on the Alchemy video. Both can be distinguished easily since the stolen one had dot markers on the fretboard, the replacement had not, and the output jack was on top (normal Strat style) of the body while it was on the side at the replacement guitar.
All pictures we have of this guitar seem to be from the same photo session in their rehearsal room, at the Wood Wharf  in Greenwich.
Pictures
Pictures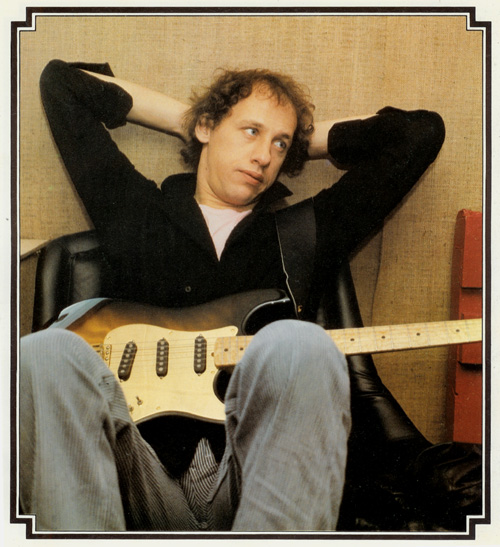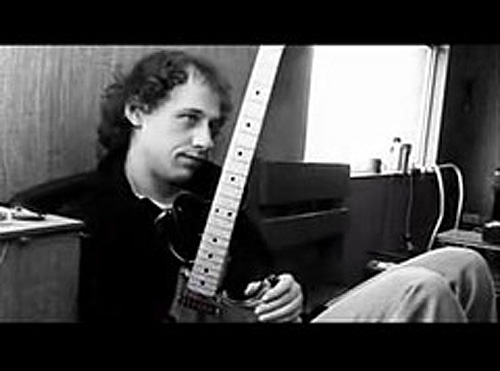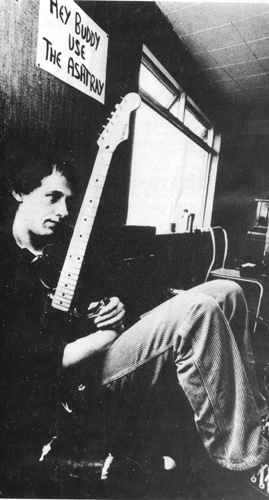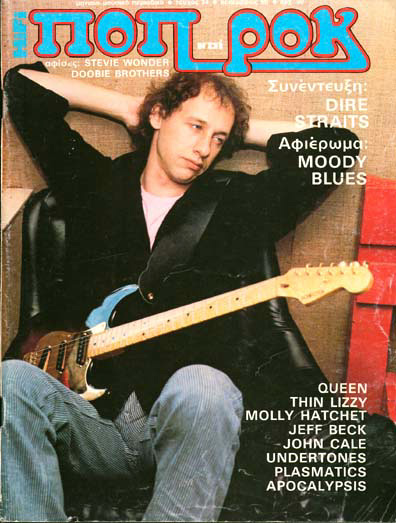 Reader picture gallery
Did you take some nice pictures of this guitar, e.g. during a MK concert? You can upload your own pictures here (no registration required). After moderator approval it will be displayed here.
[ngg_uploader id = 5]
Related Blog Posts