Please use the comment function at the bottom of the page to add any missing relevant info.
Facts
| | |
| --- | --- |
| Manufacturer: | Schecter |
| Model: | Dream Machine (upgraded Stratocaster copy) |
| Year: | 1980 |
| Serial No.: |  S8218 |
| Colour: | metallic red (similar but not identical to candy-apple red) |
| Woods: | mahogany body / birds-eye one-piece maple neck |
| Pickups: | came with Schecter F500T which were replaced with Seymour Duncans (possibly SSL-1) in 1981 and with APS-1 in the mid 80ies |
| Strings: | 09 (Fender Extra lights in 1980/1, Deam Markley Custom lights 09-46 in 1982) |
| First seen with MK: | 1980, recording of Making Movies |
| Still in MK's possession/Last seen: | yes / last seen: played by Richard Bennet on the Fish and the Bird in 2008 |
Info
Info: This was the guitar that replaced Mark's two red Fender Strats as his main axe in 1980. He bought it together with some more Schecters (another red one, a blue and a sunburst Strat, and a black Telecaster) at Rudy Music Stop in New York. Schecter had been a manufacturer of quality parts to upgrade mainly Fender guitars but had recently started to offer completely assembled guitars which were called Dream Machines. Most of the hardware was made of brass instead of steel, and the woods were normally exotic or high-quality woods. The body of this guitar is mahogany, the base wood for a Gibson Les Paul body, and the neck is a high-grade figured birds-eye maple neck. Due to the brass hardware and the choice of woods, this guitar might be relatively heavy. Tom Anderson, who worked for Schecter at that period, remembered that it sounded very dark so that they were afraid Mark would not like it.
The reason why Mark changed from Fender to Schecter was mainly because he was looking for a reliable guitar that was easier to play than his Fenders, and his then-girlfriend had a Schecter which impressed him very much.
Schecter Dream Machines were equipped with Schecter F500T pickups and had three mini toggle switches. As each pickup had two sounds due to a tapped coil, the switches enabled 26 different sound combinations. He recorded Making Movies and started the On Location tour with these pickups, but after the Christmas break he put Seymour Duncans into this guitar. At the time of the Brothers in Arms tour (1985/86) he had Seymour Duncans APS-1 in the guitar, it is not sure if these were the same Seymour Duncans he had in 1981 or not (I think the APS-1 were released later and Seymour Duncan had only SSL 1-6 in the early 80ies, out of these Knopfler's pickups should be SSL-1).
After he  got his first Pensa Suhrs in 1987/88, he used the red Schecter only for some songs, e.g. One Every Street or for the encore Wild Theme / Local Hero.
Pictures
Pictures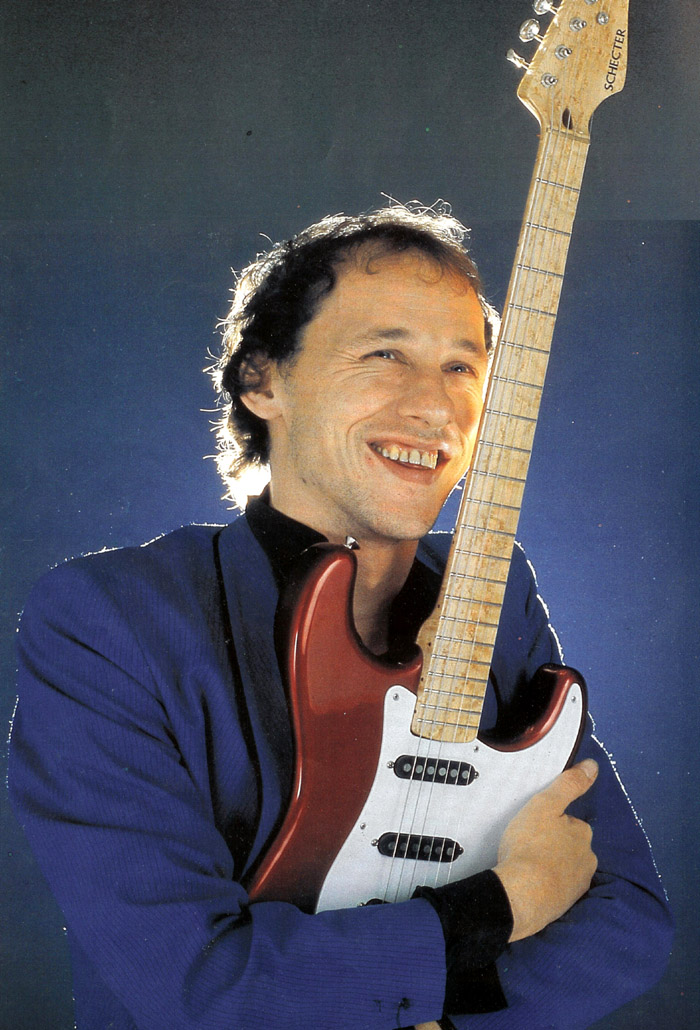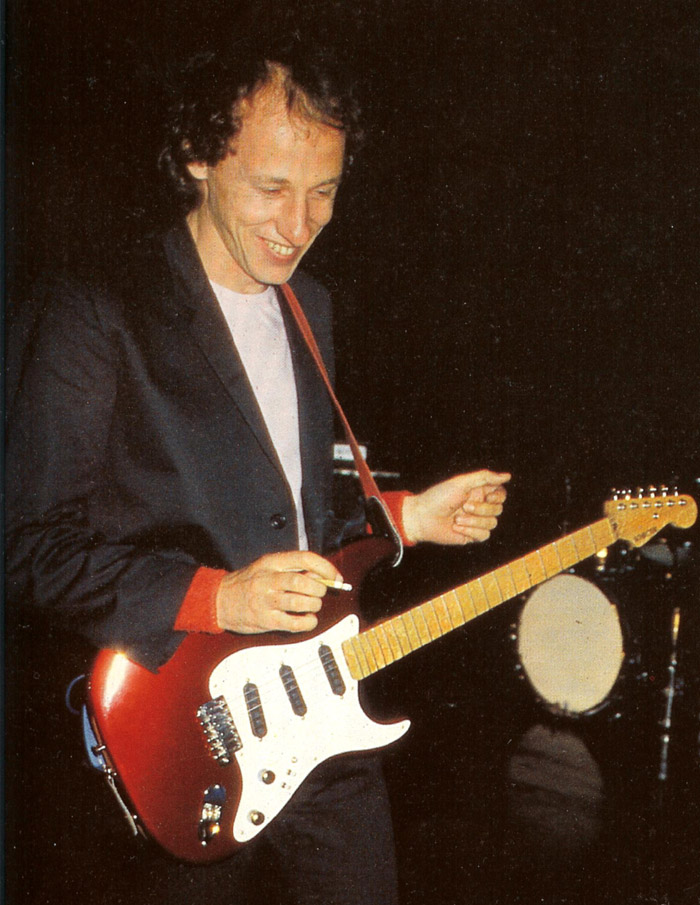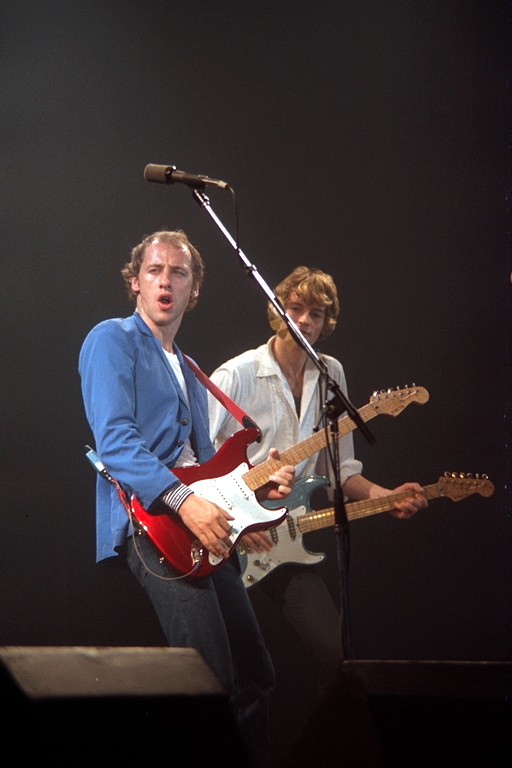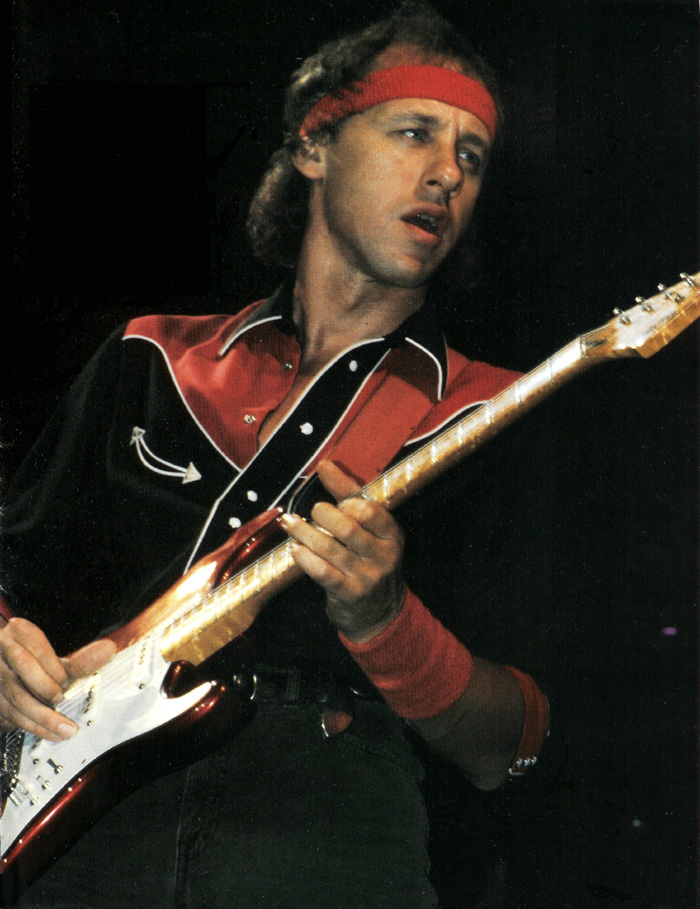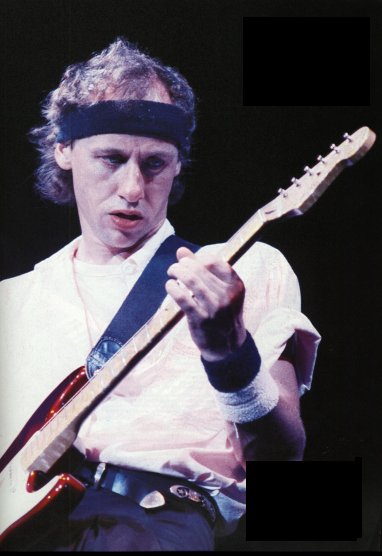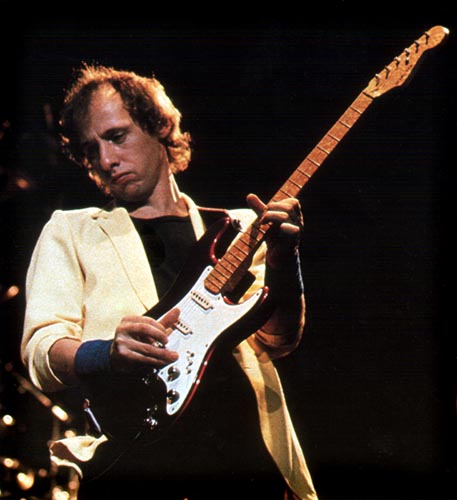 Reader picture gallery
Did you take some nice pictures of this guitar, e.g. during a MK concert? You can upload your own pictures here (no registration required). After moderator approval it will be displayed here.
[ngg_uploader id = 4]
Related Blog Posts