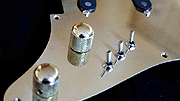 Blog Post Categories

Pages
Recent Forum Posts
Recent Comments
Archives
Links
Meta
Latest updates and news
Tweets by @mk_guitar_com
Tag cloud
Tags
Top Comment Authors
Ingo (421)
Jean-François (166)
Jeff - Anthony (36)
Erik (33)
Fletch (29)
J.Francois (29)
Dermot O'Reilly (28)
Arthur Luz (23)
TheWizzard29 (22)
zach (22)
John (20)
Knopfleberg (20)
Philipp (19)
Eduard (18)
Morten (17)
danny (14)
Jim (14)
thomas (13)
Alex Mircica (12)
Lapelcelery (12)
Chris (11)
Ryan T. (11)
David (10)
liftedcj7on44s (10)
dave (9)
Mark's Privateering tour has started, and they played the first 8 concerts around south-east Europe and Italy. One song that has been played on some of these  – compared to previous tours they vary the setlist a lot – is Gator Blood. I saw the picture of Mark with the white Strat – it seems to be the 1964 of Sailing to Philadelphia – some days ago and was wondering on which song it was played. The capo at the 3rd fret and the bottle neck are a hint of course, but I did not associate it with Gator Blood. In fact the sound of the album version is different from a typical Strat sound, maybe he played his Danelectro on the album, his main axe for bottle neck these days.
Here are some youtube videos showing Gator Blood. The tuning is open G (D – G – D – G – B -D), capoed at the 3rd fret (key of Bb). Mark played a similar picking 34 years ago on a song called Do right unto others on Bob Dylan's Slow Train Coming album by the way. Enjoy!
"Buy me a beer" - donate for the site via PayPal. Or buy a backing track in my online shop :)
Related articles
I recently watched this video on youtube and felt to share it with all readers of my blog. It shows Abigail Ybarra winding a pickup in the Fender custom shop. In case you haven't heard of her, she started to wind pickups at the Fender factory in 1956, and again does so at the Fender custom shop today. She is the mother of pickup winding so-to-say.
The youtube video shows you what is meant with hand-winding a pickup, or scatter winding. Of course noone wounds a pickup by hand in the sense of laying single turns of thin wire around the coil, and neither by turning the coil by hand. For this always machine have been used, but the wire is led by hand. This way the person who operates the machine controls where exactly the next layer of wire goes, and also the tension of the wire.
Scatter winding means all the time the wire is  led from one side of the bobbin to the other, and back again. Such details are of importance for the sound of a pickup because they affect physical values, e.g. the capacity of the pickup. It is a mistake to think only the number of turns and the material of the magnets matter, it is much more. Even the insulation of the pickup wire – normally something like enamel or a material called Formvar – is of  importance, and both the thickness of the insulation and the material cause clearly audible differences. Of course it is still all physics and not vodoo, but a pickups is really a highly complex issue.
"Buy me a beer" - donate for the site via PayPal. Or buy a backing track in my online shop :)
Related articles