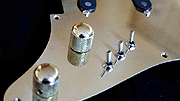 Blog Post Categories

Pages
Recent Forum Posts
Recent Comments
Archives
Links
Meta
Latest updates and news
Tweets by @mk_guitar_com
Tag cloud
Tags
Top Comment Authors
Ingo (421)
Jean-François (166)
Jeff - Anthony (36)
Erik (33)
Fletch (29)
J.Francois (29)
Dermot O'Reilly (28)
Arthur Luz (23)
TheWizzard29 (22)
zach (22)
John (20)
Knopfleberg (20)
Philipp (19)
Eduard (18)
Morten (17)
danny (14)
Jim (14)
thomas (13)
Alex Mircica (12)
Lapelcelery (12)
Chris (11)
Ryan T. (11)
David (10)
liftedcj7on44s (10)
dave (9)
This time I am checking two great guitars, a Suhr MK-1 and a Pensa MK-1. The Suhr is the one that you could already see in this video. Both belong to the same person, a collector from Germany.
Some background on the first MK1
The Pensa-Suhr MK1 was built in 1988 by luthier John Suhr  at Rudy Pensa's guitar shop in Manhattan. Suhr worked there before he built amps with Bob Bradshaw and became master builder at Fender's Custom Shop. Later he started his own company – Suhr guitars. For this reason the first guitars were called Pensa-Suhr, and  after John  left simply Pensa. John Suhr also builds guitars similar to the MK-1 (although for legal issues he has to change some details) – if you want a MK-1 you basically have to decide if you want it from the same place or from the same builder.
Pensa Custom MK-1
This guitar is from 1993 and differs in some details from the original MK-1. The body top is not maple but koa, while the body itself is still from mahogany. The shape of the upper body horn is different – the horn is thinner and longer. It has a SPC mid boost but it is not activated with a push-pull poti. Instead, a third poti gradually blends between the normal and the boosted sound. See the pictures for more details: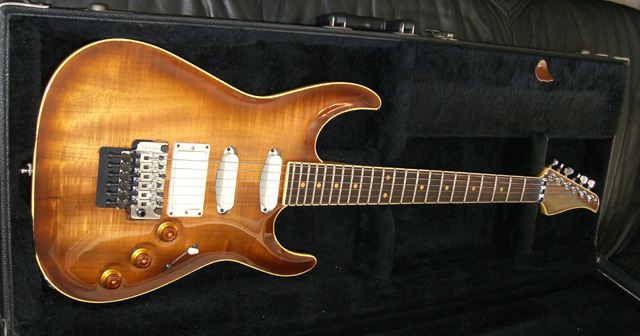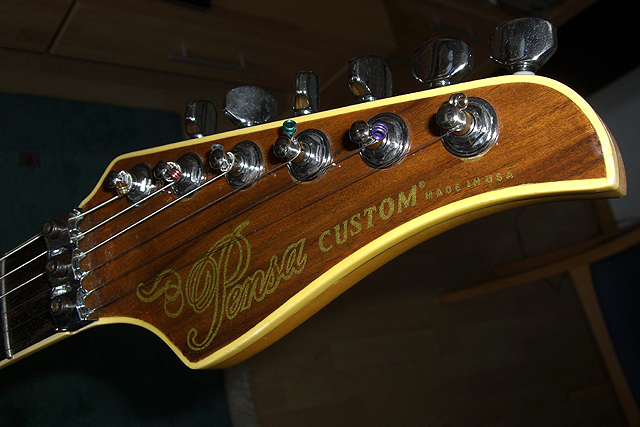 Suhr Custom Carve Top (MK-1)
This wonderful guitar is from 2006. Note that apparently for legal reasons the official name of this guitar is not MK-1 – only Pensa are allowed to use this model name. It has a mahogany body with a 3/4″ quilted maple top, a maple neck with Indian rosewood fingerboard, Floyd Rose tremolo, abalone dots, EMG pick-ups etc. The top of the guitar is really astonishing – almost three dimensional. We found it sounds darker and warmer than the Pensa.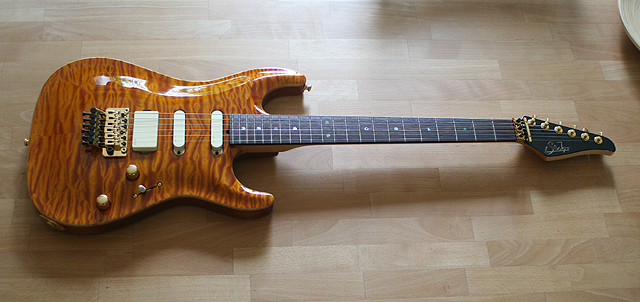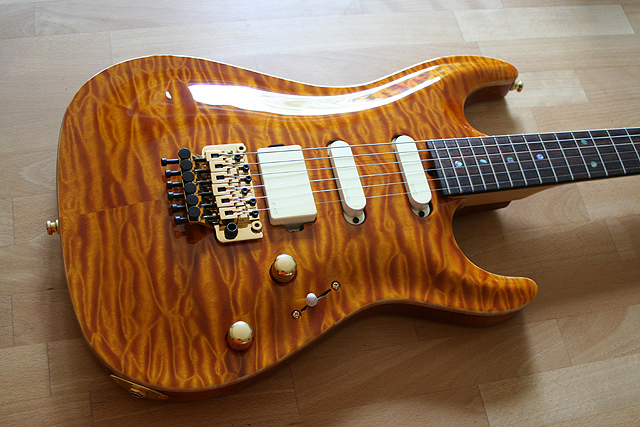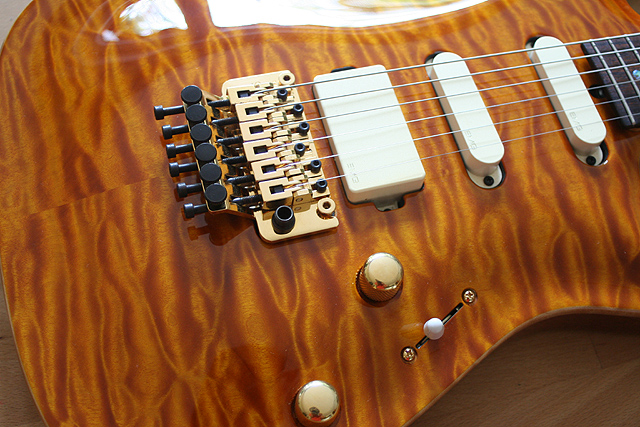 In this youtube video you can see me playing both of them – including riffs from Money for Nothing, Heavy Fuel, No can do, …. The guitar goes directly into the amp, the distortion is from the amp – a Music Man RP112 65. The SPC mid-boost is enabled on both guitars.
"Buy me a beer" - donate for the site via PayPal. Or buy a backing track in my online shop :)
Related articles
For this week I had some nice borrowed guitars around which made me record a short youtube video comparing them with some of mine, all played over the same amp with the same setting – only the volume knob was adjusted for each. This was rather a spontaneous session recorded with the camcorder mic. I tried to play both some similar licks on different guitars and different licks that sound nice on the particular guitar.
The guitars were:
1 – Part-o-caster
This guitar is basically a copy of Mark's Fender  which he used on that early Dire Straits stuff. It is not too accurate, wrong body wood, one-piece maple neck instead of laminated maple fingerboard etc. but it sounds nice in most situations. In the neck position it has a DiMarzio FS-1, in the middle position an old vintage Strat pick-up. One of the tone potis was replaced with a rotary switch that allows all kinds of pick-up combinations, even fat humbucker-like sounds.
2 – 1974 Gibson Les Paul Custom
70ies Gibson are surely not that much sough-after but this one is a nice guitar. It is tobacco sunburstwhich resembles a faded sunburst of those 50ies Paulas. Originally the plastic parts were black but they were replaced with white ones to look more like an '58 Les Paul.
3 – 1983 Squier Stratocaster
These very first Squiers were really great, almost all of them sound cool. I put one of my loaded Schecter-style pickguards on it that allow a total of 27 sound combinations from the three tapped pick-ups.
4 – 2006 Suhr MK-1
This guitar looks and plays like a dream – and it sounds fantastic, too. The top is one of the fanciest I have ever seen, the wood looks almost three dimensional. Unfortunately it is here only for a couple of days, a guitar you can easily fall in love with.
5 – Fender Stratocaster
What to say about this one? The neck pick-up is not original (a FS-1), bare wood finish, needs to be refinished but it looks cool as it is, too.
6 – 68 Fender Telecaster
The late 60ies Telecasters are really cool, so is this one. The combination of the ash body with the maple cap neck  sounds really bright, but alwasy war at the same time. The neck pick-up is a Japanese copy, the owner still has the original pick-up that needs to be rewound.
7 – 77 Greco Super Sounds
Greco guitars are better known under tha Ibanez label. I think the domestic guitars were called Greco, the export guitars Ibanez. It sounds amazing – especially for its price! The gold anodized metal pickguard is not original.
Here you can vote for which one sounds best to you. You will see the results so far after voting.

Loading ...
"Buy me a beer" - donate for the site via PayPal. Or buy a backing track in my online shop :)
Related articles
Posted in: Misc by Ingo on July 05, 2011
Here you can hear a very early radio interviews with Mark and David Knopfler of Dire Straits from summer 1978. Mark talks about how they recorded their first demo, how they got their record contract, about London, and about plans for the second album. I got it on an old analog tape many years ago.
Audio clip: Adobe Flash Player (version 9 or above) is required to play this audio clip. Download the latest version here. You also need to have JavaScript enabled in your browser.
"Buy me a beer" - donate for the site via PayPal. Or buy a backing track in my online shop :)
Related articles