In the 80ies, Mark Knopfler was probably the most famous user of Schecter guitars. He bought several Schecters in 1980 at Rudy's Music Stop in New York, mainly because he was looking for a guitar that was easier to play and better suited for the high demands on the road than the vintage Fenders he played before. Also his former girl-friend played a Schecter which he said was much better than his Fender guitars.
So what was the story behind the Schecter company?
Schecter Guitar Research started around 1976 in Van Nuys, California, when David Schecter opened his repair and custom guitar shop. He soon started to produce his own quality guitar parts which were intended to replace some stock parts on common guitars. Especially the Fender Stratocaster and Telecaster were the ideal guitar to be hot-rodded, since all their parts could be replaced much easier than with the laminated constructions that Gibson used, and the quality of Fender guitars was possibly at the lowest in the Fender history.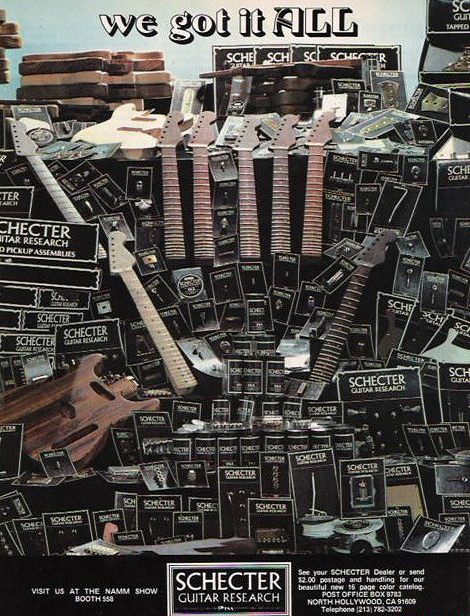 Because of their background as supplier of upgrade parts, Schecter soon was mainly known for
(a) exotic woods
Unlike Fender who build their guitars from rather common woods (ash, elder, maple,..), Schecter specialized in beautiful exotic woods, like Shedua, Koa, Cocobola, Pau Fero, Mahogany, Rosewood, Purple Heart, or figured maple (necks), or Red Oak, Paduak, Zebrawood, Teak, Koa, Anjico, Imbuya, and many more (bodies). As you see, trading with protected tropical woods was not an issue in the 70ies yet.
All necks were one-piece which means they did not have a separate fingerboard (as Mark Knopfler's red Tele had, but this was a very late model). They had 21 frets, 22 frets were a later trend started by heavy metal guitarists in the 80ies. If you upgraded your guitar with such a beautiful exotic wood, you don't want to hide it behind a solid finish, consequently the typical Schecter guitar was bare wood, or an oil finish, although laquer was offered for additional charge.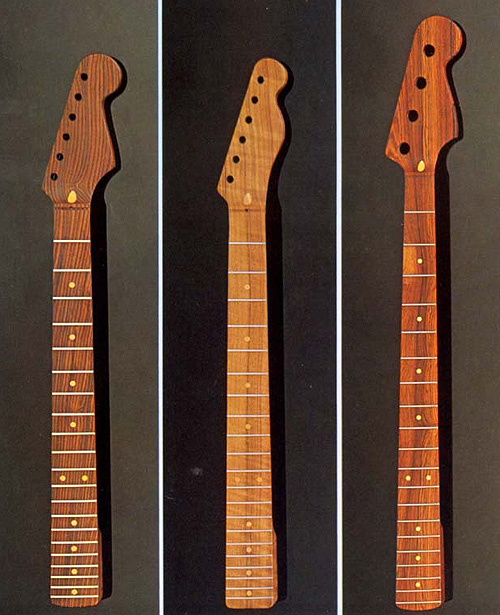 (b) brass hardware
In the seventies it was common believe that a guitar should ideally be rather heavy in order to have a lot of sustain. Surprisingly today many players prefer light-weighted woods, and talk rather about tone than sustain. One way to improve sustain – which means how long a note will last – was to replace the steel hardware with brass hardware. For this reason not only Schecter but also Mighty Mite – the second big parts supplier – and Fender themselves offered brass hardware as an upgrade in the late 70ies. Fender even released an upgraded Stratocaster with the model name The Strat in 1980 that came with a brass bridge, a brass nut, and matching brass knobs. By the way, Schecter also supplied the big manufactureres like Fender and Gibson with parts, so possibly some of the brass master series parts by Fender were actually produced by Schecter.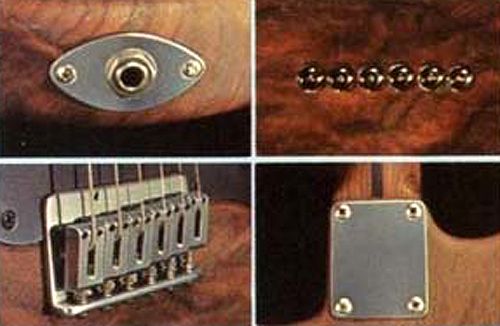 (c) beefed-up pick-ups
In the 70ies, there were hardly any high-gain amps, again something that was more a child of the 80ies. Nevertheless, the first amp manufacturers or amp repair specialists were successful with offering high-gain mods, e.g. the first Mesa Boogies based on a Fender circuit that was modified to have more distortion. Another way to increase the distortion abilities was to replace the stock Fender pick-ups with overwound pick-ups. This was what DiMarzio started in the early 70ies. Instead of the common 7,000-8,000 windings you simply put much more on a Stratocaster pick-up. This way the pick-up became louder and had less treble but more mids. The drawback: you would loose the original Strat sound which was great for clear sounds. Here David Schecter came in with the invention of the F500T pick-up, the first successful tapped pick-up. Tapped means that the F500T was a beefed-up pick-up with almost twice as much windings than a standard Fender pick-up, but it had a tap after the normal number of windings, so you could "switch off" the second half of the coil so to say. For this reason the pick-up did not have the normal two cables but three (ground, half coil, full coil). The pick-up coils were switched by three mini switches with three positions each (tapped, off, full), instead of the Fender 5-way switch.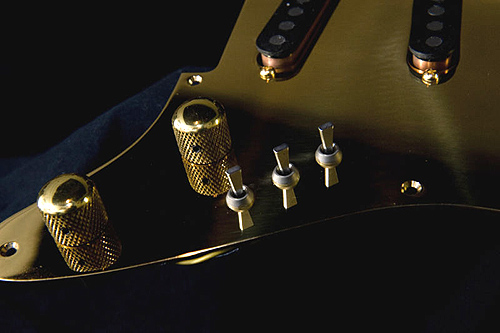 The Dream Machines
After a few years Schecter was very successful and their product range had grown so that they actually had each part of a Fender guitar in their catalogue. So it was nothing but the next logical step to offer complete guitars. These were put together by one of their qualified retailers (e.g. Rudy's Music Stop was one of them), and marketed as Dream Machines. The five Strats (red, red, blue, sunburst, plus replacement sunburst) and the black Tele were Dream Machines. The red Tele as well, but he got this about 3 or 4 years later.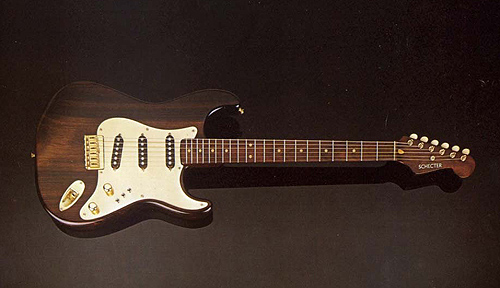 Some more detail difference between a dream machine and a stock Fender (except the points mentioned above): two strap pins at the bottom (Schecters were often heavy, and this way the player could change the balance by using one or the other pin), metal pickguards, only two knobs (one volume, one tone), treble-bleed capacitor to reduce treble loss when reducing volume (similar to the telecaster circuit), two long-life plastic conductor potis, and sometimes no fingeboard dots.
The end of the era
About 1983 Schecter was sold to – officially – a group of Texan investors, who moved over the business to Dallas, Texas. They still offered parts and complete guitars, but the quality was apparently different to what it was before. Here is an inofficial insider story I read in a forum:
One of the laeding sales guys at Schecter had origins in the 'meat-packing industry' – some weird people who made obscure deals. Before being accused of spreading false rumour, I prefer to quote the following:
"They basically write contracts to people that wanna save money on their meat purchases, by buying 1/2 a cow, and getting the cut and packed into convenient sizes. Don't have a freezer big enough? They'll sell you a freezer too, just sign the contract. Then they sell the contract to a finance company. If they get too many complaints, they simply move their operation to another county or another state.
Apparently, Shel didn't use their investment money very wisely, and the meat-packers were getting pissed. I don't know whether it was before, during, or after this problem, but at some point, Dave [Schecter] decided he had enough and split (or was forced out; that part is still unclear to me), leaving the company in Shel's hands. At some point the meat-packing investors decided that they had had enough, too.
One night. around midnight, they showed up in meat delivery trucks at Schecter after the place had closed, broke the locks, went in, and grabbed everything they could grab: guitars, pickups, winding machines, office furniture, everything that wasn't bolted down (and a few things that were), loaded their trucks and split – for Dallas, Texas."
So according to this source, the whole Schecter Californian shop was robbed out and the inventory sold from Dallas. This would explain why the Dallas era guitars still have many identical parts while other parts seem to be from other sources, and the overall quality was lacking.
Later the name Schecter was sold to a Japanese investor who moved back the company to California. The new Schecter company made many original models,aiming mainly at the heavy metal scene. It seems besides the name this company has nothing to do with the original Schecter company.