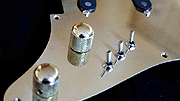 Blog Post Categories

Pages
Recent Forum Posts
Recent Comments
Archives
Links
Meta
Latest updates and news
Tweets by @mk_guitar_com
Tag cloud
Tags
Top Comment Authors
Ingo (421)
Jean-François (166)
Jeff - Anthony (36)
Erik (33)
Fletch (29)
J.Francois (29)
Dermot O'Reilly (28)
Arthur Luz (23)
TheWizzard29 (22)
zach (22)
John (20)
Knopfleberg (20)
Philipp (19)
Eduard (18)
Morten (17)
danny (14)
Jim (14)
thomas (13)
Alex Mircica (12)
Lapelcelery (12)
Chris (11)
Ryan T. (11)
David (10)
liftedcj7on44s (10)
dave (9)
The video in today's post demonstrates an important aspect of Mark Knopfler's unique guitar style: the blend of rhythm and lead guitar playing.
I remember the day I first saw Mark Knopfler on TV in the late 70ies. I knew their stuff from the records, and I heard his lead guitar playing on these. What was striking when seeing him play was that his hands were apparently doing something all the time, he did not pause between all those lead licks on e.g. Sultans of Swing, he was constantly playing something – although you mainly heard the lead licks.
In this respect his playing is like an ice-berg: what you see is only the top of it, while the biggest part is under water. Just like the part under water, there is a constant rhythm, sometimes only scratching or clicking sounds. Something that is there although you are not always aware of it. This is one reason why it sounds so groovy and why the lead licks sound so effortless, and why often it sounds different when less advanced players cover the song with their bands.
In later years he emphasized the lead lines with the volume pedal a bit – bringing things in or out, but it works without as well – in the early days of Dire Straits he often left the pedal fully up for parts of the song. Simply make sure to play the rhythm carefully, not as loud as you would do when playing rhythm only.
I guess this approach resulted from playing alone (e.g. all the finger picking stuff Knopfler used to practice endlessly when not having a band) and from playing with a trio (his band before Dire Straits – the Cafe Racers – had only one guitar, bass, drums, and a singer). When David Knopfler came in with his rhythm guitar, he doubled the rhythm or kept it up when Mark played lead. This way both guitars could be panned to different sides of the stereo panorama without any sound holes. Also these partly percussive elements blend nicely with the drums. A great CD on which this can be studied is Live from the BBC – a radio concert from July 1978 that was officially released many years later.
I remember an interview with John Suhr – the luthier who built his famous Pensa-Suhr guitars – who said that Mark Knopfler sounds like a band when playing alone.
Here is the video in the standard video quality version. You can watch a high-resolution version directly at youtube (click here).
"Buy me a beer" - donate for the site via PayPal. Or buy a backing track in my online shop :)
Related articles
Eastbound Train was one of Dire Straits' first songs. It was recorded as a demo before the first album was recorded, and it is the song of the earliest Dire Straits live recording that exists (from the Hope & Anchor, London, December 1977). This live version was released as the b-side of the single Sultans of Swing in 1978, but with exception of the demo (that has a totally different groove) it was never recorded in the studio. Eastbound Train was an encore in most Dire Straits concerts between 1977 and 1979, but it was never played again later.
It is a simple boogie groove in the key of E major, and features not only a cool rhythm guitar riff played by Mark Knopfler, but also a superb solo. The chords are all E in the verses (only in the first verse it changes to D for four bars), and a chorus-like part over four bars A and four bars B.
The solo is over a standard 12-bars blues scheme (E E E E A A E E B B E E), repeated three times.
The following video explains basically all different parts and shows some variations for the solo. The way I play it is rather a mix of different live versions, a few details are possibly my own creations. There are enough videos on youtube showing Dire Straits playing the song if you are not familiar with it.
Since I still experience sound artefacts (a strange wobbling bass sound) in videos at high resolution on youtube (before I upload them they sound alright), I put in the standard video quality version. You can watch a high-resolution version directly at youtube (click here).
There are two more articles about Eastbound Train in this blog (see the list of related articles below) that analyze the opening chord and the 'train chord' in the solo.
"Buy me a beer" - donate for the site via PayPal. Or buy a backing track in my online shop :)
Related articles
The b5 notes means the flattened fifth note of any scale. If we have e.g. a  C-major scale (c – d -e -f -g – a – b – c ), the fifth note is the g , and if this note is flattened, we get the gb. The same logic works with any major or minor (or other) scale.
The following video demonstrates the usage and the position of this note. You will find Mark Knopfler licks from Sultans of Swing (Alchemy version), Calling Elvis, In the Gallery, Down to the Waterline, and many more.
I did not tab these licks here, but I think you will not have problems to see how they are played. Remember, it is not important to play something authentically but rather to understand the idea behind what is being played. Only this way you will be able to transfer the licks into your own repertoire, and to use them for your own music.
The video is in high quality here. If you have bandwidth problems, click here to go to youtube and watch it at standard quality. Enjoy.
"Buy me a beer" - donate for the site via PayPal. Or buy a backing track in my online shop :)
Related articles
In 1982 Dire Straits recorded their Love over Gold album in New York. According to Knopfler himself, he spent some time before with learning new chords and licks from a book by Mickey Baker. This circumstance, and the collaboration with Jazz musicians of the New York jazz scene – like Mike Mainierei, Michael & Randy Brecker or Tony Levin – seem to be the reason why sudenly more jazz elements appeared in his playing.
A short time later Knopfler recorded the Local Hero soundtrack, again some of these musicians appeared on tracks like Smooching. In 1984 the soundtrack for Comfort & Joy was released. The licks in the following video are from this 3-track soundtrack – from the track Joy (orginally released on a maxi vinyl single). They illustrate Knopfler's jazzy approach -typical elements are chromatic notes, e.g. using the b5 note of the scale, or the swing rhythm.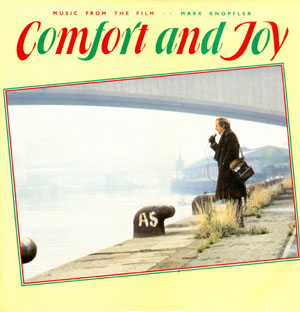 I have not heard the soundtrack for years I must admit, and generally I do not care too much about playing 100% authentically, I rather try to catch the feel and play it the way it sounds good to me, so forgive me if some details are not accurate. Nevertheless the video should give you some insight of what is going on.
Video in high quality: (in case of bandwidth problems, click here to go directly to youtube and watch it at normal quality)
If you don't know this rather rare soundtrack, you can hear the intro of the song Joy here:
Audio clip: Adobe Flash Player (version 9 or above) is required to play this audio clip. Download the latest version here. You also need to have JavaScript enabled in your browser.
"Buy me a beer" - donate for the site via PayPal. Or buy a backing track in my online shop :)
Related articles