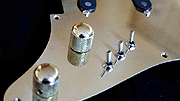 Blog Post Categories

Pages
Recent Forum Posts
Recent Comments
Archives
Links
Meta
Latest updates and news
Tweets by @mk_guitar_com
Tag cloud
Tags
Top Comment Authors
Ingo (421)
Jean-François (166)
Jeff - Anthony (36)
Erik (33)
Fletch (29)
J.Francois (29)
Dermot O'Reilly (28)
Arthur Luz (23)
TheWizzard29 (22)
zach (22)
John (20)
Knopfleberg (20)
Philipp (19)
Eduard (18)
Morten (17)
danny (14)
Jim (14)
thomas (13)
Alex Mircica (12)
Lapelcelery (12)
Chris (11)
Ryan T. (11)
David (10)
liftedcj7on44s (10)
dave (9)
Today I was just sitting around and playing bits and pieces of Setting me up from the first Dire Straits album. As the camera and recording gear was still in place from the last video, I spontanously decided to film a short sequence.
It is not really a performance of the song in the sense of playing the right pieces in the proper order but rather some jamming with myself within the groove of the song. In such a situation I usually play a mix of original licks from both the studio version and numerous live versions which I have somewhere in my head, plus some improvisation, so it is not an authentic version of the original. Still there are many riffs you will recognize from the record and might be interested to see how I play them.
The guitar is my 1983 Squier Strat from the first Japanese vintage series. These are really great guitars with a nice sound. Unfortunately they are getting rare, especially the fiesta red ones, and prices have started to rise considerably.
I replaced the original pickguard with a Sultans pickguard with the VFS-1 pickups. Here I am playing the bridge pickup in the tapped position. The guitar has 008 strings and is tuned to open A.
I did not use an amp but played into a portable PCM recorder, and added some basic effects (reverb, compression, dealy… plus some slight phasing) in the recording software. This approach is just for convenience, as I don't have to mess around this way with the amp settings, mic positions etc.
"Buy me a beer" - donate for the site via PayPal. Or buy a backing track in my online shop :)
Related articles
I think I wrote a blog post about Albert Lee's cover of Setting me up from the first Dire Straits album before (see here). Today I surfed into this video clip on youtube which I really like a lot. It is a bit on the slow side, much slower than e.g. Albert's live version that was featured on Eric Clapton's Just one Night live album. It seems the older you get the slower you play but with more emphasis on the groove and on details. Reminds me on Mark's recent versions of  Telegraph Road which is also much slower these days but so rich of new details and has such a nice flowing feel.
Albert Lee, originally one of THE Telecaster heroes, switched to a Music Man signature model a long time ago. Speaking of Music Man, just like Mark Albert played Music Man amps – often a 4×10 combo – in the late 70ies and early 80ies. On this clip we hear him over a Fender amp, seems to be a  Tone Master.
While Mark used to  play Setting me up in an open A tuning (some years later he changed to standard tuning) , Albert always played it in standard tuning and in the key of D (the Dire Straits version is A).
Enjoy

"Buy me a beer" - donate for the site via PayPal. Or buy a backing track in my online shop :)
Related articles
Many Mark Knopfler fans like Eric Clapton and are familiar with his work. Especially his live album Just one Night from 1979 was a milestone in his career. It features a live version of Setting my up – a Mark Knopfler song from Dire Straits' first CD. However, many do not realize that this cover version has not much to do with Eric Clapton. Instead this song was meant to feature Albert Lee who plays the second guitar on this tour. He had just recorded Setting me up in the studio for his solo album Hiding (1979). In a similar way Mark Knopfler played one of his songs –  Money for Nothing – when he went on tour with Clapton in the late 80ies.
The album Hiding was not available on CD until a few year ago when it was reissued. It is a well-produced album with about 20 laid-back country-rock songs,  something many Mark Knopfler fans will probably like.
Albert Lee is a fantastic guitarist of course. He is one of the ultimate Telecaster players (although today he plays his Music Man signature model a lot). He perfected the pick-plus-two-fingers approach, a bit similar to Richard Thompson's picking technique.
Here is a short sample of this studio version of Setting me up by Albert Lee (from my vinyl):
Audio clip: Adobe Flash Player (version 9 or above) is required to play this audio clip. Download the latest version here. You also need to have JavaScript enabled in your browser.
You can buy the CD on Amazon, simply follow the link for your country (US, Germany, UK) below.
"Buy me a beer" - donate for the site via PayPal. Or buy a backing track in my online shop :)
Related articles
The guitar playing on Setting me up from Dire Straits' first album is a true masterpiece. The recording features three guitar tracks: the opening riff, the lead guitar (both played by Mark), and a strummed ryhthm guitar by Mark's brother David.
On Youtube you can find countless attempts by different players to play this riff. Most of them try it with standard tuning, which also works more or less. However, I am almost sure that it was played in open A tuning (e, a, e, a, c#, e , from low to high). Open A is basically the same as open G, only tuned up one note.
The problem is that there is no video of this song available from that time (later versions with the Notting Hillbillies or with Dire Straits in the 90ies were different, these days he even plays a different riff in standard tuning).
So what makes me think that it is open A?
Hint 1: One reason is obviously that I myself play it in open A, and it works (listen to a sample of riff, refrain riff, solo and outro riffs). But you might argue that this is no real proof of course.
Hint 2: Check out the following picture from I guess early 78. It shows Knopfler playing that old black Telecaster on which he also played Water of Love on almost all Dire Straits concerts up to late 1979. This guitar was tuned to open A, and had a capo at the 5th fret (proven by countless live videos of Water of Love). Note that on this picture there is no capo !!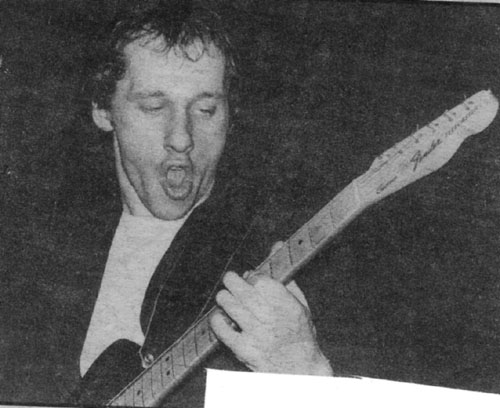 Playing Setting me up?
I can't imagine that the Tele was tuned from one song (Water of Love) to standard tuning within the same concert, but if not, it means it shows Mark Knopfler playing a second tune in open A tuning. Which? My guess: Setting me up. Again, more a hint than a proof? The let's go on to …
Hint 3: On the bootleg CD Live in Leeds (January 1978) Water of Love is directly followed by Setting me up, you can hear the noise when Mark plugs in the guitar before Water of Love, and after Setting me up, but no noise between. So, Water of Love and Setting me up probably both on the black Tele.
Hint 4: This video on youtube shows Knopfler playing Setting me up with the Notting Hillbillies in 1990. At this time the riff was still played similar to the original recording. Obviously it is open G tuning, with a capo at the 2nd fret. (At this time he played heavier strings than in the 70ies, so I guess he now prefers G).
At least this is a proof for open tuning. Last not least, we have …
Hint 5: Many years ago I bought a CD-ROM with pictures of different rock bands, one was Dire Straits. The pictures were from two concerts, one from 1981, the other one from probably May or June 1979.
The 31 pictures from the 1979 concert (my guess is it is Munich or Wettingen) seem to be in chronological order (Mark looks more and more sweaty with each picture). Picture #28 seems to be before the encores.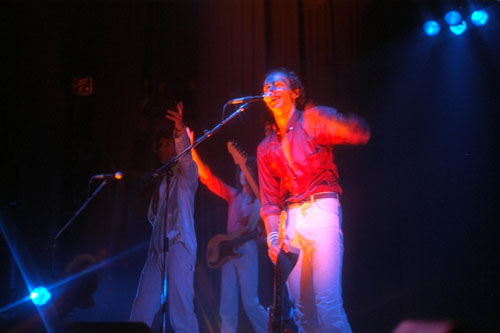 From bootleg recordings we know that the last two encores were Setting me up and Southbound again.
The next pictures #29 (below) and #30 show Mark playing David's (!!) black Strat (which was not used by David in those concerts, he meanwhile played a Peavey guitar). I am sure that it is Setting me up, no capo, and the left hand fingering matches Setting me up in A as well.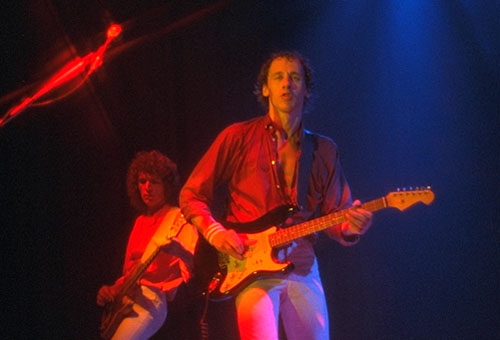 Setting me up on David's black Strat
Ok, this is why I think it is open A.
Again, the guitars used for this song :
* studio recording: unknown
* early 1978: black Tele (AFAIK, later in 1978 the song was not played)
* May/June 1979: black Strat (song wasn't played in early 1979)
* late 1979: Les Paul Special (mentioned in a concert review from a magazine)
To end with, another goodie: I will not hold back picture #31 from that photo CD. It shows Mark Knopfler playing Southbound Again, played on the red maple-neck Strat. This is the only picture where we know that it is this song (no video of Southbound existing).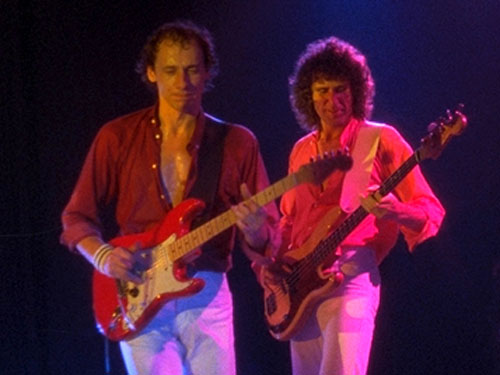 Southbound Again on the red Strat
Stay tuned,
Ingo
"Buy me a beer" - donate for the site via PayPal. Or buy a backing track in my online shop :)
Related articles