A rather strange tuning that seems to be part of any Mark Knopfler concert these days is the high-G tuning. Mark Knopfler owns a beautiful sunburst Telecaster Custom – probably a '67 that was originally played by his brother David with Dire Straits, more on this guitar in a future post. These days (not in the past) this guitar seems to be dedicated to the high-g tuning.
So, what is it? In short: high-g simply means that the g-string is tuned up one octave, all other strings are standard tuning. For obvious reasons the g-string must be a rather thin gauge (I take a 008), otherwise the tension would break the string immediately.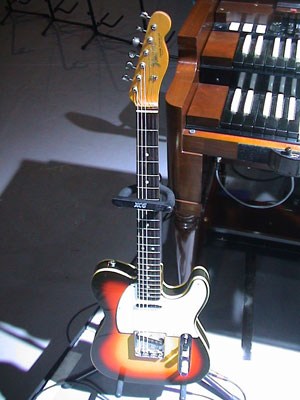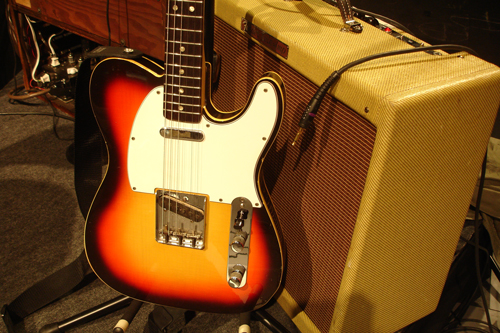 If you look closely you can easily spot that thin g-string, pictures courtesy of Guy Fletcher
On stage, this guitar is played by keyboarder Guy Fletcher on the song 'Wye Aye Man', but it seems it was used on some studio recordings as well (besides Wye Aye Man, e.g. for the rhythm guitar on the song 'Boom like that', the one that comes in at 0:43 min and only hits each chord once, possibly on some more songs).
The nice thing about this tuning is that you don't have to learn new ways to fret chords because the g-string is still tuned to g, only one octave higher, so everything remains as it is. You can fret each chord as you are used to, only the sound changes, a rather high note is added. Of course things go wrong as soon as you try to play lead with this tuning because the g-string is now the highest note.
Basically, the idea of this comes from the so-called Nashville tuning which is the tuning you get when you use only the octave strings of a 12-string set (the high e and b strings remain, all other strings are the thin octave strings,  tuned one octave higher than the normal strings). This tuning is often used to add rhythm guitars with a rather "light" sound, less bass, but rich treble end.
Try it out, maybe on a spare guitar, it is a fresh sound and a lot of fun at almost no costs.
To finish, here is a video clip of 'Boom like that' with that sunburst Tele (played by Paul Brady, promo from Irish TV)