Today something about one of Mark Knopfler most famous guitars …
In 1980 Mark Knopfler started to play a red Schecter Strat on stage instead of the red Fenders he played before. Everyone knows this guitar – it was the guitar on the Alchemy live CD/video, on Live Aid, and on countless other TV concerts from the 80ies or 90ies. He still owns this guitar and uses it occasionally these days.
However, rather overlooked is that there was a second red Schecter, one that looks almost identically to the first one. On stage it was played by rhythm guitarist Hal Lindes, e.g. on 'Once upon a time in the west' on Alchemy. I think that this guitar did not belong to Hal Lindes but to Mark Knopfler as well (possibly the blue Schecter that Hal Lindes played, too, while Lindes' white '59 Fender Strat definitely was his.)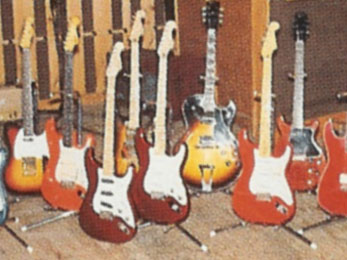 Two red Schecter Strats (middle), Mark's main axe is the
one with white pick-ups, the second one has black PUs.
Left and right are the two red Fender Strats, far left the
sunburst Tele Custom featured in the last post.
All these Schecters – the ones mentioned so far plus a black Telecaster and a sunburst Strat – were bought at Rudy's Music Stop in New York in 1980 (the red Telecaster of Walk of Life and the white Schecter Strat were later acquisitions).
There is only one hint (the interview quoted below) that the 2nd red Schecter was Knopfler's but I think it was likely that he ordered all of them together. This interview was from Guitar Player magazine in 1984:
GP: Are your guitars heavily modified?
MK: Not really. One Schecter has Seymour Duncan Vintage pickups, and another red one has heavier Seymour Strat pickups in it.
We know that Knopfler soon (early 1981) replaced the original Schecter F500T pick-ups, note  the white PU covers from then on. These replacement PUs had staggered magnet poles (the Schecter PUs were flat) and are probably the mentioned "Seymour Duncan Vintage pickups". I guess "another red one" is the 2nd red Strat (theoretically the red Schecter Telecaster of Walk of Life fame is another possibility ). See the following picture of that 2nd Strat and note the staggered magnet poles: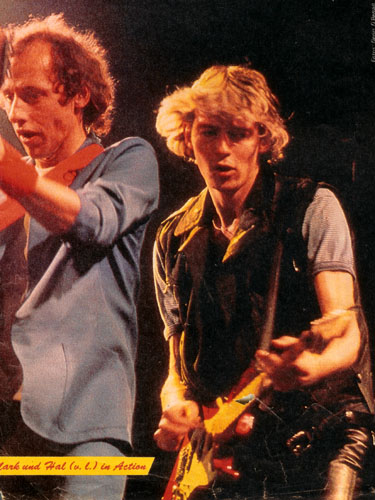 Hal Lindes playing that 2nd red Schecter Strat
So we have Vintage Seymour Duncans on #1, and heavier on #2. I remember exactly that unlike today Seymour Duncan's product range was rather straightforward in 1981 –  five models called SSL 1 – 5. These were:
SSL 1 : vintage Strat replica, staggered Alnico 5 magnets
SSL 2: like SSL 1 but with Alnico 2 magnets
SSL 3: hot wound, flat poles
SSL 4: quarter inch magnets, flat poles (similar to the Schecter F500T)
SSL 5: like SSL 1, but hotter wound
The SSL 1 was by far the most common of these, and the SSL 5 was heavier but looked the same. For these reasons I claimed on my vintage Dire Straits Guitar Page that they were SSL 1 / 5 but there is no direct evidence for this (later there were Alnico Pros on #1 but these were not availabe in the early 80ies). But who knows, maybe he has SSL 2 in #1, or maybe everything is different from what we think.