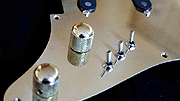 Blog Post Categories

Pages
Recent Forum Posts
Recent Comments
Archives
Links
Meta
Latest updates and news
Tweets by @mk_guitar_com
Tag cloud
Tags
Top Comment Authors
Ingo (421)
Jean-François (166)
Jeff - Anthony (36)
Erik (33)
Fletch (29)
J.Francois (29)
Dermot O'Reilly (28)
Arthur Luz (23)
TheWizzard29 (22)
zach (22)
John (20)
Knopfleberg (20)
Philipp (19)
Eduard (18)
Morten (17)
danny (14)
Jim (14)
thomas (13)
Alex Mircica (12)
Lapelcelery (12)
Chris (11)
Ryan T. (11)
David (10)
liftedcj7on44s (10)
dave (9)
In the blog post about the Sultans of Swing lead guitar track that was made available through the Guitar Hero 5 game we had some interesting discussions about some technical aspects of the guitar sound. One was whether the effects we hear (compression, chorus, reverb) were added later in the mix or were recorded right with the instrument track. Unfortunately there is no direct information available so we will probably never know for sure. However, I recently read some articles or interviews with Rhett Davies – the sound engineer on the first Dire Straits album. He told a few interesting things about recording the Avalon album with Roxy Music in the early 80ies – so from 'almost' the same time as the Straits' debut album (1978). I think some of these things were general preferences and might be true for the Dire Straits album as well.
Here are a few excerpts (from Sound on Sound):
One feature of Rhett Davies' production style that surprised Bob Clearmountain when they first worked together was his willingness to print effects to tape with instrument recordings. "Generally speaking, and this applies to Avalon, if we were working on a particular sound and that sound had a delay or a reverb, I would print that with the signal. I love delays. We used the Roland Chorus Echos a lot, and I still do today, I love them.
My guess is – if it was not a Roland Jazz Chorus, as some rumour says at least for Sultans of Swing – then  it maybe was the Roland Space Echo 301 which was mentioned by Rhett Davies in an article on a Bryan Ferry solo album in 2007, while the famous Roland Dimension D was as it seems introduced later,  around 1979. Knopfler also had a 301 in his guitar rack on the Making Movies tour in 1980/81.
continued:
Quarter-note triplet delays are my favourites. [Check out my article about quarter note triplets if you are not familiar with the idea behind them] Anything that creates cross-rhythms is what I was always looking for, so if we were working with a rhythm box, I'd always be experimenting with delays, just to create something more than the plain thing that was there. Obviously it depends on the instrument, but if you're talking about basic backing-track instruments then you're trying to create something.

My concept was always that anybody could put the track up and push the faders up and it would sound as it's supposed to sound. When we mixed Flesh & Blood, Bob couldn't believe it, because nobody printed delays with the signal. If it was something like the lead vocal, I'd print that to a separate track, but we were still working on 24 tracks, and if it was a guitar and that was part of the sound it got printed. Roxy enjoyed working that way, because there's nothing worse than thinking 'It doesn't sound as good as it did last week, what's different? I'm sure that's the same setting.' This way, it's always there, and it makes a faster way of working. I could put a track up in a minute and it was ready to do an overdub, so if we had musicians coming in that we wanted to try on two or three songs, it was really fast just to change the tape, and the song was ready to go. I also always used to try to keep an instrumental rough mix on tape as a working mix, so you could just whack up two faders and it was there.
So, maybe the chorus was the 301. The Space Echo 301 was – as the name suggest – mainly an echo – a tape delay to be more concrete, but it also has a chorus effect. I remember that Mark was once asked about the delay in the intro of Down to the Waterline, and his answer was:
"I have no idea what that was. Rhett Davies was the engineer on that record, and he's in love with Roland Chorus Ensembles, so it might well have been that. I actually use a Roland onstage. " (from this interview with Guitar Player magazine)
I think if Davies tend to record effects with the instrument onto the track, the rumour of the Dan Armstrong Orange Squeezer as the compressor on this album becomes a bit more likely. Too bad we will maybe never know for sure. I did a Google search for Rhett Davies but to no avail: he does not have a personal homepage or something else which allows us to contact him, at least I have not found anything so far.
"Buy me a beer" - donate for the site via PayPal. Or buy a backing track in my online shop :)
Related articles
Posted in: Misc by Ingo on January 29, 2010
After more than 100 articles in this blog I am still not running out of ideas for future posts. I just wish I had more time for blogging and producing video tutorials.
I know that many readers of this blog are also experts and wonder if anyone would like to write an article for the blog. Dermot was the first with his article about his sunburst Schecter Strat copy. So, if you feel you have something interesting to say (e.g. about your guitar, about playing techniques, about some incident in your life that has to do with Mark Knopfler or guitar playing, or some product review or whatever) this blog might be the perfect forum to reach the public.
WordPress (the software behind this blog) allows sophisticated rights managements so you can get an author role and can log into the backend. Writing and layouting are really easy, so don't worry. Of course you can also simply send your text and pictures via email and I can do it for you.
I would like to  have the last word about releasing an article to make sure that it matches certain quality standards.
If you are interested, please use the contact form (under pages) in the left sidebar or the comment function of this post to get in touch.
Looking forward to what might come

"Buy me a beer" - donate for the site via PayPal. Or buy a backing track in my online shop :)
Related articles
With this article,  I want to feature my good old acoustic guitar: a Gibson MK-81 from 1976.
I got this guitar more than 20 years ago. I was looking for an acoustic guitar and was trying out all the guitars in that shop. After a while the shop owner brought one more from some room in the back,  saying I should try out this one, it was special. This was the Gibson MK-81, and in fact it sounded different from all the other guitars, it sounded more 'expensive' in a way, with a warm bass and brilliant treble, like a great HIFI speaker compared with a cheap one. He told me that this guitar had been damaged damage and was not professionally repaired (the bridge had solved from the top and had been glued back to its position, additionally fixed with two screws), and that it normally costs more than 3 times the money I wanted to spend.
Well, we agreed on a deal (I had to part from a nice Tokai Telecaster copy I had back then) and I took this guitar home with me. The damage could be repaired professionally for about 100,- € by the way.
The MK series
I had never heard about these guitars before, and there was not much information available. Remember, this was before the Internet, so you had to look through guitar books at the shop when searching for a particular information. Today it is so much easier. The story behind the Mark series seems to be like this:
In May of `73 Gibson began the Mark story by contacting Dr. Adrian Houtsma, Professor of Acoustic Physics at MIT, to confirm some research Gibson itself had initiated. Receiving a favorable review, Gibson then went to Dr. Kasha, who was at the time, a chemical physicist working as Director of the Institute of Molecular Biophysics at Florida State University. Combining the findings from Gibson` R&D department and Drs. Houtsma and Kasha, the company finally landed on the doorstep of well known luthier Richard Schneider, who was charged with making the scientific information practical, designing a guitar that fit with Gibson`s aesthetics and capable of being put into production. The Mark series was born…
The Mark series was no commercial success, rather the contrary as it seems. It turned out that science alone was not capable of building perfect guitars made of wood, a material that is unpredictable  because each piece of wood has individual features. After only 3 or 4 years Gibson dropped the Mark series again.
But these guitars were not really bad, and I heard from many owners how much they love their MK's. The complete series consisted of 5 models, the MK 35, the MK 53, the MK 72, the MK 81, and the MK 99 (the higher the model number, the better the materials, and the higher the price).
Here is a page from a Gibson catalogue from that time that shows the different features of the different models: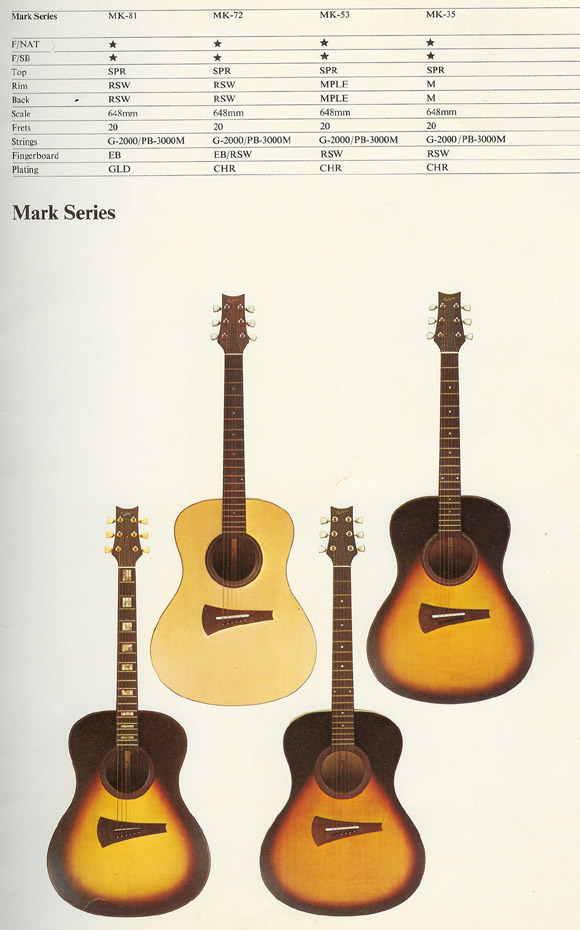 The MK-81
Both the rim and back of my MK-81 are made of solid (!) rosewood (possibly Brazilian, but not sure), the top is solid spruce. The neck is curly maple, the fingerboard is ebony with mother-of-pearl inlays. There are some fancy details that make sure that this was the top-model of the production range (in fact, the MK-99 seems to be custom-made by luthier Richard Schneider himself only) like  the gold plated hardware or the black and red bindings.
It is a special guitar in fact. It is very deep, and the body and headstock shape looks somewhat unusual. The sound is warm and bright, a bit bell-like. With the heavy Gibson jumbo frets and the "fast" neck shape it plays almost like an electric.
Pictures of my MK 81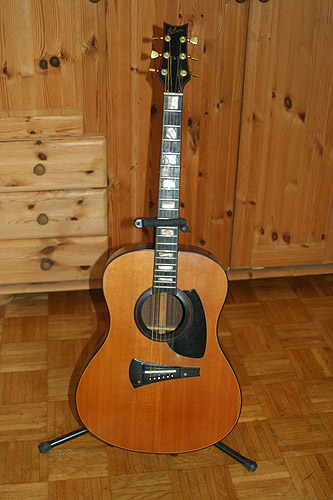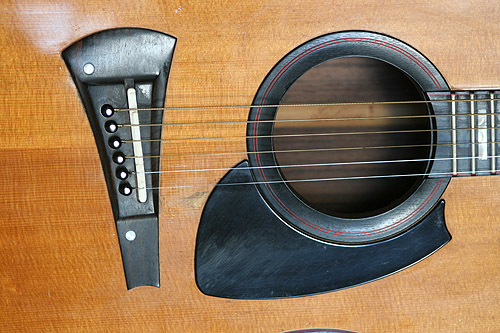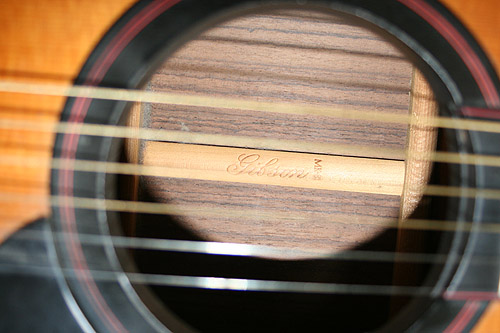 Youtube videos
Two of my latest youtube videos feature this guitar.
If you want the full story and more details of the Mark series, see this article in vintage guitar magazine.
"Buy me a beer" - donate for the site via PayPal. Or buy a backing track in my online shop :)
Related articles
Here is a small video clip in which I play the Southbound Again riff, this time the studio version (I put another video online with the completely different live version a few weeks ago).
I played it in standard tuning. A few years ago I read an interview where Mark said that it was open G tuning (which somewhat surprised me here). Anyway, it works fine in standard tuning I think.
The amp here is a small tweed Princeton clone, no effects.
"Buy me a beer" - donate for the site via PayPal. Or buy a backing track in my online shop :)
Related articles
I got a new camera for Christmas, so I immediately tried it out and filmed a few clips. Here are two acoustic guitar covers of Boom like that and Song for Sonny Liston. In both cases I did not play the complete song but a 2 minutes and something version (especially Sonny Liston has so many verses that I felt it to be a bit boring when playing it alone).
The guitar is a weird Gibson from 1976, a MK-81. The MK series was Gibson's attempt to combine the latest physical research results with traditional guitar building. Basically the MK series was a flop and was soon dropped again, but I love this guitar. It sounds nice in all situations.
Boom like that
Boom like that is standard tuning with a capo at the 3rd fret. I don't play the riff exactly as Knopfler plays it (e.g. he plays  a slightly different bass with the thumb). I simply started to play it this way for no particular reason. I also added a 'c' note to the second chord (Bb, so I get a Bb9). I heard Knopfler doing this and totally loved it, although he normally does not play it this way I think.
Song for Sonny Liston
Also standard tuning, this time with a capo at the 4th fret.
"Buy me a beer" - donate for the site via PayPal. Or buy a backing track in my online shop :)
Related articles