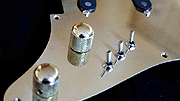 Blog Post Categories

Pages
Recent Forum Posts
Recent Comments
Archives
Links
Meta
Latest updates and news
Tweets by @mk_guitar_com
Tag cloud
Tags
Top Comment Authors
Ingo (421)
Jean-François (166)
Jeff - Anthony (36)
Erik (33)
Fletch (29)
J.Francois (29)
Dermot O'Reilly (28)
Arthur Luz (23)
TheWizzard29 (22)
zach (22)
John (20)
Knopfleberg (20)
Philipp (19)
Eduard (18)
Morten (17)
danny (14)
Jim (14)
thomas (13)
Alex Mircica (12)
Lapelcelery (12)
Chris (11)
Ryan T. (11)
David (10)
liftedcj7on44s (10)
dave (9)
Those beautiful 1958/59 Les Paul Standards are probably the holy grail not only for Mark Knopfler fans – Mark owns a 1958 and a 1959 and plays them on all his tours – but for all guitar players. Unfortunately the prices for these are in the region you'd normally pay for a house, so most of us will hardly ever get the chance to touch one of these. They came with those legendary original PAF humbucker pickups. Germany's top pickup winder Harry Häussel has tried to replicate all tonal nuances of these with his 1959 model. Here is what the manufacturer himself says about his pickup:
The "Häussel-1959″ model gives you that legendary old PAF sound, still sought-after by professionals the world over. Manufactured with original wire, original-sized magnets and our optimally-matched winding, this pickup will captivate you with its silky, 'woody-warm' sound – on chord work, the sound of each string is clearly defined, while the overall sound is breezy and slightly nasal, but never muddy. The extremely agreeable, sweet highs make each tone a desirable delicacy for sound gourmets, while solos become a symphony of soaring sonic satisfaction. The 1959 model 'smacks' beautifully each time you strike the strings, gliding effortlessly into harmonic overtones and feedback. This is a pickup with a powerful 'hook' -and perfect if you want to get that truly authentic PAF sound.
Of course I don't own a 1958 or 59 Les Paul, just an 'ordinary' 1974 Les Paul Custom . With its cherry sunburst finish it looks nice, especially after I replaced the black plastic parts to cream ones, and I also like the sound.  I was really satisfied with the original pickups – and many commentators on my youtube clips on which I played this guitar agreed with me. Nevertheless, I recently installed the Häussel pickups to hear for myself what all the talk about the silky, woody tone of the Häussel 1959 is about.
I recorded a youtube video when I plugged in the guitar directly after putting in the pickups, so you will really witness my first impression of these pickups. Check out why I will leave them in my guitar and why I cannot go on with the original Gibson pickups anymore.
The Häussels are not cheap but if you like me become addictive of this warm but transparent sound, you can get them for a top price here in my online shop.
"Buy me a beer" - donate for the site via PayPal. Or buy a backing track in my online shop :)
Related articles
I added a backing track for the long live version of Sultans of Swing to our online shop. Check it out and listen to sound samples here. It is 12:05 min long and includes the piano solo but is without saxophone. I hope to make a youtube cover over this backing track within the near future.
"Buy me a beer" - donate for the site via PayPal. Or buy a backing track in my online shop :)
Related articles
What can be nicer than one of those wonderful old National resophonic guitars like the Style-0? The answer is, of course, two of these! My friend Thomas brought his 1932 Style-O along for a photo session. And what a wonderful guitar this is – shiny and sparkling like one of the new reissues but real vintage, almost 80 years old. The pictures from the photo session show the guitar from all sides, and some in contrast to my battered-looking 1936 Style-O.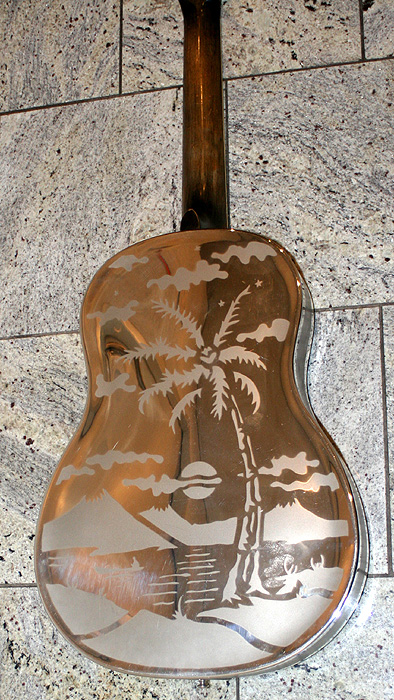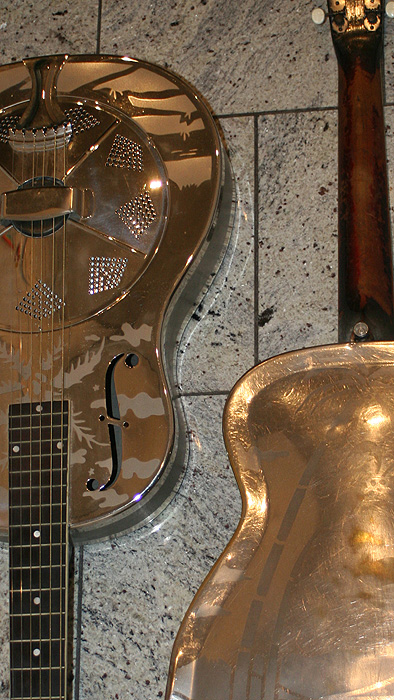 Differences
The National Style-0 from the early 30ies have a different, longer body shape. The body joins the neck at the 12th fret, while from the mid-30ies on the joint was near the 14th fret. For this reason the body was slightly larger, and thus has more volume. In fact Thomas' National sounds deeper and has more low end than the 1936, however, you never know in how far the sound difference is caused by other aspects. One is that on his 1932 the resonator rests on a ring of thin rubber foil. This was done by a luthier some time ago to remedy buzz from the resonator.
Both guitars differ a lot in detail, e.g. different resonator covers, different logos, different headstocks, etc. The pictures might tell more than many words here.
The 1932 has a flat fingerboard while the 1936 is curved. Both have the original frets, but in case of the 1932 these are heavily worn, especially in the middle of the frets so that the frets appear almost concave which makes it unpleasant to fret certain chords. The 1936 has an extremely fat neck, the Shubb capo can be used only up to to the 5th fret and does not fit anymore beyond this point.
Both have the Hawaiian scene with a volcano, a canoe and the palm trees on the back, but both are different. National used many different variations over the years.
Video
"Buy me a beer" - donate for the site via PayPal. Or buy a backing track in my online shop :)
Related articles