The ultimate Mark Knopfler gear database: Schecter Telecaster red "Walk of Life"
| | |
| --- | --- |
| Manufacturer: | Schecter |
| Model: | Telecaster |
| Year: | 1983 – 1984 |
| Serial No.: | S8703 |
| Colour: | metallic red |
| Woods: | unknown body / maple neck with rosewood fingerboard |
| Pickups: | original Schecter tapped pickups F520T / F521T |
| Strings: | 09-46 |
| First seen with MK: | 1984 |
| Still in MK's possession/Last seen: | yes |
Your input is appreciated and required! Comment or upload pictures!
Please use the comment function at the bottom of the page to add any missing relevant info about this guitar. I will update this page regularly to include such information into the page itself but will leave your comments so that the origin of all information remains documented. You can also upload more pictures of this guitar.
Info: This Schecter Telecaster is from the late Van Nuys era. Mark got it a few years after his other Schecter guitars. Unlike these, this guitar has a separate fingerboard of (possibly Brazilian) rosewood. A separate fingerboard  –  together with the matching colour headstock  –  was common among late Van Nuys Schecters.
There is no information available on the body wood. It is likely that the body id made of one of the exotic woods Schecters were famous for (e.g. mahogany, koa, imbuya, shedua, walnut,…) instead of the normal ash or alder (which however Schecter offered as well).
Schecter produced untapped (F520N &  F521N) and tapped (F520T &F521T) Telecaster pickups and it cannot be tod with certainty which are the ones in this guitar. I asked Jack Sonni who thinks the guitar had the push/pull potis to switch between tapped and normal, so it is likely to have the tapped pickups (F520T & F521T) – besides most Dream Machines came with these pickups.
However, normally Mark has the controls pushed in on stage – I have never found a picture which really allowed to tell that the controls were pulled out. With pushed in controls, the pickups are switched to the full coil. The sound with the full coil is much beefier than with the tapped pickups which makes it ideal for rhythm riffs like on Walk of Life.
Most of the hardware – especially the bridge – is made of brass on all Schecter Dream Machines – this is very important for the Schecter sound. The pickguard is white enamel aluminium.
The guitar was used for Walk of Life on both the album and on stage, but also on the Aztec Camera album that Mark produced in 1984 and on the Cal soundtrack. On stage he played it on When it comes to you with the Notting Hillbillies, or on Canibals on the 2008 tour.
Related blog posts:
Walk of Life Pickups available now – Reviving the legendary Schecter F520T / F521T Tele Pickups
Explaining and demoing the tapped Walk of Life Telecaster Pickups
Pictures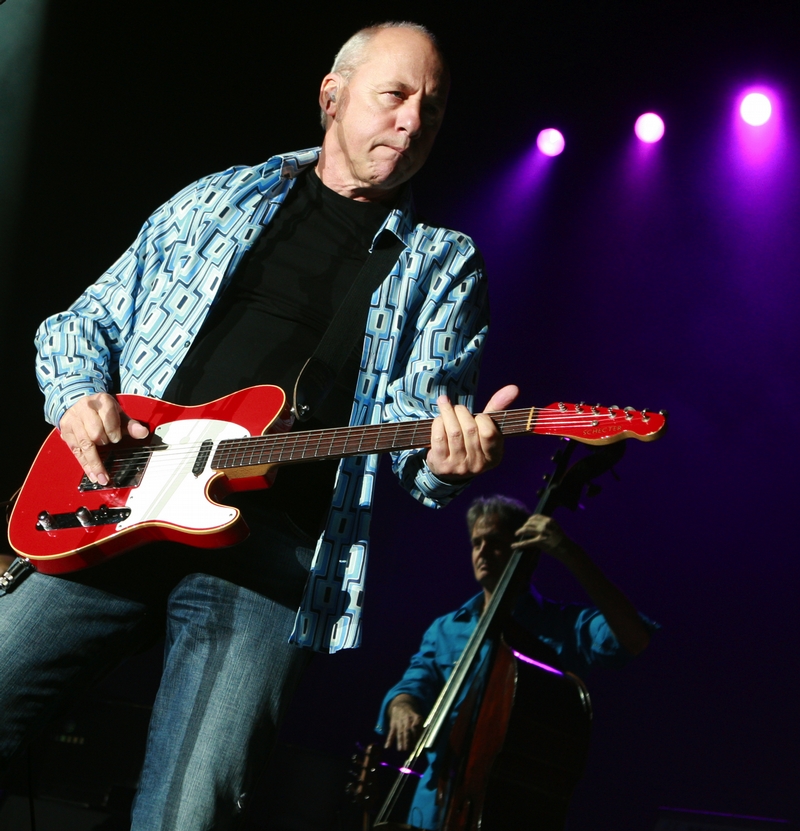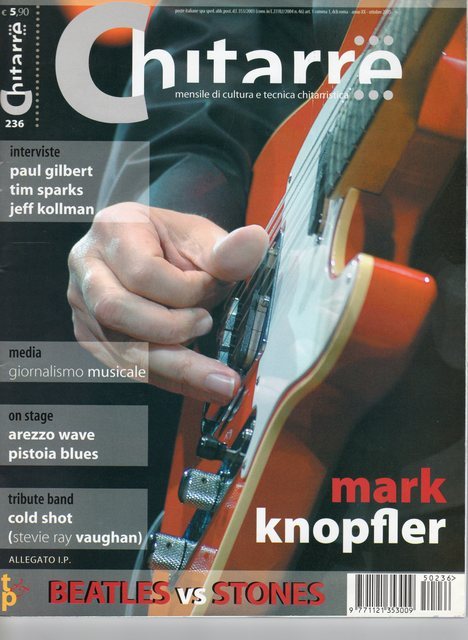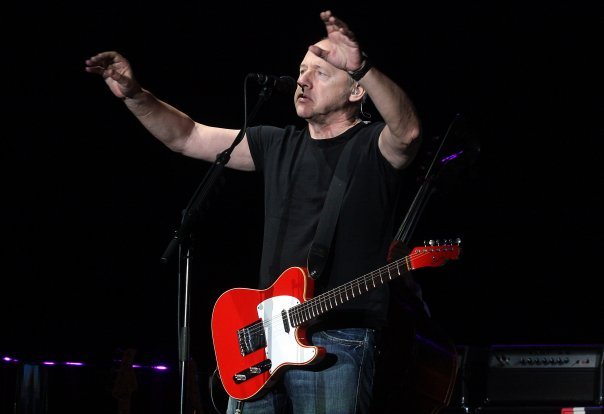 Reader picture gallery
Did you take some nice pictures of this guitar, e.g. during a MK concert? You can upload your own pictures here (no registration required). After moderator approval it will be displayed here.
[ngg_uploader id = 15]