In 1980, shortly before recording the Making Movies album,  Mark Knopfler got several Schecter Dream Machines. It was a sunburst Schecter Strat (serial number S8136) that was used at least on the song Tunnel of Love and that was stolen from the boot of a car near the band's rehearsal room in Greenwich soon after.
There are only a few pictures of this guitar available. They are all from the same photo session with photographer Adrian Boot, and only two of these are in colour. One of these two pictures was on a cover of the Greek 'Pop Rok' magazine from December 1980, and medium quality scans of the cover could be found on various sources in the web.
I recently got hold of a copy of this magazine. It features a 3.5 pages story/interview with a live picture from summer 1979 plus various press kit pictures of the Making Movies album.
As Adrian allowed me to use detail parts of his pictures for our 'scientific purposes' here in this blog, I can show the guitar itself at full resolution here: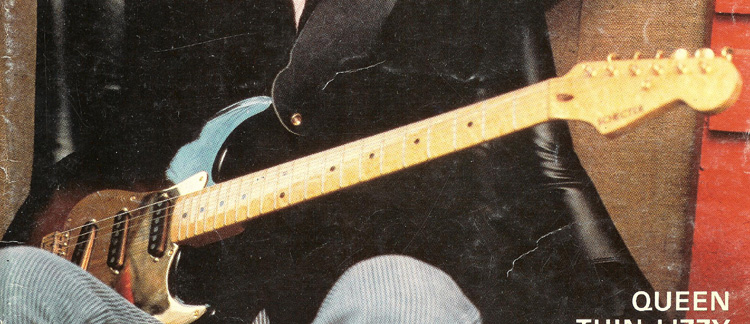 From this view we can see the pickguard and the neck very well but unfortunately hardly anything of the two tone sunburst and the beautiful flame of the birch body. We cannot see the bridge completely, neither. In fact there is not one picture at all available that shows  whether this guitar has a tremolo or a hardtail bridge (!). I'd guess it is the tremolo version like Mark's other Schecter Strats all are but who knows.
The pickup screws and (probably) the six bridge screws are nickel while the pickguard screws seem to be gold, also gold Kluson tuners and brass strap buttons. The nut is brass, as on all Schecter Dream Machines (brass hardware was essential for their hardware philosophy). The neck is what was called 'figured maple' in the Schecter catalogue, in this case flamed birdseye maple. However, the flame and the birdseyes are less prominent than e.g. on Mark's red Schecter Strat. Note the dots on the neck surface, all of Mark's other Dream Machines are dotless.
The guitar strap in this pictures looks similar to the black Music Man strap that Mark had in the late 70ies, but it is not a Music Man strap.