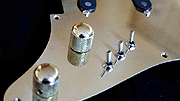 Blog Post Categories

Pages
Recent Forum Posts
Recent Comments
Archives
Links
Meta
Latest updates and news
Tweets by @mk_guitar_com
Tag cloud
Tags
Top Comment Authors
Ingo (421)
Jean-François (166)
Jeff - Anthony (36)
Erik (33)
Fletch (29)
J.Francois (29)
Dermot O'Reilly (28)
Arthur Luz (23)
TheWizzard29 (22)
zach (22)
John (20)
Knopfleberg (20)
Philipp (19)
Eduard (18)
Morten (17)
danny (14)
Jim (14)
thomas (13)
Alex Mircica (12)
Lapelcelery (12)
Chris (11)
Ryan T. (11)
David (10)
liftedcj7on44s (10)
dave (9)
I reported about the vocals only and karaoke tracks of Sultans of Swing in the last post. If you read all the comments there you will already have heard the latest news: a guitar-only track is also available. They all seem to be from the Guitar Hero 5 game.
It seems the makers of the game had access to the multitrack recording of Sultans. The guitar track does not only include the lead guitar but also the rhathm guitars, switching between both which means you hear the rhythm guitars whenenever the lead guitar is not playing. When it is, you hear only the lead guitar. I guess this was done with a gate using a sidechain input. A gate is a device that can shut down another track while the input signal is above a specified level.
It is really amazing to hear the guitar alone, after knowing the song for over 30 years. There are many details which you simply couldn't hear in the mix – lot's of "noises" like scratche and dead notes, some low level tones etc. Also you can clearly hear the chorus effect, probably from the Roland Jazz Chorus, and there seems something like a compressor or rather limiter that even introduces some distortion.
As it seems you cannot buy these tracks but they are part of a game software, and as it is only one instrument and not a full composition – I guess it does not inflict with copyrights when I put in a sound clip here:
Audio clip: Adobe Flash Player (version 9 or above) is required to play this audio clip. Download the latest version here. You also need to have JavaScript enabled in your browser.
"Buy me a beer" - donate for the site via PayPal. Or buy a backing track in my online shop :)
Related articles
Found a link in the amarkintime forum today to three audio clips of Sultans of Swing: a) complete b) only vocals (!!), and c) without vocals. Those tracks must be made from the original multitrack recording, and they are even a few seconds longer than what is one the CD. No fade out – instead another lick unheard before.
I have no idea yet where these come from, but very cool!
complete:

vocals only:

backing track (karaoke):

"Buy me a beer" - donate for the site via PayPal. Or buy a backing track in my online shop :)
Related articles
I recently made a backing track and started to rehearse Southbound Again (live version, not an easy one I think) from Dire Straits' first album. In fact the live version they played from 1977 to 1979 (often as an encore) is a totally different song than the studio version. Unfortunately not one single video exists of it so noone has ever seen how/what/where Knopfler played exactly there. The only complete TV concert from this time was Rockpalast, and they spoiled Sultans of Swing there (Mark played the second solo when it was time to play the first), so they played Sultans again instead of Southbound Again for the last encore.
I recorded myself rehearsing with a small digicam (a Panasonic Lumix FX37), unfortunately the sound is not very good – if I do it properly I record the sound to Cubase with the PC and sync it with the video. I have no idea when I might find the time for a proper recording – always a hassle because you obviously don't want all those little mistakes on it so you might end up doing it a dozen times or more until you get a version that seems alright – so I simply put this video online as what it is – a rehearsal.
I don't copy (or even learn) particular versions, I rather end up mixing improvisation and all the little licks I heard on various versions, I really wouldn't be able to play it again exaclty like this.
The effects and the amp are almost the same as on the Brothers in Arms clip from last week, I think I only reduced the gain from 9 to 8 for a cleaner sound.
Please don't ask for the backing tracks of my videos. It is an awful lot of work to produce them so it does not make sense to me to sell them for a few cents (unless you'd sell a lot of them, and in this case Iwould probably hurt some copyrights). Also don't ask for tabs, I don't use them myself and for this reason don't have any.
"Buy me a beer" - donate for the site via PayPal. Or buy a backing track in my online shop :)
Related articles
I just got this picture via email (thank you Wolfgang of the Dire Strats tribute band) which shows the settings on the Fender Hot Rod Deluxe amp that Mark Knopfler used for a promo gig in Germany, 2004. He played live the song Boom like that on a German TV show.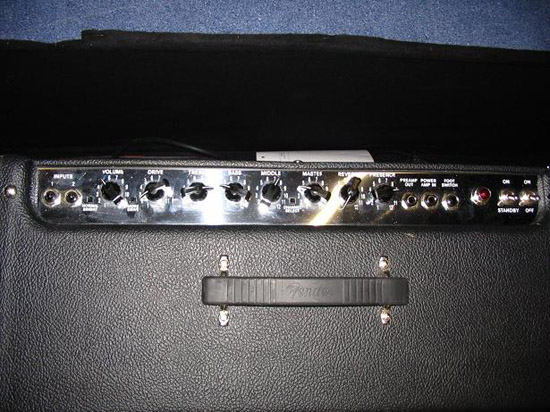 Volume 5 ; Drive 2.5 ; Treble 9, Bass 4 ; Middle 7.5 ; Master 4 ; Reverb 0 ; Presence 9 (note that all knobs go up to 12)
Unfortunately it is hard to see the position of those three push buttons (bright, more gain, channel select) .
The Hot Rod Deluxe is a 40 watts tube amp (3 x 12AX7, 2x 6L6) with reverb and one 12″ Eminence speaker. I presume that the amps for those promo gigs were borrowed for that evening.
"Buy me a beer" - donate for the site via PayPal. Or buy a backing track in my online shop :)
Related articles
Normally I use my Music Man 212 HD 130 amp for clean guitar sounds, but the other day I was tinkering around with the Les Paul jamming to Brothers in Arms. The Music Man has a solid state pre-amp section which is not ideal for distorted sounds. Yet, I was surprised to get some really nice, fat and warm sounds out of this combination.
Knopfler uses Marshall cabinets which allow a very deep bass sound, but I was pleased with the rich bass response from the Music Man, not bad for an open back combo amp.
I feel that it is important for that Brothers in Arms tone to play really softly and gently, don't bash the strings or tear them. This way you get a great dynamic range.
And before I forget to mention: I rolled back the tone control on the guitar to 2.5 !
Unfortunately the sound on my youtube videos is not as good as it is before uploading a video. I don't know what exactly it is, seems like a built-in denoiser or something, which produces a wobbling sound and other artefacts. Any help how to eliminate this is really welcome.
"Buy me a beer" - donate for the site via PayPal. Or buy a backing track in my online shop :)
Related articles