I just got this picture via email (thank you Wolfgang of the Dire Strats tribute band) which shows the settings on the Fender Hot Rod Deluxe amp that Mark Knopfler used for a promo gig in Germany, 2004. He played live the song Boom like that on a German TV show.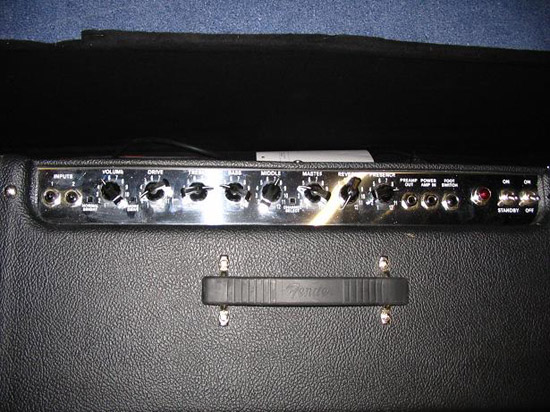 Volume 5 ; Drive 2.5 ; Treble 9, Bass 4 ; Middle 7.5 ; Master 4 ; Reverb 0 ; Presence 9 (note that all knobs go up to 12)
Unfortunately it is hard to see the position of those three push buttons (bright, more gain, channel select) .
The Hot Rod Deluxe is a 40 watts tube amp (3 x 12AX7, 2x 6L6) with reverb and one 12″ Eminence speaker. I presume that the amps for those promo gigs were borrowed for that evening.