What is the Circle of Fifths and what do I need it for?
Every guitar player pretty soon realizes that certain chords seem to belong together, they are related in a way, while other chords are only rarely used within the same song. The chords C , F, and G seem to be such related chords – these are not only the chords you would use for a blues tune in C, but also the majority of traditionals – if you play them in the key of C – do not require any other chords than these three.
So, how do I know which chords are related, which ones are even closely related, which ones are not?
The answer can be found from a simple chart that is called the "Circle of Fifths". I will simply skip all the redundant information like "why a circle, why fifths – or sometimes even 'fifths and fourths'", instead let's only look at some practical use it can have. More theoretical information can be found at countless places, e.g. here the Wikipedia link.
Here is the chart (taken courtesy from library. thinkquest.org), read on how it works: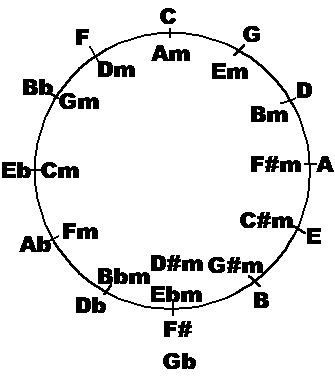 To keep it really simple: Outside the circle you will find major chords, insides are minor chords. Each major chord has a corresponding minor chord (e.g. Am belongs to C, C#m to E, ..).
Rule 1: The closer the chords are in this circle, the more they are related !
For example, we have a song in the key of C. The right neighbour is G, the left is F. –> F and G belong to C (the right neighbour is the so-called dominant chord, the left one the sub-dominant chord).
Let's add some minor chords: Am belongs to C, Dm to F, and Em to G. –> We get the chords C, F, G, Am, Dm, Em.
On the other hand, a C#m would be very far away from our C, so it is not related, does for this reason not appear in many congs in C, and would sound rather 'strange', or at least 'surprising'.
Only one additional rule:
Rule 2: In a minor key, the left and right minor neighbour chords (in the key of Am, these would be Dm and Em) can also appear as a major chord (D or E).
So, a song in Am might not only have chords like C, F, G, or Dm, but also D and E.
That's all you need to know, easy, isn't it?
Now, what do I need it for? Well, to write your own songs (make it sound 'normal', or deliberately use strange chords, as you want) , or to figure out the chords of a new song you want to learn by ear: as soon as you have the first chord, try to find the other ones by trying out neighbour chords, often these are the ones you are looking for.
Enough theory, here are some examples:
Example 1: Sultans of Swing
The key is Dm. All chords of the song: Dm, C, Bb, F, and A.

See the next picture: all the chords are pretty close, only the A (right side) does not fit in. If you apply rule 2 (the Am can be replaced by A), everything is in place again, all the chords are "one family".
(Note: some of the long live versions also have a Gm and Am chord, I left these out, but note how these would also fit in).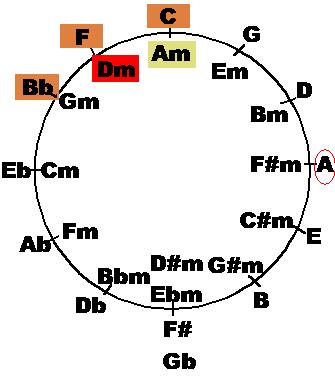 (some of the long live versions also have a Gm and Am chord, I left these out, but note how these would also fit in).
Example 2: True love will never fade
The key is C, all chords are: C, F, G, Dm
They are all related and thus very close in the circle of fifths, see below: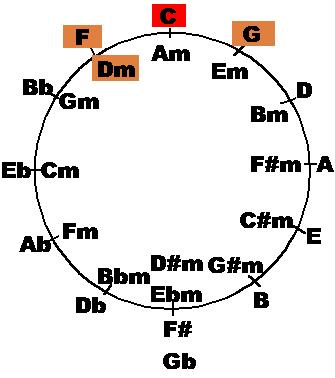 Example 3: Money for Nothing
The key is Gm, all chords are: Gm, Bb, F, Eb, C, D, and E.
The C, D, and E chords seem to be out of place (see below), the C and D can be understood as replacements for a Dm and Cm chord (rule 2) and do thus fit into the pattern, while the E is completely out. In fact, this chord sounds somewhat unexpected (it is the last chord of each refrain, on "color TViii-iiih"), especiall the following change back to Gm is very unusual and thus adds some extra kick.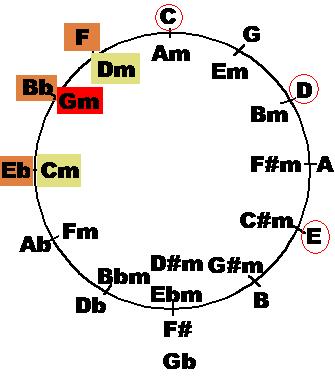 Alright, that's for today. You should use use the comment function (no registration or email required) to let me know if this article was helpful, or to ask questions, or to make suggestions.
CU soon here again,
Ingo