Here is an original drawing from Schecter Guitar Research showing the wiring layout of a vintage Schecter Stratocaster pickguard with those F500T pick-ups. I found it in an old German book about guitar electronics from the 80ies, and it seems to be pretty rare so I want to share it with you. It is the same layout that should originally have been in all of Mark Knopfler's Schecter Strats.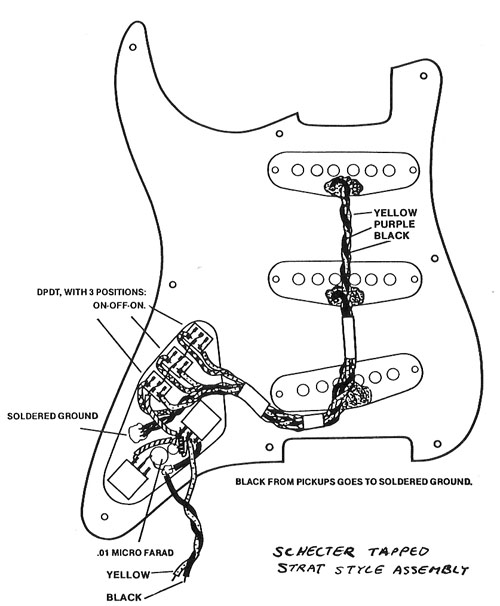 An interesting little detail is the little capacitor and an additional resistor at the volume poti. The capacitor is 0.001 uF (= 1 nF), the resistor is 150 kOhms. The 0.001uF cap is the same value as you can find on a vintage Fender Telecaster. Its purpose is to prevent treble loss when the volume is reduced. With the cap alone you will even get some treble boost when rolling back the volume poti. The resistor equalizes this effect, something you might want to try out since it costs only a few cents. You have to solder the cap and the resistor in parallel from the wiper (middle terminal) to the input terminal (the one with the cable from the pick-up selector). That's all.
Also note the value of the tone cap. It is 0.01uF. This is much less than Fender (Fender vintage would be 0.1uF, later Fenders had 0.05uF). For this reason rolloing back the tone poti will give you more of a midrange sound compared to Fender.