The good thing about running a website about Mark Knopfler and his guitar sound and style is that you get in touch with so many other people who share your interest. I guess everyone who is really interested in this topic sooner or later finds his way to this site. So it happened that one day a customer who bought two of my iSounds in my online shop told me that he owns quite a lot of guitars, one of them being the Schecter S8001 – that sunburst Dream Machine Strat that probably everyone of us knows from his teens on, the guitar used in e.g. the Alchemy video on songs like Tunnel of Love or Telegraph Road. The guitar was auctioned at Eric Clapton's Crossroads charity for more than 50,000 USD in 2004 (Note: The owner now – let's call him O. for owner – is not the person who won the charity but got the guitar later from him).
As O. lives only a couple of hours by car from my place, the idea to visit him came up automatically.
So it happened that I went on a short trip to his place a few weeks ago. O. is a huge MK fan and a guitar collector. I can tell you his collection is beyond being amazing :), including lots of vintage Fenders, Gibsons, and Schecters, also many amps, and much more.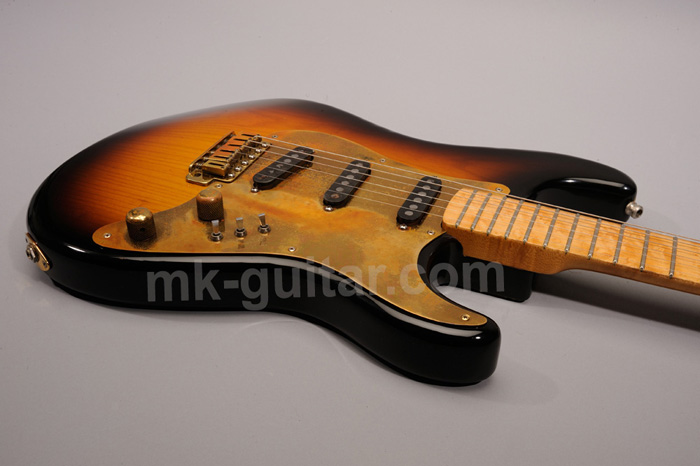 Playing the Alchemy Schecter
I guess you can easily imagine that the moment when O. opened the guitar case was very special for me. The guitar still looks as it did when we saw it the last time, on the pictures for the Crossroads auction in 2004, and thus pretty much as it looked in 1986 when we saw it on stage the last time. The condition is great, not much worn after being played on so many Dire Straits concerts, with exception of the gold plating on the pickguard. This is a problem of all the golden vintage Schecter pickguards. Applying a gold plating to something as big as a pickguard is extremely expensive, with the gold price itself being the relevant cost factor. Gold plating is the more durable the thicker the coat is, which means a 5 micrometers coat is 10 times more durable than one of 0.5 micrometer, but unfortunately also 10 times as expensive – and we areeasily talking about hundreds of dollars (!!) just for the gold here. This is the reason why already on Alchemy – two years after Mark got the guitar – the pickguard was worn at the places where Mark used to rest his right hand.
I was allowed to play the guitar. I played some expensive vintage guitars in my life, so touching a 50,000 dollars guitar was not such a problem (of course you must not think about what would happen if you accidentally drop the guitar …). It had been in the case for some time so it was totally out of tune. After tuning it we plugged it into a Tone King Imperial. It is a really great sounding guitar, with a very warm and full sound. The question which probably comes up automatically is, do you sound like Mark on Tunnel of Love or Telegraph Road just because of the guitar? Well, the answer – you can probably guess – is 'no, not really' – it is all in the fingers and the rest of the signal chain. If you have a blindfold on your eyes and someone plays the guitar, you will not say 'That's the one from Tunnel of Love'. But – the other way around – after playing the guitar I can often hear the same tonal characteristics on the old recordings with this guitar, e.g. a particular warmth or a typical sustain.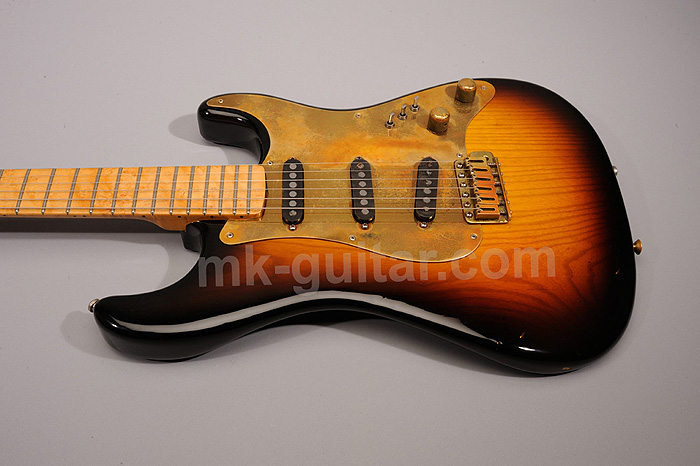 The guitar is not a lightweight – it is from a time when heavy wood and brass parts were considered as superior – and in fact these ingredients cause a special sound.
I took many photos of the guitar. Unfortunately I cannot publish these, especially detail photos. The reason is that O. is afraid of giving food to people who fake vintage guitars – here he is not thinking of people 'like us' who might make a luthier build a clone of Mark's Schecter to play with a tribute band but of those who sell fakes as real stuff on ebay. I could convince myself that this is in fact a serious matter when he showed me one of 'my pickguards' that was sold to someone as a real vintage Schecter pickguard (and my pickguards are really not intended to fool someone, e.g. the pickups all have the manufacturer's label on the bottom plate but these were simply sanded off !).
Still I can show you two new pictures of the guitar in this blog post – please don't ask for more.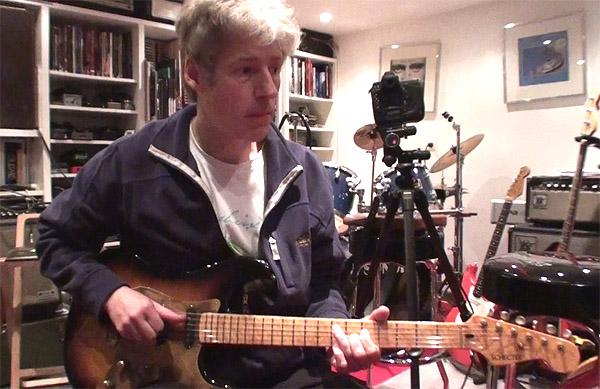 Check out this blog post that features some videos in which you can watch me playing the guitar.