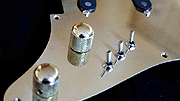 Blog Post Categories

Pages
Recent Forum Posts
Recent Comments
Archives
Links
Meta
Latest updates and news
Tweets by @mk_guitar_com
Tag cloud
Tags
Top Comment Authors
Ingo (412)
Jean-François (159)
Jeff - Anthony (36)
Erik (33)
Fletch (29)
J.Francois (29)
Dermot O'Reilly (28)
Arthur Luz (23)
TheWizzard29 (22)
zach (22)
Knopfleberg (20)
Philipp (19)
Eduard (18)
John (17)
Morten (17)
danny (14)
Jim (13)
thomas (13)
Alex Mircica (12)
Chris (11)
Lapelcelery (11)
Ryan T. (11)
liftedcj7on44s (10)
dave (9)
Eric (9)
On July 5, 1981, Dire Straits played on the Werchter festival in Belgium. The concert was broadcasted on the radio and on TV and is one of the very few soundboard recordings from the 1980/81 On Location tour.
There is one thing that always strikes me about that recording: Mark's guitar sound was what I'd call 'strange', and completely different from all other recordings of the same tour we have (and there are many…). It had a very different, harsh kind of treble. To my ears it sounds like a direct out of the amp, and not like the mic'ed guitar speaker you would expect here.
You will probably know that a typical guitar speaker is a 'woofer', a loudspeaker aimed mainly at low and midrange frequencies. It has a pronounced treble roll off, which means it hardly produces high treble frequencies over maybe 6 kHz. For this reason it strongly colours the sound; it automatically filters out unwanted harsh, crisp frequencies. Without the guitar speaker especially a distorted guitar would not sound as we all expect it to sound. For this reason there are – unlike in a PA system – no tweeters (high frequency speakers) in a guitar cabinet.
What is strange about the Werchter guitar sound is that I feel to hear exactly these frequencies that should not be there. How is this possible, as we know that Mark of course used guitar speakers on this tour, Marshall 4 x 12″ cabinets to be precise? And on all other recordings from the tour the sound is not like on this one.
It seems unlikely to me that they had a completely different setup for this day – especially as Mark's live sound required a full effect rack that is not easy to substitute. And even if a guitar speaker suddenly fails, you can simply put the microphone in front of another one – there are four of them in each cabinet! The only theory that makes sense to me is that there was a second signal path involved, one without the guitar speakers. This 'direct out' was blended with the signal from the microphones/speakers. One possible reason to do so might be that this way you have more high end and low end to enrich the 'normal' sound of the speakers to a desired extend.
I guess for the radio/TV broadcast the concert was mixed separatedly from the PA mix, most likely by engineers of the broadcasters . This is not unusual, you normally want to mix to a much wider stereo signal than you'd do for a PA system. And the sound guys responsible for this mix simply used the direct signal rather than the mic'ed speakers signal, they maybe did simply not know why there were two different sources and what to do with these.
Interestingly the youtube video of this concert includes a few songs that were missing on the radio/TV broadcast. These came from an audience recording in bad quality (see video description), but you can clearly hear that on these songs the sound is very much as it is on all other recordings from the tour, not as thin and trebly as on the radio mix!
Of course this is speculation but if I am right indeed it tells us something about the way Mark created his stage sound on this tour (or even on others, too ??) .
"Buy me a beer" - donate for the site via PayPal. Or buy a backing track in my online shop :)
Related articles
Posted in: Guitars by Ingo on August 25, 2015
You probably know the discussion started by John Suhr about the originality of Mark Knopfler red Dire Straits Stratocaster (the one with the maple neck, not the 1961 Strat with the rosewood fingerboard). John Suhr worked on Mark's guitars in the early 80ies and stated that this guitar was not an original vintage Fender but a 'fake', probably a Japanese copy.
I always used to be a bit uncertain what to think about this. John Suhr is of course a great guitar expert who makes wonderful guitars but this does not automatically imply to be an expert on vintage Fenders, especially not back then when information was generally harder to get than it is now, it was of course pre-internet era, and even books on this topic were rare or simply non existent yet. And mind that of course Mark's guitar was – if it was a vintage Fender – not in an original state: new body finish, new neck finish, new fender decal, new fingerboard, new pickguard,…
In this blog post I will show you a part of the guitar which – to my knowledge – cannot be a copy: the tremolo bridge.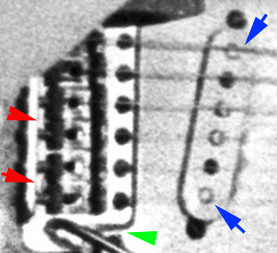 In the picture (from early 1978, Mark got the guitar in 1977) you can see a few details that in my opinion are not possible for any Japanese copy parts from the 70ies. Let's start with the red arrows: here you can see a part of two of the three screws that hold the tremolo block to the bridge plate on any Fender vintage style tremolo. Well, this does not sound like any spectacular detail but I'd say most Japanese bridges were die-cast one-piece tremolos, similar to the Fender tremolos from the 70ies. All the ones by Tokai or Greco at least were.
There were a few two-piece constructions, I have one on a crappy Japanese copy myself. But on all of these that I found so far, the string spacing is different, almost three millimeters (1/8 ") less (52 mm compared to 55mm). If this was the case on Mark's guitar, the strings would run differently (blue arrows) across the pole pieces of the bridge pickup (this is Mark's original 1961 pickguard from his 1961 Stratocaster, with the original pickups). Also the base plates of the Japanese bridges are not as wide, due to the narrower string spacing. There would be a bigger gap between the bridge and the pickguard (green arrow).
These is enough reason for me to claim that this bridge is not a Japanese copy! Before you say, well, maybe it is a Chinese, Corean or European copy part… forget it, in the 70ies there were no copies from other Asian countries except Japan, and the few European copies of this time were not even close to a Fender bridge. They did not have the vintage-style bent string saddles etc. And what about American replacement parts? – Well, these were the 70ies, you could not buy any replacement parts except the ones by Schecter, and possibly Mighty Mite. These however were not close Fender copies but 'improved designs' with the more solid saddles, typically of brass, and hard to get in England about that time (Schecter's first English distributor Chandler Guitars started in 1979).
I still might be wrong but I doubt it: show me a non-Fender bridge like this to prove me wrong!
"Buy me a beer" - donate for the site via PayPal. Or buy a backing track in my online shop :)
Related articles
I guess most of you know the the Dire Straits concert at the Nelon Mandela 70th birthday tribute concert in Wembley Stadium, 1988, and have probably – just like me –  watched the video of it many times. I at least have never noticed that on this gig Mark has two output jacks on the famous National Style-O, have you?
One of the two, the one with the lower output jack, is definitely the Ashworth pickup (AJ21)  he already had during the Brothers in Arms era, just compare the look and position of the cable to the famous CD cover picture. The Ashworth is a passive piezo element pickup.
About the other we have no information yet. We can see that that the cable runs under the string holder, probably then it goes through a hole in the 'chicken feet' on the resonator plate into the guitar body, where the resonator itself rests. We can only speculate what it is exactly: I see mainly two possibilities, one is another pickup that is attached to the resonator cone, or a little microphone. Many acoustic guitar pickup systems use a combination of a microphone and a pickup, like the L.R. Baggs that is used in Mark's Martins.
Well, it does not matter too much for the sound on this concert because it seems it was not in use here; I can see a plug in only one of the two output jacks. But it shows that Mark always tried out new stuff to improve his guitar sound.
"Buy me a beer" - donate for the site via PayPal. Or buy a backing track in my online shop :)
Related articles
On April 18, 2015, some 'historical' Dire Straits recordings were officially released for the first time – four tracks from the 'Honky Tonk Demos', a demo tape the band recorded in July 1977. These were the first recordings of Dire Straits at all, five tracks recorded in a little London studio for a demo to help get a record deal. The four songs released now are Wild West End, Sultans of Swing, Down to the Waterline, and Water of Love. The fifth song from the original tape, a David Knopfler composition called Sacred Loving is not included unfortunately.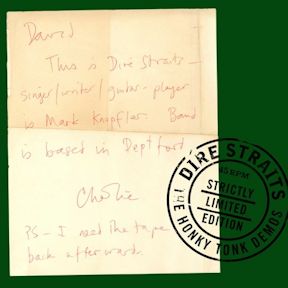 Only the Sultans of Swing version has been available before: it was released on a sampler called 'The Honky Tonk Demos' on vinyl, and later also on CD. The other songs were only available from two bootleg sources: one was a tape I got from a friend in the early 80ies, and the other was the silver CD bootleg 'Early Demos'. The quality on both was rather bad, only mono, and a poor frequency response. The CD bootleg was even about 8% too fast and almost 'unusable' for this reason.
Some notes on guitar aspects
With this blog post I want to concentrate on some guitar aspects of these recordings, mainly on some details we can hear now for the first time.
Down to the Waterline: I already mentioned that both bootleg sources were only mono. What we did not know was that they were not both stereo channels to one mono channel but in fact only the left channel of the original stereo recording. In other words, all information of the right stereo channel was not included on the bootlegs, e.g. David's rhythm guitar is mainly on the right channel and was hardly audible for this reason. David plays a 16th-rhythm similar to the later version from the first album but here without the phaser.
The lead guitar on the left channel should be Mark's 1961 Strat(he got his other Strat later in 1977) which was not red yet but had a wood finish. This should be the bridge & middle pickup combination. Unlike on the first Dire Straits album, the whole demo features hardly any compression on the guitars so whe hear Mark's guitar with a wide dynamic range.
The demo version features a third electric guitar that only comes in with some chords for the bridge solo part in the middle of the song. This is probably Mark on guitar, and it might be the neck pickup of his Strat.
Sultans of Swing: As this one ws available in even CD-quality, there is nothing new to discover here. The guitar is also the 1961 Strat with what sounds like the middle pickup. Unless Mark dialed in a very bright amp setting, it does not sound like the hot 13k DiMarzio FS-1 pickup that Mark had in the guitar later.
While it seems that Mark played all three electric guitars on the album version, the right rhythm guitar here should be David's.
Wild West End: Just like on the album, we have an electric lead guitar (Mark), the rhythm on the National (Mark), and an acoustic rhythm guitar (David). The lead seems to be the bridge & middle pickup again. While the acoustic guitar only plays some rather rudimentary chord work on the album, we have a more steady rhythm here.
Water of Love: The bottleneck lead guitar is a National, just like on the first album. I guess it is not his famous Style-0 but his Tricone National from the late 1920ies.  This guitar is more on the right stereo channel and can be heard much better for this reason than on the bootleg sources. As the quality on the bootleg is very poor, I was not sure if it is a National or even an electric (as on stage) but now it is clear.
Just like on the album, Mark played a second guitar but now it is an electric instead of the acoustic on the official album version. David plays acoustic rhythm guitar.
The picture
On the inner sleeve of the double vinyl single we find one of the earliest Dire Straits pictures, from the gig at the Clapham Common bandstand on September 10, 1977. This plus some more pictures from the same gig have been released before but in much worse quality. We can definitely see the wood grain on Mark's Strat body, which was not red yet.
David seems to play the 'Water of Love' Telecaster thinline. To me it looks (?) as if it still has the original finish here, with a white or pearloid pickguard (later the body holes were filled, and the body and also the pickguard (!) were painted black).
"Buy me a beer" - donate for the site via PayPal. Or buy a backing track in my online shop :)
Related articles
Guy Fletcher was so kind to post a picture of Mark's effect rack in his tour diary . With this blog post I am trying to explain a bit what we can see in the picture, and some details we can conclude from what we see.
But first here is what Guy wrote on it:
As has been requested on more than one occasion, here is some inside info on Mark's guitar rig. Glenn Saggers station. As anyone who has seen the show will realise, there are a lot of guitar changes not only for Mark but for everyone. Mr. Saggers works flat out during the show, tuning and preparing amp setups and delivering instruments to Mark flawlessly through the evening. I really don't know how he does it as every amp sound and effects setting is recalled meticulously for each and every song. Two Reinhardt amps are used in leap-frog fashion and whilst we are performing one song, the next one is being set up. Also there is the '59 Bassman (offstage) which is used for slide along with Mark's 'Dano' and of course the Tone King which resides onstage in between the two 4×12 cabinets. The Tone King settings remain constant during the show.
Well, Mark uses four different amps on this tour. While Guy speaks of two Reinhardts, what we see is one Reinhardt Talyn (top left) and a Komet Linda (bottom left). Then we have a Tone King on stage, and a 1959 Fender Bassman off-stage. The tone King is for some clean guitar sounds, and the Bassman for slide with the Danelectro guitar.
Guy says two Reinhardts "are used in leap-frog fashion", meaning one is in use while the other is prepared for the next song. I guess the same is true for the Reinhardt and the Komet we see here. However, this also means that when Mark wants to play two songs that both require e.g. the Komet but with different settings, he has to play one other song with a different amp in between so that his technician Glenn Saggers has time to prepare all settings. Or Glenn has to be very quick and change the settings in a short break while Mark e.g. announces the next song.
The Effect Rack
Some devices in the rack are the same as on previous tour (compare to the 2008 rack): we see the familiar D.A.V. electronis pre-amps (with EQ, possibly some limiting/compressing, exact model unsure, probably custom made), the same switching units, and the TC Electronis 2290 delay. There is a Furman power conditioner again, this time at the bottom of the rack. It seems to be this model.
We see that all devices – except a compressor – are arranged in pairs. Theoretically this can be for several reasons: one for each "leap-frog pair" so that Glenn can adjust the device for the next song, one for each stereo channel, or one in use and one as a spare in case of some defect.
We can't know for sure, but there is one detail in the pictures that makes one think it is the third option: the power LEDs on some devices (the lower of the two D.A.V. electronics pre-amps and lower of the switching units) are off, so I guess these are spares.
There is one 'new' effect – new does not sound right for a classic that was introduced in the 1970ies – a dbx 160A mono compressor. If I had to guess I would say it is for clean slide guitars.
Let's have a look at the switching system:
On the left we have a gain control – I guess the D.A.V. comes first so the gain will not do that much, next five insert slots, a mute button, and then five outputs.
Insert1:
unsure if green LED is on or off, no label, might be unused, has an additional mini switch (can also be a 'bypass all inserts')
Insert2:
labelled with FX (effects). Which effects? All the ones in the rack are in the other inserts (see below), so I guess this is for effects on stage. This makes sense as it is the first insert in the line.
Insert3:
labbeled with VP (volume pedal). The Ernie Ball volume pedal is used in the effect insert, just like on previous tours. Mark's guitar does not go directly into the device to his feet as you might assume, but to the rack, then it goes back to the volume pedal, and from the volume pedal back to the rack. You need long cables, but as the signal is low impedance here this does not matter really.
Insert4:
labelled dbx, so it is the 160A compressor
Insert5:
the TC 2290
It seems each insert can be active (green LED on) or bypassed here.
The signal can then be routed to any of the four amps.
If you see more details, or want to speculate what the little boxes on topf of the Talyn and Linda amps (labelled with Talyn and Linda) are, share your thought in a comment to this blog post (no registration required).
"Buy me a beer" - donate for the site via PayPal. Or buy a backing track in my online shop :)
Related articles
Older Posts »