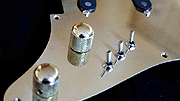 Blog Post Categories

Pages
Recent Forum Posts
Recent Comments
Archives
Links
Meta
Latest updates and news
Tweets by @mk_guitar_com
Tag cloud
TOP 15 Popular Articles
Top Comment Authors
Ingo (400)
Jean-François (152)
Jeff - Anthony (36)
Erik (32)
J.Francois (29)
Dermot O'Reilly (28)
Fletch (27)
TheWizzard29 (22)
zach (22)
Knopfleberg (20)
Philipp (19)
Eduard (17)
John (17)
Morten (17)
Arthur Luz (15)
danny (14)
Jim (13)
thomas (13)
Alex Mircica (12)
Chris (11)
Ryan T. (11)
Lapelcelery (10)
liftedcj7on44s (10)
dave (9)
Jakehadlee (9)
It is a while ago that I started my Tele Dream Machine project. The project advanced and got to a stage where I had a playable fine instrument some months ago (which can be seen e.g. here when I was demoing the Walk  of Life pickups with this guitar). However, various parts were not finished yet, mainly as I was missing some of the required brass parts. Meanwhile I have (almost) all I need to finish the project.
Let's start with the control plate. The one you can see in the demo video was a gold-plated one, bought rather cheap on ebay. Unfortunately it did not fit properly into the contour of the pickguard but even overlapped the pickguard (see picture).
Was my brass Tele pickguard wrong or the plate too wide? Of course it was the plate, what shows us that you can never trust no-name products to be compatible to the standard specs. Besides, the gold-plated steel looks a bit different than the polished brass on Van Nuy era Schecter Dream Machines. Well, if I can produce brass pickguards I should be able to produce brass control plates I thought, and this is what I did. I made a few more, and chrome-plated some of them to go along with my white aluminium Tele pickguards for a real "Walk of Life red Tele clone" set (with pickups, pickguard and wired controls, coming very soon, I basically only have to take some pictures  to put it into the online shop). By the way, it is not that you cannot get chrome-plated ones everywhere, but try to find one of chrome-plated brass instead of steel …  – and it has to be brass for an "authentic" Dream Machine clone!
So here is the picture with my brass control plate. I also added the switch tip button (which was missing on the video): Schecter had these round black Tele buttons, but occasionally also Strat-style tips of brass.
While doing the brass plates, I also made the serial number plates, of chrome-plated brass and – brandnew – polished brass, vintage-correct clear laquer coated, with the S8001 serial number. I replaced the gold-plated steel plate I had on the guitar (without any number) with this one for the vintage-correct look, with an S serial number of the correct size, font, and at the correct position.
Please note that I only made these with three serial numbers of Mark's most famous Dream Machines (red Strat, red Tele, sunburst Strat, plus the two red Dire Straits Fender Strats ), no other numbers are available, or will be. The idea here is to have the right-looking part without a danger of misuse,  not providing the possibility to fake a Dream Machine and sell it as original. I mean faking one and insstalling one of  the most famous serial numbers is like faking a pre-CBS Strat and give it the 0001 serial number of David Gilmour's famous blonde Strat – cannot fool anyone.
The next thing I did was to replace the original vintage NOS Schecter bridge that I bought for a fortune a while ago with one of "my" new Dream Machine style bridges. As I copied all important Dream Machine specs and made sure to have it milled from best quality solid brass (nothing die cast), the sound will be identical but the look fits better to the other parts – the Schecter bridge has darkened with age, being about 35 years old (see one of the pictures above).
Last not least a few words on the three (!) strap buttons of the Dream Machines (most of them had three but there were also some with two, even in the 1980 Schecter catalogue). My mahogany body already had two holes at the usual positions, so I had to drill two new holes. I used a piece of tape and drilled through it to avoid crackling of wood or finish, something very important when drilling into a laquered body! The distance of these is about 9.5 cm (3  3/4 ") on my guitar. Only thing left to do: filling the unused hole. I used normal gold-plated strap buttons for now. Unfortunately these look rather different to the original ones which were made of raw brass, without laquer and rather dull looking for this reason. Thinking about it, it should not be impossible to make these from raw brass myself …  Well,  let's leave something for the future

Watch out for the the next blog post in this Building a Telecaster Dream Machine series with the full photo album of the final guitar.
"Buy me a beer" - donate for the site via PayPal. Or buy a backing track in my online shop :)
Related articles
Posted in: Misc by Ingo on July 31, 2014
J.J. Cale – who sadly died last year – has been a huge influences for Mark Knopfler.  Especially for the early Dire Straits sound, J.J. Cale was probably the biggest influence at all. So it is no wonder that Mark appears on the tribute album The Breeze that was released on July 25. The project was organized by Eric Clapton, so the official artist is "Eric Clapton & Friends". Mark sang and played guitar on two tracks, Someday and Train to Nowhere. These were recorded at Mark's British Grove studio in London.
While the other "friends" – illustre names like Eric Clapton, Tom Petty, John Mayer, Willie Nelson, and more – all covered some of J.J. Cale's best-known 'hits' , Mark decided two cover two rare and unknown songs, which in fact only exist as unreleased demos.
Someday is a very typical J.J. Cale song but it is really astonishing how much Mark can make it sound like J.J. Cale, not only the guitar sound but especially the vocal style on this song is so close that I can easily imagine to hear J.J. Cale himself. Mark seems to play one of his Strats with a clean sound, played very 'laid-back'  – the 'official'  term to describe J.J. Cale's  cool and relaxed playing, where the notes are played almost 'behind the beat'.
The chords (one verse / solo) of Someday are:
Dm  Dm  Dm  Dm G  G  Dm Dm
C  G  Dm Dm
G  Bb (1/2) C (1/2) Dm Dm …
Train to Nowhere is a typical 'one-chord groove song' – the one and only chord being C. Mark plays a rhythm riff and sings the vocals except on one of verses which features Don White. Between the verses Mark plays a few solos and licks, also with a clean guitar sound. Also a nice one.
You can buy the album and listen to a preview of all songs here on Amazon.
"Buy me a beer" - donate for the site via PayPal. Or buy a backing track in my online shop :)
Related articles
I am an official Kluson dealer now, so you can get the correct Kluson guitar tuners for a Schecter Dream Machine replica now in the online shop of my site.
During the Van Nuys era, Schecter used Kluson guitar tuners for their guitars ans basses. I have seen a lot of Schecters from this time with Schaller tuners but I guess that these were not factory-original. Remember that authorized Schecter dealers could assemble guitars from Schecter parts, and if the customer wanted Schallers, I guess the dealers put them in (Schaller tuners were common because they were considered as the best guitar tuners at that time).
It seems Mark's Schecters all had Kluson tuners (it is sure for the Strats but I cannot say with 100% certainty for the red and black Teles as we don't have enough high-resolution pictures of these). I personally like the Klusons better than Schallers, mainly as I love that the string ends disappear in a hole in the split shaft of the tuner.
Klusons were also the tuners on all vintage Fender guitars, before they were replaced with the Fender keys (labelled with a "F") that were in fact manufactured by Schaller in Germany. The earliest Fenders had Kluson tuners with no label, from 1957 to 1964 Fenders had the so-called single-line Klusons, from late 1964 on double-line Klusons. The terms single-line and double-line refer to the "Kluson Deluxe" label on each tuner: both words in one line in the centre of the tuner are single line, while double line means one line for "Kluson" (left) and one for "Deluxe" (right). To my knowledge all Schecter Dream Machines had the double-line Klusons.
These tuners are still manufacturerd today.
Get them here in silver (nickel) or gold.
"Buy me a beer" - donate for the site via PayPal. Or buy a backing track in my online shop :)
Related articles
Posted in: Effects by Ingo on May 31, 2014
From 1980 on, Mark's guitar effects were mainly integrated into huge rack systems. At the time of Dire Straits, these were designed and built by Pete Cornish, specialist on high-quality racks and effects for numerous big names like Mark Knopfler, Eric  Clapton, David Gilmour, Lor Reed, …
Pictures of Mark's racks however are extremely rare, mainly because the rack was often located behind the stage, and at least partly operated by Mark's guitar technician from there.
Recently Pete Cornish published some unseen pictures of two of Mark's racks on his Facebook page. One of them shows the rack of the Love over Gold tour (I will cover the other rack in a coming blog post). In fact it is the first time we see this rack at all I think.
In the following, I will try to explain as many details I can make sense of. If you think you can add something, use the comment function at the bottom of thispost (no registration required).  So, first of all here is the picture itself.
The Cornish racks follow the same logic that is true for effects used in the studio: most effects sit in a dedicated aux way (send / return), thus the path of the direct guitar signal is kept short and simple. (Note that however, not all effects can be used as aux effects but only those who "add" some effect to the dry signal. Effects that also might "reduce" something of the direct signal must sit in the direct path, e.g. compressor/limiter, EQ, distortion,..)
Cornish uses buffers on many locations within his racks. These can colour the sound is an intended way. The foot remote control is a wooden case of heavy-duty waterproof multiplex wood, all switches are normally military-grade quality products.
The control unit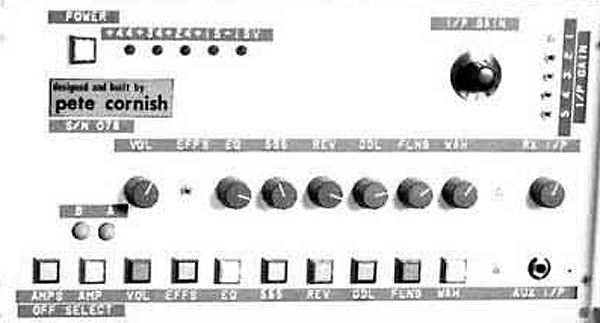 On top left, we can see the power indicator / power button. I think that those square button-like elements are push switches that glow in different colours when switched on. I am not sure of the five elements we see next to the power button, I cannot read the description properly … does it end with … 15 – 15 V? So we possibly have indicator LEDs here that might show the presence of different voltages to run the rack, or the input or output level of the signal.
On the top right, we have what looks like a rotatory switch labelled with something like "1/P Gain" (or I / P ?). The same description can be found a bit more on the right where other five elements are located, labelled with numbers 1 to 5. I guess the rotary switch has five positions, and the selected one is indicated with an LED. It might be the gain of the first input stage, this would make technically most sense to me. On the other hand,  the "P" makes me think of "parallel" so it might also be about gain of the send/return paths. This might go together with the two elements right below this section, which seem to be a control and a jack labelled with "?X 1 / P" and "AUX 1/P"
The serial number of the rack is 078.
Next we have a line with 8 controls and many of those square switches that partly correspond with the controls. The controls seem to read "VOL" , "EQ" "555" (= Roland Space Echo 555), "REV" (Reverb), "DDL" (I guess Deltalab Delay or digital delay) "FLND" (Flanger DynaFlanger", and "Wah" (well, Mark used a wah for at least It never rains on that tour).
I suspect these controls to be rather return levels (and thus controlling the actual effect depth of the corresponding effects).  The corresponding switches might mute or enable the respective effect path (alternatively, these can be switched with the foot remote control).
Between the VOL and EQ controls, we have a "EFFS" switch, I guess it is a master switch to enable or bypass all effects.
One of the two buttons on the left seems to be an "AMP SELECT", with two LEDs for amp A and amp B, and the other one is "AMPS OFF" and will mute the signal to the amps.
I am not sure if VOL is simply a master volume control, or if it has to do with the volume pedal. Also is is unusual to have a path for the wah as normally a wah is not used in an aux way.
The effects
Below we see the different rack effects. These are partly identical to the ones used on the previous On Location (Making Movies) tour. A description of these effects can be found in the blog post about that effect rack.
The effects are (from top to bottom):
MicMix DynaFlanger
Deltalab Digital Delay DL-4
MicMix Master Room Reverb XL-305
Roland Space Echo SRE-555
Roland Graphic Equalizer
The foot remote control unit
With the foot remote control unit, Mark could  enable or bypass the different effects.

We see 15 foot switches. Each one seems to have a corresponding status LED (although we cannot see these for the upper line of switches).
I cannot read most of these, the ones that seem to be clear are (line one) REV (Reverb) and EQ (all others not sure), and (line two): DDL (Digital Delay) – FLND (Flanger) (all others not sure).
The one second to the last has two LEDs. It looks like the A/B amp select, and I guess the last one is "(All) Amps off".
I cannot tell if any effect programs (e.g. from the Deltalab delay) could be selected from here as well.
As said, feel free to add your suspects or thoughts on any elements with the help of the comments.
"Buy me a beer" - donate for the site via PayPal. Or buy a backing track in my online shop :)
Related articles
I am planning various new products and projects for the next weeks or months, and just thought you might be interested in what is coming. I must say I found myself involved in more and more different ideas lately, but as what is basically a "one-man company" it is often difficult for me to keep them all going at the same time. Whenever I dig more intensively into one thing I have to delay other projects but – well, I think this is the way things simply are. So what is going on?
MK61 pickups
There are probably enough companies who make clones of pre-CBS Fender pickups but I found that the pickups in Mark's red Fender Strat of the early Dire Straits era had some unique features that I would like to have for my personal guitar as well (to be precise I should say the pickups in Mark's greenish pickguard – the one with the black volume knob – as he used to swap this pickguard from one of his two Strats to the other frequently). It seems that other fans often like the same stuff as me – no wonder, we all want the same sound – I thought to offer these to everyone. What I am talking about is a Strat pickup that is not only a faithful replica of a 1961 Fender pickup but also has all  features that differ from pickup to pickup – like pole pieces height for example – as close as they were in Mark's guitar. It's a bit too early to tell what other details I have in mind, but there will be some that make not only an cosmetical difference but also a subtle sound difference. Planned for summer 2014.
Walk of Life Telecaster set
You know that I have the Walk of Life pickups – replicas of the tapped Schecter pickups of the Van Nuys era Dream Machine Teles, and I already offer brass or white aluminium pickguards for such Tele clones. You need two push/pull potis to switch the pickup taps, and do some soldering for these. So I am planning to offer pickups and the metal pickguards as a set including the control plate (of course from brass like Schecters then) with all controls and switches already wired. So it is easy to turn any Tele style guitar into a Dream Machine copy with the sound of these. One set will have the golden brass pickguard and control plate, another one the white aluminium pickguard with a chrome plated brass control plate. Planned for summer 2014.
Walk of Life Telecaster bridges
A major part of the Dream Machine sound comes from the brass bridges that I already offer for the Strat. We still need a brass Tele bridge with the typical brass saddles to get the real Walk of Life sound. These will be available in brass and chrome-plated brass. Coming summer 2014.
Serial number plates
So many of you built yourself Dream Machine clones but a nice little detail to have might be the matching serial number neck plate. Maybe we are moving more into the "mad fans only" area here, but many of you already asked for these so I thought to offer them not only with the different serial numbers of Mark's most important Dream Machines (of course of brass or chrome-plated brass) but also for the red Fenders of the early Dire Straits days (chrome-plated steel). Also hopefully available in summer 2014.
Van Nuys Dream Machine style bodies
Mark's Dream Machine Strats all had bodies from rather unusual woods, and not from ash or alder like Fenders. But not only the kind of wood was different. Did you sometimes have the impression that for example the horns on Mark's guitars were somewhat different, or other contours? In fact the horns, the cutaways, the edges, the forearm and belly contours, even the size was different on the Van Nuys Dream Machines. I am not talking about drastic differences but about many details, some subtle,  some rather clear. As it seems bodies with these specs are not available anywhere, I thought to produce some by myself, of course from high quality tone wood. I already have the first prototypes

Probably I will offer them unfinished and finished. With the unfinished bodies you can not only see the wonderful wood, you can also let it be finished by yourself in the quality (nitro, poly,..) you want, or are willing to pay. In fact the original nitro finish is very expensive as it is extremely labour intensive ( I heard Fender estimates nitro finishing costs at about one third of the price of the complete guitar). I might offer them with such a high quality finish neverthelessl. First bodies (unfinished) might be available in summer 2014.
And before you ask for matching necks (birdseye maple): yes, makes sense, we will see ..

Loaded Dream Machine Strat pickguard in chrome finish
In addition to the loaded brass, white and black enamel aluminium loaded pickguards, I will produce some with chrome plating. However, as there seems only little demand for this non-Knopfler related finish, these will be limited, with more in case of a demand for more. Summer 2014…
Guitar tutorial DVD
Many readers asked me for tutorials, e.g. for the MK style right hand techniques.  I thought to start with these on a DVD, but still cannot say for sure when this will be available. Possibly autumn 2014.
"Buy me a beer" - donate for the site via PayPal. Or buy a backing track in my online shop :)
Related articles
Older Posts »