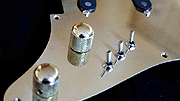 Blog Post Categories

Pages
Recent Forum Posts
Recent Comments
Archives
Links
Meta
Latest updates and news
Tweets by @mk_guitar_com
Tag cloud
Tags
Top Comment Authors
Ingo (421)
Jean-François (166)
Jeff - Anthony (36)
Erik (33)
Fletch (29)
J.Francois (29)
Dermot O'Reilly (28)
Arthur Luz (23)
TheWizzard29 (22)
zach (22)
Knopfleberg (20)
Philipp (19)
Eduard (18)
John (18)
Morten (17)
danny (14)
Jim (13)
thomas (13)
Alex Mircica (12)
Lapelcelery (12)
Chris (11)
Ryan T. (11)
David (10)
liftedcj7on44s (10)
dave (9)
The song Portobello Belle has been played as a great 'Irish-reggae-calypso' version on the Love over Gold tour. An edited version has been released on the Money for nothing compilation sampler a long time ago. However, it was not included on the Alchemy video, and there is no youtube video at all of this song from that tour.
For this reason we do not know much about the guitar on this song. The only info came from myself on my old Dire Straits guitar page where I stated that it was played on a black Fender Stratocaster. The source of this info is my own memory, as I visited the concert in Cologne, May 16, 1983. But I never have seen the guitar I remember well on any picture, until recently when the following picture appeared: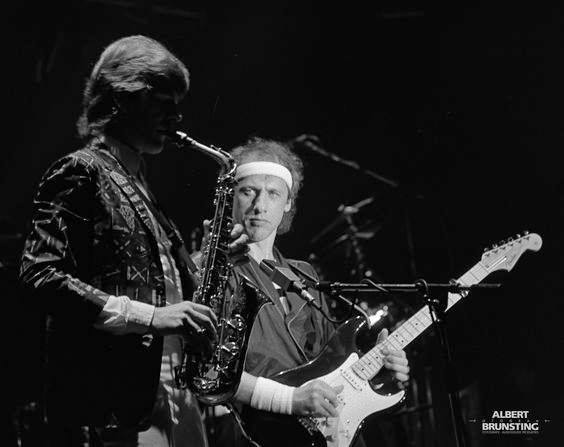 Note the capo at the third fret, a clear indication for an open G tuning, shifted to Bb by the capo, the key of Portobello Belle on this tour (it is C on the Communique album and D on the Making Movies tour!). The guitar might be the Amercican vintage reissue which was released just a year before (it does not llok like 50ies vintage guitar).
Mark played a lot of cool solo licks in the long outro of the songs, often in dialog with Mel Collins on the saxophone, as seen in the picture.
"Buy me a beer" - donate for the site via PayPal. Or buy a backing track in my online shop :)
Related articles
The BOSS DR-80 is an astonishing little device with a vey high fun-factor. In short, it is a digital 8-track multitrack recorder with a lot of effects, and at the same time a virtual band  with a great number of jam grooves. And maybe the most astonishing feature is the price which is just about 200 Euros.
I already had a lot of fun with this little device. Here are two spontaneous jam videos that were created with nothing but the effects and grooves from the device. Partly I even used the suggested effects and amp simulation for the backing tracks, without any further editing.
"Buy me a beer" - donate for the site via PayPal. Or buy a backing track in my online shop :)
Related articles
Recently I wanted to measure the neck thickness of some of my guitars. I was surprised to find something as trivial as this to turn out to be rather difficult job. The strings always hindered my calipers from lying flat against the neck surface, no matter how I tried.
I solved the problem with the help of a little battery that turned out as the ideal tool to help with the job:
"Buy me a beer" - donate for the site via PayPal. Or buy a backing track in my online shop :)
Related articles
Posted in: Amps by Ingo on November 25, 2015
I recently had a problem with a Music Man HD130 amp (the one Mark Knopfler used in the early days of Dire Straits). One speaker was creating a scratchy, distorted sound, surprisingly only at very low volume while it was fine at medium or high volume. I managed to cure it with an easy trick, nothing too special or secret but nevertheless something I want to share in case someone runs into similar problems with his amp.
When I removed the speaker to have a closer look at what might be wrong with it, I immediately noticed that infamous scratchiness when moving the cone carefull with two fingers. It was worse when pushing more on particular places while it disappeared when doing so at some other spots. I quickly came to the suspect that the problem came from "standing" upright for decades (it was a 1976 amp with original speakers). The voice coil is not really a heavy part but still it has some small weight, and after years this weight can deform the cone slightly so that the voice coil scratches on one side. For the same reason you should always store speakers horizontally but who stores a combo amp or a speaker cabinet this way?
The solution was very easy and inexpensive, even without any costs at all: all I had to do was turning the speaker for 180 degrees, so that what pointed to the top became the bottom end. I did the same with the second speaker, not only to prevent similar problems with it in the future but also to make the connectors of both speakers look to the middle between the speakers again, which means I also swapped the left and the right speakers. Hopefully it will work fine for the next 41 years now

Of course this easy fix does not always work, if the cone or the voice coil is damaged only a recone job will help. But before doing so you should give it a try.
"Buy me a beer" - donate for the site via PayPal. Or buy a backing track in my online shop :)
Related articles
Here are just two quick pictures of what I have been spending time with lately: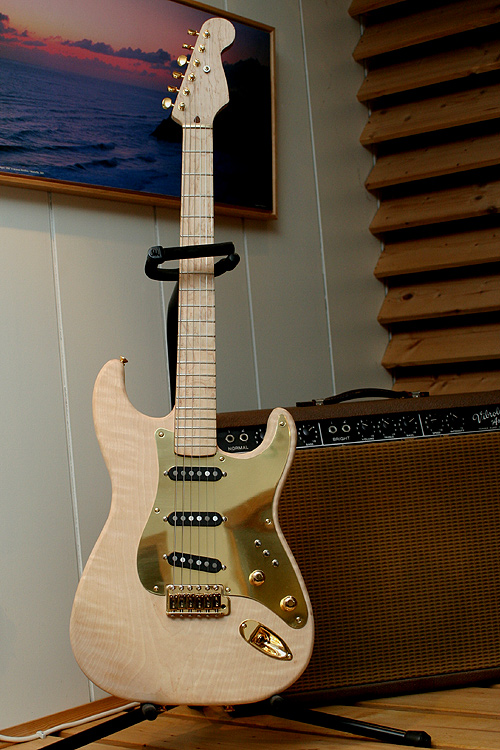 This is a body of one-piece (!) flamed (!!) birch (!!!), shaped like a Schecter Dream Machine body (yes, the shape is slightly different to a Fender body, e.g. slimmer horns and cutaways) . The neck is a one-piece birds-eye neck, the neck profile is copied from a Van Nuys era Schecter neck.
The wood is not finished at all yet, not even finally sanded. I admit I just could not wait to hear this guitar so I assembled it for a true 'preview'.

The guitar sounds very cool !!! And before you wonder why this neck has no dots on the front (Mark's Schecter – the one that was stolen – had dots): there are a few more bodies waiting around here, of different kinds of mahogany, birch, and ash. I have not decided yet on which body this neck will end (Mark's other Schecters were dotless).
Here is the video of the first soundcheck:

"Buy me a beer" - donate for the site via PayPal. Or buy a backing track in my online shop :)
Related articles
Older Posts »