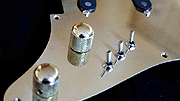 Blog Post Categories

Pages
Recent Forum Posts
Recent Comments
Archives
Links
Meta
Latest updates and news

Tag cloud
TOP 15 Popular Articles
Top Comment Authors
Ingo (367)
Jean-François (146)
Jeff - Anthony (36)
Erik (30)
Dermot O'Reilly (28)
Fletch (25)
TheWizzard29 (22)
zach (22)
Knopfleberg (20)
Philipp (19)
Morten (17)
John (16)
Eduard (14)
danny (13)
Jim (13)
Alex Mircica (12)
thomas (12)
Ryan T. (11)
J.Francois (10)
liftedcj7on44s (10)
Chris (9)
dave (9)
Jakehadlee (9)
Jeff - A (9)
Jeff A (9)
Mark's Privateering tour has started, and they played the first 8 concerts around south-east Europe and Italy. One song that has been played on some of these  – compared to previous tours they vary the setlist a lot – is Gator Blood. I saw the picture of Mark with the white Strat – it seems to be the 1964 of Sailing to Philadelphia – some days ago and was wondering on which song it was played. The capo at the 3rd fret and the bottle neck are a hint of course, but I did not associate it with Gator Blood. In fact the sound of the album version is different from a typical Strat sound, maybe he played his Danelectro on the album, his main axe for bottle neck these days.
Here are some youtube videos showing Gator Blood. The tuning is open G (D – G – D – G – B -D), capoed at the 3rd fret (key of Bb). Mark played a similar picking 34 years ago on a song called Do right unto others on Bob Dylan's Slow Train Coming album by the way. Enjoy!
"Buy me a beer" - donate for the site via PayPal. Or buy a backing track in my online shop :)
Related articles
I recently watched this video on youtube and felt to share it with all readers of my blog. It shows Abigail Ybarra winding a pickup in the Fender custom shop. In case you haven't heard of her, she started to wind pickups at the Fender factory in 1956, and again does so at the Fender custom shop today. She is the mother of pickup winding so-to-say.
The youtube video shows you what is meant with hand-winding a pickup, or scatter winding. Of course noone wounds a pickup by hand in the sense of laying single turns of thin wire around the coil, and neither by turning the coil by hand. For this always machine have been used, but the wire is led by hand. This way the person who operates the machine controls where exactly the next layer of wire goes, and also the tension of the wire.
Scatter winding means all the time the wire is  led from one side of the bobbin to the other, and back again. Such details are of importance for the sound of a pickup because they affect physical values, e.g. the capacity of the pickup. It is a mistake to think only the number of turns and the material of the magnets matter, it is much more. Even the insulation of the pickup wire – normally something like enamel or a material called Formvar – is of  importance, and both the thickness of the insulation and the material cause clearly audible differences. Of course it is still all physics and not vodoo, but a pickups is really a highly complex issue.
"Buy me a beer" - donate for the site via PayPal. Or buy a backing track in my online shop :)
Related articles
Posted in: Guitars by Ingo on April 23, 2013
After the Walk of Life pickups – a  reproduction of the Schecter F520T / F521T sound – are availabable now, I can continue with the next steps of my Dream Machine Tele project (see part 1 here). I meanwhile found a vintage Schecter brass Tele bridge some weeks ago, so – with my own highly-ploshed brass Tele pickguards  – I have nearly all essential parts for one guitar together now.
Original would be Kluson Deluxe tuners but I will install a set of Japanese gold-plated Kluson-style tuners. These work fine, and originals are hard to get and more expensive. Schaller tuners are no option for me as I love the Kluson way to put the end of a string into the tuner and bend it into the tuner slot.
To be continued soon…
"Buy me a beer" - donate for the site via PayPal. Or buy a backing track in my online shop :)
Related articles
I reported about the increasing problems concerning guitars with Brazilian rosewood (used e.g. for fingerboards on vintage Fender or Gibson guitars) last year (see here). As a consequence of this, Germany's biggest vintage guitar  show last November was cancelled, as the CITES restriction does not allow to display a guitar with parts of Brazilian rosewood in public without a special licence.
With this short blog post I just want you to inform that in fact at this year's Frankfurt Music Fair (the biggest trade fair for musical instruments worldwide) no vintage guitars were displayed at all for this reason. Last year there was a special display area with lots of vintage Fenders and Gibsons (see this blog post), like Strats from the 50ies and 60ies, even 50ies "bursts" (Les Pauls from 1958-1960) . The only exception was one booth by No. 1 Guitar Center from Hamburg, Germany, who had some old Fenders – but all with the required papers directly next to each guitar.
This shows that the  EU law is really repected meanwhile. It is almost impossible to sell or even display a vintage guitar with the protected Brazilian rosewood – unless you have the proper papers for it. And as this is an EU-wide law (to be correct, even a world-wide law), it will soon be similar in all other European countries soon (German authorities are often said to be more correct than others so no wonder they made the start).
I also phoned the authorities office for my town to inquire how to get such CITES papers. I will keep you updated after getting these, hopefully soon.
"Buy me a beer" - donate for the site via PayPal. Or buy a backing track in my online shop :)
Related articles
Mark started to play Schecter Dream Machine Telecasters as early as 1980. When he got four Dream Machine Strats (two red, one sunburst – which was soon stolen and replaced with another one, and one in blue) at Rudy's Music Stop in New York that year, he also got a black Schecter Telecaster, black finish, black pickguard, black hardware, contrasted to a white binding and a birds-eye maple neck. This was the guitar he recorded Solid Rock of the Making Movies album with. On stage on the following On Location tour (1980/81), he used it not only for Solid Rock but also for Telegraph Road (the album version was recorded in 1982 with the sunburst Schecter Strat).
About 1984 he got a second Dream Machine Tele, the red one of Walk of Life (which he still has and uses regularly on stage).
Both of these Schecter Dream Machine Teles were equipped with the tapped Schecter pickups F520T (bridge) and F521T (neck). These were similar to the F500T pickups for Stratocaster. After reviving these for the loaded Schecter-style Strat pickguards (available on this site), it was logical for me to have a look at the Tele pickups as well. In fact I was able to investigate several original Schecter pickups from different years. Terence Reis of The Straits for example has these in a guitar which is said to be from the same run as Mark's Tele (thank you for your help again, Terence). I found some minor differences between different years, and I took the ones from the 80ies as the basis of these reproductions.
The pickups are again manufactured by Harry Haeussel (of Haeussel Pickups) exclusively for mk-guitar.com. Harry already makes the F500T clones for us, and the high quality of his pickups in general is beyond question.
Unlike the Dream Machine Strats, Schecter Teles did not have mini switches for switching the pickups from tapped to full to off. They had the standard pickup selector switch, and each of the two potis was a push-pull poti that switches the pickup to the full coil when being pulled. For this reason you don't need a special control plate, you can put these pickups in any Telecaster.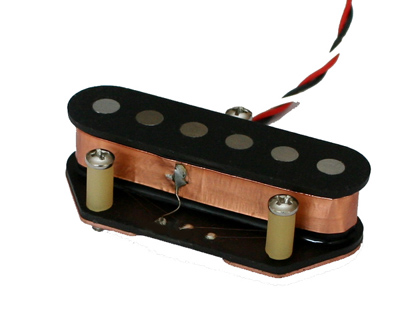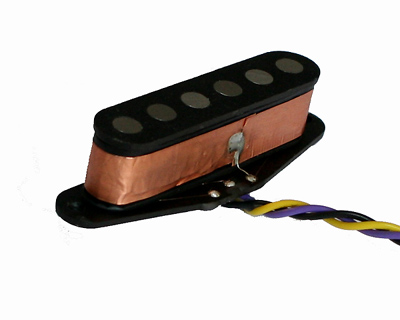 Like the F500T, the F520T / F521T have the bigger 6.5mm (1/4″) alnico pole pieces (they must not be confused with the Schecter Monstertone pickups which have a ceramic bar magnet). These fat magnets create a unique sound with more bass and a more mellow, less harsh tone than the smaller standard pole pieces. And they have the same copper-shielding foil around the coil that is a big part of that magic look.
With these pickups Mark recorded the famous Walk of Life rhythm picking on the Brothers in Arms album (pickup position bridge & neck).  When you pull one (or both) of the potis you get a much fuller, fatter sound, ideal for rock stuff – Solid Rock.
Available for the neck position, for the bridge position, or as a set (bridge & neck) – exclusively on mk-guitar.com.
"Buy me a beer" - donate for the site via PayPal. Or buy a backing track in my online shop :)
Related articles
Older Posts »