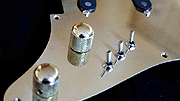 Blog Post Categories

Pages
Recent Forum Posts
Recent Comments
Archives
Links
Meta
Latest updates and news
Tweets by @mk_guitar_com
Tag cloud
TOP 15 Popular Articles
Top Comment Authors
Ingo (400)
Jean-François (152)
Jeff - Anthony (36)
Erik (32)
J.Francois (29)
Dermot O'Reilly (28)
Fletch (27)
TheWizzard29 (22)
zach (22)
Knopfleberg (20)
Philipp (19)
Eduard (17)
John (17)
Morten (17)
Arthur Luz (15)
danny (14)
Jim (13)
thomas (13)
Alex Mircica (12)
Chris (11)
Lapelcelery (11)
Ryan T. (11)
liftedcj7on44s (10)
dave (9)
Jakehadlee (9)
This was a nice surprise: someone posted a link to a youtube video in the A Mark in Time forum showing Mark recording The Last Post for a tribute project to soldiers who died in World War I. More information about this project here: http://www.superact.org.uk/thelastpost/
Mark plays the tune on his 'Blue Ice metallic'  Pensa. It is the guitar we could already see in the BBC Guitar Stories video from 2012. It has two Lindy Fralin soapbar pickups, a Hipshot tremolo and Hipshot locking tuners, 22 frets, swamp ash body.
Mark uses the bridge pickup. In the background we see a Komet amp played into what looks like a vintage Marshal cabinet.
"Buy me a beer" - donate for the site via PayPal. Or buy a backing track in my online shop :)
Related articles
This  blog post was written by Jean-François. Thank you J.F. !

[some comments by Ingo in brackets]

Mark Knopfler has always been associated with fingerpicking. His totally unique right hand technique has become his landmark since the first Dire Straits album in 1978. However, Mark also sometimes plays with a guitar pick – not only but mostly during his solo career.
Among his childhood guitar heroes, Chet Atkins and Hank Marvin were probably the most important for him. From Chet he learned the fingerpicking style. Hank started the desire to get a red Strat, but also to play the twang style i.e using the tremolo arm at the end of each lick instead of using the left hand vibrato. That's a style he used to play more and more during late years, trying to reproduce that Hank style, most of the time with his '54 Fender sunburst Stratocaster aka "the Jurassic strat".
It's interesting to notice that there are also songs with that "twang-vibrato" touch but played with fingers : I'm the fool, So far away (except in 2006 and 2008 when he used a pick for this song), and in a certain way why worry or nobody's got the gun… A liitle bit like Mike Oldfield who played on many songs in a certain Marvin-style with a clean-reverbed tone and the whammy bar, but with fingers instead of pick.
Besides this Hank style, Mark played with a pick on many songs during DS and solo days, mainly in studio, rarely live. It was mostly for strummed acoustic guitars or rhythm parts.
Sometimes, he makes a "virtual" pick with his nails. He does this very often when he wants more power, e.g. at the end of Money for nothing (see Live Aid 85 at 6:50) , or even Private investigations on nylon acoustic (see WEMBLEY 85 at 6:26)
He does it also during the firts part of Tunnel of love (and especially during the break) and for the intro on So far away (except in 2006 and 2008 when he used a pick for this song).
If Mark uses a pick live he kept it during the whole song (expresso love, our shangri-la, fizzy and the still, So far away in 2006 and 2008, let it all go, True love will never fade, The man's too strong…)
I never saw him alternate pick and fingers in the same song, EXCEPT for news/Private Investigations final in 1980-81, he took the pick just for outro (at 4:18)
[Ingo: I think he changes from pick to fingers on Tunnel of Love where he played the first two or so verses with a pick and then changed to a semi-lead/riff style played with the fingers]
List of songs  played with a pick
Below is an attempt to list all songs from DS/solo/NHB on which he uses a pick. Question marks stand for not 100% sure.
1976 Pre-Dire Straits
He used a pick with the Café Racers because "it was a combination of rhythm and lead playing "as he explains in the Oldfield book. "I used more the pick at the time"
So we can assume that most of covers performed with Café Racers were played with a pick, on the Gibson LP special
[Mark said he played with a pick in the Mick Green style then]
1978 Dire Straits
southbound again : accent chords
[Ingo: not sure]
1979 Communique
where do you think you're going : acoustic part ?
Live he played it with fingers, but the acoustic part on studio version sounds like being strummed ?
1979 tour
Bernadette ?
In my car ?
Twisting by the pool
–>  Blog post about pick in 1979
1980 Making movies
Tunnel of love : acoustic and electric rhythm parts
Expresso love : rhythm parts and solo
Hand in hand : riff ?
1980-1981 tour
News outro (which became later the Private Investigations outro) DORTMUND 1980
Expresso love
1982 Love over gold
Private investigations : electric part VIDEO CLIP
1983 ExtendedPlay (EP)

Twisting by the pool VIDEO CLIP
If I had you : acoustic (played by Mark or Hal ?)   [I guess the electric guitar that opens the song with that E chord is played with a pick, too]
1982-1983 tour
Expresso love ALCHEMY
Twisting by the pool
1985 Brothers in arms
So far away : rhythm part (or played by Jack Sonni ?)
The man's too strong : acoustic part (Ovation)
1985-1986 tour
Expresso love WEMBLEY 85
The man's too strong : acoustic part (Ovation) WEMBLEY 85
Note : So far away was played with fingers during 1985 tour WEMBLEY 85
1990 Notting Hillbillies
Will you miss me : lead part VIDEO CLIP
acoustic parts on several songs
1991 On every street
On every street : lick at the end of each verse (just after "on every street")
Ticket to heaven : electric chords, acoustic rhythm (or played by phil Palmer ?)
1996 Golden heart
Nobody's got the gun : acoustic rhythm part
What have I got to do : acoustic rhythm part
2000 Sailing to Philapdelphia
What it is : acoustic rhythm
Who s' your baby now : acoustic rhythm
Camerado : lead part
2001 tour
Who s' your baby now TORONTO 2001
Note : So far away was played with fingers during 2001 tour LYON, PHILADELPHIA
2002 The ragpicker's dream
Why aye man : accent chords on the chorus (played live by Guy Fletcher on the 68 sunburst Telecaster)
You don't know you're born : end solo
Dady's gone to knoxwille : acoustic rhythm
2004 Shangri-la
Our Shangri-la : lead part
Everybody pays : lead part
Don't crash the ambulance : lead part
Summer of love : rhythm
Note : Our Shangri-la was played with fingers during 2005 tour HANNOVER, ERFURT
Note : So far away was played with fingers during 2005 tour MILAN, LONDON
2006 All the roadrunning
Rollin on : lead part
Beyond my wildest dreams : acoustic rhythm and tremolo chords (or played by Richard ?)
All the roadrunning: acoustic rhythm (or played by Richard ?)
2006 tour
Born to run VERONA
Our Shangri-la VERONA, BRUSSELS
So far away BRUSSELS, DUBLIN, VERONA
2007 Kill to get crimson
True love will never fade : lead
The scaffolder's wife : acoustic rhythm part ?
The fizzy and the still : lead part for sure, but rhythm part ?
A heart full of holes : electric licks
We can get wild: lead and rhythm parts
Punish the monkey : lead and rhythm parts
Let it all go : lead and rhythm parts
The fish and the bird : electric chords
In the sky : electric chords
2007 promo tour
True love will never fade BERLIN
The fizzy and the still BASEL_
Let it all go BERLIN, BASEL
Our Shangri-la BASEL
2008 tour
True love will never fade PARIS
Our Shangri-la ATARFE
So far away PARIS
2009 Get lucky
Border reiver : acoustic rhythm part and accent chords on the blonde telecaster
Hard shoulder : lead part and acoustic rhythm part
The car was the one : lead part and mandolin
Remembrance day : mini martin
So far from the clyde : acoustic rhythm part and accent chords on the blonde telecaster
Piper to the end : acoustic rhythm part
Early bird : wah-wah licks
Time in the sun : acoustic rhythm part
2010 tour
Our Shangri-la ? (no video found)
Note : So far away was played with fingers during 2010 tour CORDOBA
2011 tour
Our Shangri-la ? (no video found)
Note : So far away was played with fingers during 2011 tour ROMA
2012 tour
Our Shangri-la ? (no video found)
Note : So far away was played with fingers during 2012 tour BERKELEY
2012 Privateering
Redbud tree : acoustic rhythm part and accent chords (left channel)
Yon two crows : electric chords (left and right channel)
Seattle : lead part and acoustic rhythm part
2013 tour
Our Shangri-la RAH
Seattle PARIS, RAH
Note : So far away was played with fingers during 2013 tour RAH29/05, RAH30/05
Click here for all guitar parts on all songs on all albums :
http://www.mk-guitar.com/gear-on-all-songs-for-all-albums-wiki/
"Buy me a beer" - donate for the site via PayPal. Or buy a backing track in my online shop :)
Related articles
It is a while ago that I started my Tele Dream Machine project. The project advanced and got to a stage where I had a playable fine instrument some months ago (which can be seen e.g. here when I was demoing the Walk  of Life pickups with this guitar). However, various parts were not finished yet, mainly as I was missing some of the required brass parts. Meanwhile I have (almost) all I need to finish the project.
Let's start with the control plate. The one you can see in the demo video was a gold-plated one, bought rather cheap on ebay. Unfortunately it did not fit properly into the contour of the pickguard but even overlapped the pickguard (see picture).
Was my brass Tele pickguard wrong or the plate too wide? Of course it was the plate, what shows us that you can never trust no-name products to be compatible to the standard specs. Besides, the gold-plated steel looks a bit different than the polished brass on Van Nuy era Schecter Dream Machines. Well, if I can produce brass pickguards I should be able to produce brass control plates I thought, and this is what I did. I made a few more, and chrome-plated some of them to go along with my white aluminium Tele pickguards for a real "Walk of Life red Tele clone" set (with pickups, pickguard and wired controls, coming very soon, I basically only have to take some pictures  to put it into the online shop). By the way, it is not that you cannot get chrome-plated ones everywhere, but try to find one of chrome-plated brass instead of steel …  – and it has to be brass for an "authentic" Dream Machine clone!
So here is the picture with my brass control plate. I also added the switch tip button (which was missing on the video): Schecter had these round black Tele buttons, but occasionally also Strat-style tips of brass.
While doing the brass plates, I also made the serial number plates, of chrome-plated brass and – brandnew – polished brass, vintage-correct clear laquer coated, with the S8001 serial number. I replaced the gold-plated steel plate I had on the guitar (without any number) with this one for the vintage-correct look, with an S serial number of the correct size, font, and at the correct position.
Please note that I only made these with three serial numbers of Mark's most famous Dream Machines (red Strat, red Tele, sunburst Strat, plus the two red Dire Straits Fender Strats ), no other numbers are available, or will be. The idea here is to have the right-looking part without a danger of misuse,  not providing the possibility to fake a Dream Machine and sell it as original. I mean faking one and insstalling one of  the most famous serial numbers is like faking a pre-CBS Strat and give it the 0001 serial number of David Gilmour's famous blonde Strat – cannot fool anyone.
The next thing I did was to replace the original vintage NOS Schecter bridge that I bought for a fortune a while ago with one of "my" new Dream Machine style bridges. As I copied all important Dream Machine specs and made sure to have it milled from best quality solid brass (nothing die cast), the sound will be identical but the look fits better to the other parts – the Schecter bridge has darkened with age, being about 35 years old (see one of the pictures above).
Last not least a few words on the three (!) strap buttons of the Dream Machines (most of them had three but there were also some with two, even in the 1980 Schecter catalogue). My mahogany body already had two holes at the usual positions, so I had to drill two new holes. I used a piece of tape and drilled through it to avoid crackling of wood or finish, something very important when drilling into a laquered body! The distance of these is about 9.5 cm (3  3/4 ") on my guitar. Only thing left to do: filling the unused hole. I used normal gold-plated strap buttons for now. Unfortunately these look rather different to the original ones which were made of raw brass, without laquer and rather dull looking for this reason. Thinking about it, it should not be impossible to make these from raw brass myself …  Well,  let's leave something for the future

Watch out for the the next blog post in this Building a Telecaster Dream Machine series with the full photo album of the final guitar.
"Buy me a beer" - donate for the site via PayPal. Or buy a backing track in my online shop :)
Related articles
Posted in: Misc by Ingo on July 31, 2014
J.J. Cale – who sadly died last year – has been a huge influences for Mark Knopfler.  Especially for the early Dire Straits sound, J.J. Cale was probably the biggest influence at all. So it is no wonder that Mark appears on the tribute album The Breeze that was released on July 25. The project was organized by Eric Clapton, so the official artist is "Eric Clapton & Friends". Mark sang and played guitar on two tracks, Someday and Train to Nowhere. These were recorded at Mark's British Grove studio in London.
While the other "friends" – illustre names like Eric Clapton, Tom Petty, John Mayer, Willie Nelson, and more – all covered some of J.J. Cale's best-known 'hits' , Mark decided two cover two rare and unknown songs, which in fact only exist as unreleased demos.
Someday is a very typical J.J. Cale song but it is really astonishing how much Mark can make it sound like J.J. Cale, not only the guitar sound but especially the vocal style on this song is so close that I can easily imagine to hear J.J. Cale himself. Mark seems to play one of his Strats with a clean sound, played very 'laid-back'  – the 'official'  term to describe J.J. Cale's  cool and relaxed playing, where the notes are played almost 'behind the beat'.
The chords (one verse / solo) of Someday are:
Dm  Dm  Dm  Dm G  G  Dm Dm
C  G  Dm Dm
G  Bb (1/2) C (1/2) Dm Dm …
Train to Nowhere is a typical 'one-chord groove song' – the one and only chord being C. Mark plays a rhythm riff and sings the vocals except on one of verses which features Don White. Between the verses Mark plays a few solos and licks, also with a clean guitar sound. Also a nice one.
You can buy the album and listen to a preview of all songs here on Amazon.
"Buy me a beer" - donate for the site via PayPal. Or buy a backing track in my online shop :)
Related articles
I am an official Kluson dealer now, so you can get the correct Kluson guitar tuners for a Schecter Dream Machine replica now in the online shop of my site.
During the Van Nuys era, Schecter used Kluson guitar tuners for their guitars ans basses. I have seen a lot of Schecters from this time with Schaller tuners but I guess that these were not factory-original. Remember that authorized Schecter dealers could assemble guitars from Schecter parts, and if the customer wanted Schallers, I guess the dealers put them in (Schaller tuners were common because they were considered as the best guitar tuners at that time).
It seems Mark's Schecters all had Kluson tuners (it is sure for the Strats but I cannot say with 100% certainty for the red and black Teles as we don't have enough high-resolution pictures of these). I personally like the Klusons better than Schallers, mainly as I love that the string ends disappear in a hole in the split shaft of the tuner.
Klusons were also the tuners on all vintage Fender guitars, before they were replaced with the Fender keys (labelled with a "F") that were in fact manufactured by Schaller in Germany. The earliest Fenders had Kluson tuners with no label, from 1957 to 1964 Fenders had the so-called single-line Klusons, from late 1964 on double-line Klusons. The terms single-line and double-line refer to the "Kluson Deluxe" label on each tuner: both words in one line in the centre of the tuner are single line, while double line means one line for "Kluson" (left) and one for "Deluxe" (right). To my knowledge all Schecter Dream Machines had the double-line Klusons.
These tuners are still manufacturerd today.
Get them here in silver (nickel) or gold.
"Buy me a beer" - donate for the site via PayPal. Or buy a backing track in my online shop :)
Related articles
Older Posts »