This article is about a "two-strings scale" sometimes called Memphis Scale. Normally these two strings are not adjacent strings, instead you skip one string and play licks e.g. on the D- and B-string (as in the video examples below), or on the G- and high E-string.
With the help of these licks you will increase your vocabulary on the guitar. Whenever you are in danger of running out of ideas or feel chained to a standard (e.g. the pentatonic) scale, these melodic, two-voiced licks guarantee a sudden change and a new colour in your way of playing.
Examples of these licks can be found in a great number of  Mark Knopfler / Dire Straits  tunes, surely to many to name them all. Some nice examples are:
The intro of In the Gallery
Sultans of Swing
Down to the Waterline
Wild West End
Single Handed Sailor
So Far Away
Precious Angel (Bob Dylan featuring Mark Knopfler)
How do these licks work?
First, have a look at the following chord, in this example a G major chord at the 7th fret (the video examples  start with a C chord in the open position). We will build licks that are played on the D and B strings. The notes of this G major chord on these strings are coloured red (the note B on the D string, and a G on the B string).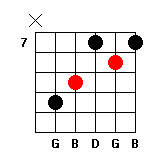 Below you can see a second way to play a G major chord, it is at the 10th fret position. Again, the notes on the D and B strings (this time a D and a B) are coloured in red.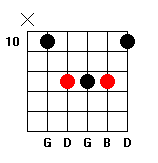 These four notes on the fingerboard: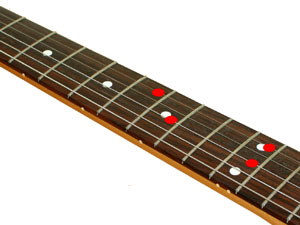 The next logical step is to add certain "connecting" notes to create smooth transitions from the first position of the lick (8 and 9th fret) into the second position at the 12th fret. These notes are the C (D-string 10th fret) and the A (B-string 10th fret) – on the picture these notes are green.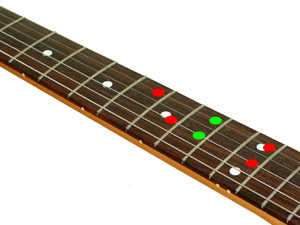 This is a typical pattern (here for G major) and many licks in the video are based on it.
Which Fingers of the Left hand?
As a rule, always use the second (middle) finger of the left hand for the notes on the D string, and the first or third finger for the notes on the B string here: use the first finger if the B string note is on a lower fret than the D string note, the third if it is on the same fret. Both fingers stay in touch with the strings whenever possible.
Video
If your connection is too slow to watch this video in high quality, go to youtube and watch it in normal quality.
Tabs for some licks from the video
Intro of In the Gallery

Chicken picking (from a live version of Skateaway)

Notting Hillbillies – That's where I belong

Bob Dylan – Precious Angel