Please use the comment function at the bottom of the page to add any missing relevant info.
Facts
Manufacturer:
Fender (possibly parts were from a Japanese Strat copy)
Model:
Stratocaster
Year:
1962 (?)
Serial No.:
?? (the number 80470 found in some old gear lists turned out to be the one of David's black Strat)
Colour:
red (non-original refinish, between fiesta and dakota red)
Woods:
? body / maple neck/ laminated maple fingerboard
Pickups:
no information, possibly original 1962 Fender Strat pickups
Note: often the whole pickguard (including controls and pickups) of Mark's other Fender Strat (1961) was mounted on this guitar
Strings:
mo information available
First seen with MK:
late (December?) 1977
Still in MK's possession/Last seen:
no / pictures from Love over Gold recording session
Info
Info: Mark got this guitar only a few months later than his first Strat. Right away it became his main guitar on stage during the time of the first two Dire Straits albums (with exception of the last months in 1978 and December 1979 when he played the other one on stage). It was probably used on both albums extensively as well.
Mark thought it to be original Fender from the early 60ies, but according to John Suhr, who serviced Mark's guitars in 1982 while Mark recorded Love over Gold, Local Hero and Bob Dylan's Infidels in New York, parts of this guitar were not original Fender but from a Japanese copy. I doubt that it was all Japanese, as generally Japanese copies were not as close to Fender vintage guitars in 1977 (when Mark got it) as they were some years later. Besides, some parts seem to be modified (e.g. new pickguard, new maple fingerboard, new finish) which makes it even harder to determine what is original and what not.
The Fender decal is one without patent numbers (which have been introduced there in late 1960) so the decal is a replacement or – if original – the guitar has a 1959 0r 1960 neck.
When Mark got this guitar it had a non-original pickguard where the position of the volume knob was slightly different. As Mark's way of resting his right hand on two fingers might easily cause conflicts with the volume knob at its normal position, this might have been a custom job for Mark. However, most of the time Mark did not have this custom pickguard on this guitar but the one of his other Fender Strat, in other words he normally put that pickguard including the controls and pickups on that Strat of his two he mainly used at a given time while the other guitar with the custom pickguard was the backup. More on this in this blog post.
At about 1982 John Suhr replaced the neck with a one-piece maple neck (possibly a Schecter neck with a Fender decal).
I once talked to Mark's friend Steve Phillips of the Notting Hillbillies, the one who did some work (closing f holes and a paint job) on Mark's black Telecaster Thinline, and asked him if he also worked on this guitar. He told me that it was not him but Sam Lee, a luthier from Soho. Possibly Sam Lee modified some things on this guitar which was maybe sold to Mark as original vintage Fender (remember, in 1977 a vintage Fender was basically a used guitar, the prices had just begun to climb, and there were hardly any experts, Mark was not even a professional musician but just a guy who bought a guitar). Soon after learning from John Suhr (maybe because of this?) that this guitar was not a vintage Fender, the guitar disappeared. There are some hints that Mark gave it to some charity but I don't know where the guitar has been since then.
Pictures
Pictures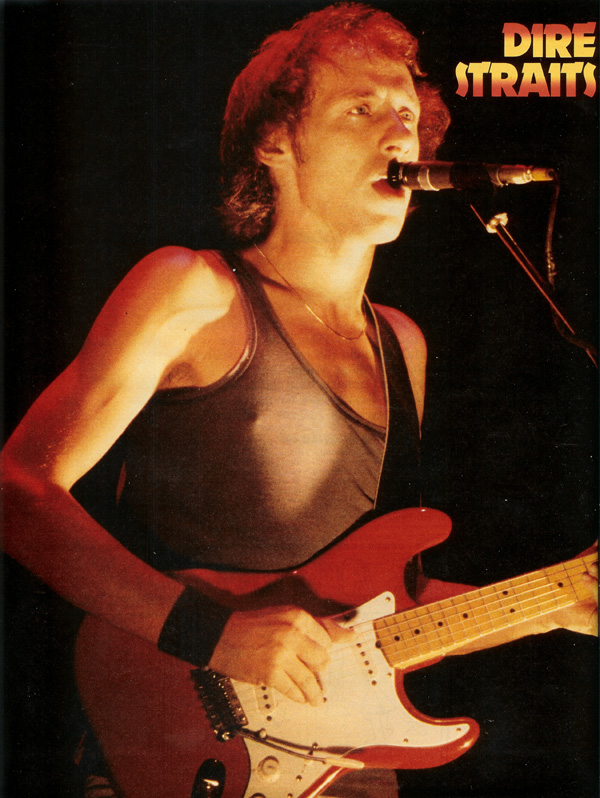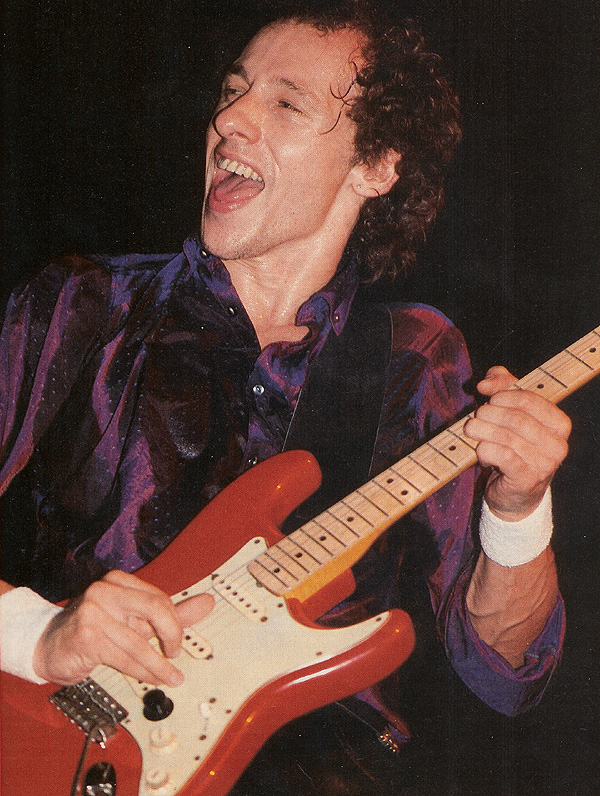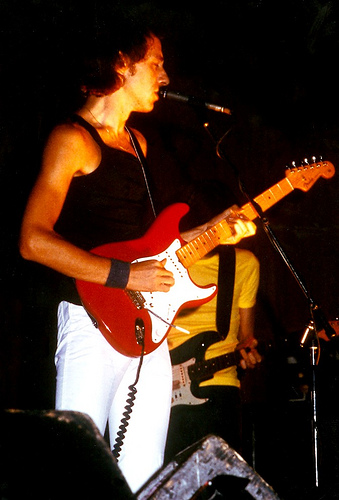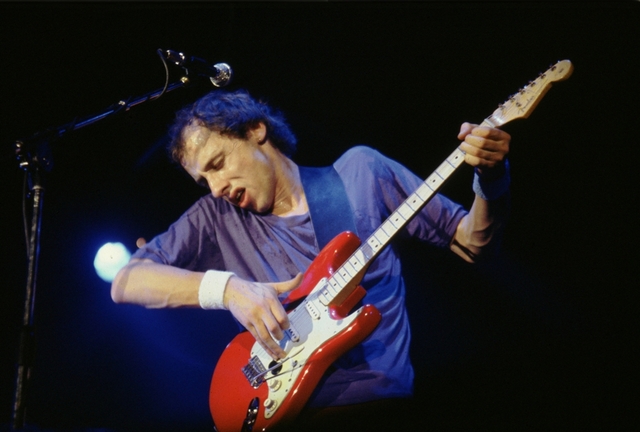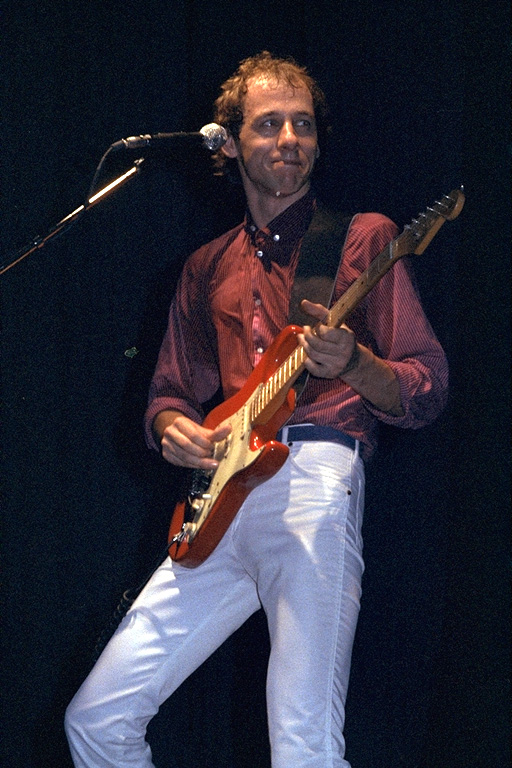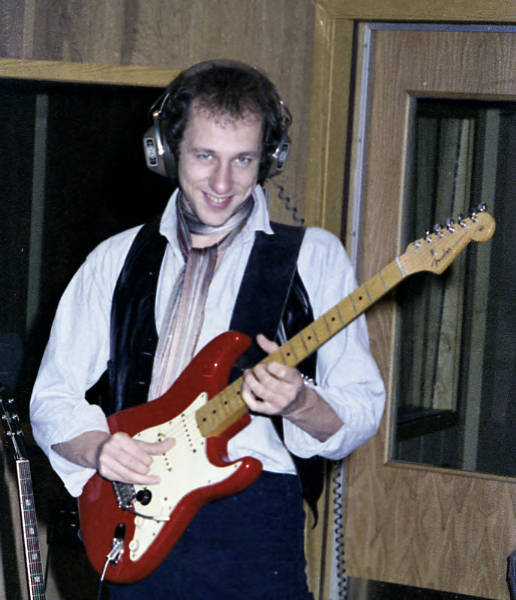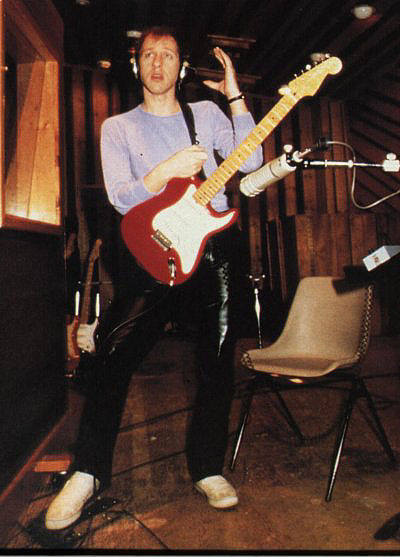 Reader picture gallery
Related Blog Posts