In the first article on this subject I explained what RSI is and where it results from. This second article should focus on what you can do to overcome it in case you already have problems.
Since I am not a medical doctor and do neither work in this field, I might not be competent to write about such a complex thing. For this reason everything I recommend must be "on your own risk". Besides, everyone is different, so what worked for me might not be the right thing for you. Nevertheless, some years ago I had myself some problems with RSI, but I found help and some good ideas about it. Consequently I got rid of it rather quickly.
So, what exactly happened? At that time I was working self-employed and spent all my work time at the computer: typing and mouse clicking all day long. And after work I played guitar, which of course put more stress upon my arm muscles. One day I got a sharp pain in my right forearm, even when doing simple things like mouse-clicking, not to mention picking a guitar string. I thought it was better to stop with it for that day, but it was not better the next, and neither the day after. When I finally went to a doctor, it had become even worse, a constant pain in my arm.
What did the doctor say? He said it came from working too much, I should make a break for some time, and he prescribed some pills to reduce the pain and the inflammation, but these had a lot of unwanted side effects, which was why I was reluctant to take them (besides I never ever take pills). Not working meant no money by the way, and stopping guitar playing was a nightmare anyway, and for how long? A horror scenario.
I consulted  a second doctor, and he did and said completely different things than the first (!?). He said a tendon on the upper side of my arm was inflamed and even bounces with a little click when doing certain movements. Hmm, didn't I tell him that I have pain mainly on the inner side of my forearam, and not on the upper side? Do they never listen? He gave me some injections – at least with a homeopathic medicament. And he prescribed some massages. He emphasized that I had to go to a particular masseur who would be the best for some reason.
I couldn't get an appointment there before a couple of days later, so I had the next appointment at that doctor's (for some more of these injections) before I had a chance to get the massages. I remember that the first thing the doctor asked was if I had already been to the masseur and what was his opinion about my pain – which sounded like a rather strange question to me because HE was the doctor, and a masseur, well, just massages, I thought.
The reason for pain – contracted muscles
The next day I had my first appointment for the massages. The masseur said he first had to examine my arm, and he also asked what *exactly* lead to the problems (something the doctors did not want to know). After this examination he told me that I had overused my flexor muscles, while my extension muscles were too weak. For this reason the balance between flexion and extension was disturbed, as a result my flexor muscles remained in a slightly contracted or even cramped state. The contracted muscles in the forearm lead to more tension on the tendons, which means more friction at the joints, and this is the reason for the inflammation. The pain in your wrist is a direct result of a problem somewhere else, it is simply that the tendons and joints are the weakest link in the chain and thus more susceptible for pain and inflammation.
He 'showed' me these contracted muscles – which means he pushed on them which resulted in a typical dull pain. This problem was not restricted to my aching forearm, there were contracted muscles also in my upper arm and at the base of the thumb in my palm (and basically all over my whole body as well, see below).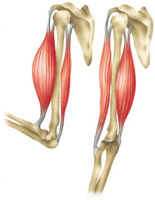 This was at least some logical explanation (remember, the doctors did not explain anything at all). Within the next sessions he also pointed out to me that such a disbalance results to more disbalance, even at distant locations of the body: it changes the position of the shoulders, which again has an effect on the back and the neck, this again leads to a different body posture, which again means you are standing differently, and so on. See the body as a physical model of your skeleton, and your muscles as springs that are attached to the bones. As long all muscle tensions are balanced, everything is alright, but as soon as only one single muscle has an increased tension, all other muscles – or springs in this model – change their position a little bit to compensate the changed forces.
What to do against contracted muscles?
The remedy was easy: moving the arm. I simply had to move it as much as possible, in all directions, every muscle of the arm should be moving. By the way, this was the opposite of what the doctor ordered: he said I should rest my arm in a slope  – which I first did, but when this did not help and I felt I could'n stand it anymore, I ended this therapy. It gave me a bad feel and the pain got even worse.
The important thing about moving the arm is not to use any force, moving without the smallest hint of force. This is because the muscles are often even cramped, and it doesn't make sense to pull on the cramped muscle, you rather had to let go instead of 'doing' something. It is similar to That Chi, the ancient Chinese art of moving (basically of fighting, but you are doing fighting movements in slow motion so to say). Here the key is also to reduce muscle tension (which enables you to move as fast as a lightning in a combat).
The second thing was stretching: with the help of some exercises the contracted muscles were carefully stretched, but again, it is important to release the muscle tension.
And thirdly, the antagonist muscles (those used for extension) had to be strengthened, again with some exercises.
In my case my arm was better very soon, and the pain never came back up to today – seven years later. I admit I did not really do much of the strengthening exercises, it was rather the idea of moving the arm without any force which loosened the cramps it seems.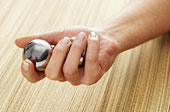 I also got two Qigong balls – two iron balls of about 1.5″ diameter which you simply circulate around each other in your palm. This flow-like motion of all your finger joints made the hand muscles feel much smoother again – and they cost just a few dollars.
After this experience I was much more sensitized for such muscle contractions, and I suddenly managed to feel them at many places of my body. I did the same, moving these areas without any force. I even tried out That Chi and Qigong exercises, and they had a wonderful effect. Besides playing guitar, another hobby of mine is playing football (=soccer), and suddenly it happend that I could play like never before in my life. I was in a 'total flow', and also mentally never felt better.
I might cover some more details – like the stretching exercises – in a coming part of this article series.