Let's feature another artist today: besides Mark Knopfler, I admire the work of Richard Thompson. Richard played with England's folk-rock band Faiport Convention in the late 60ies, and started a solo career afterwards. His first records were with his then-wife Linda Thompson who is a great singer.
Thompson has a lot of similiarities with Mark Knopfler: he is a great song writer, he is British, he has strong roots in folk music, he is a Strat hero (playing his vintage '57 Fender Stratocaster for decades now), he often uses pick-ups 1 + 2 and often plays clean sounds over a Fender Twin Reverb, he is truely different from the mass of other players, …
Some differences: he plays with a pick plus his right-hand middle and ring fingers (like Albert Lee), he sometimes played rather weird stuff, he sells less records, …
If you don't know him, check him out, there is a lot of stuff on youtube. I personally favour what he did in the middle-to-late 70ies or early 80ies. I put together a survey of his work over the decades, enjoy.
The first clip is for us Dire Straits + clean Strat lovers, don't miss the guitar solos, and turn it up 🙂 Unfortunately no video, just slide show 🙁 :
– – Video not available on youtube anymore – –
Here is something melodic with Linda Thompson, folk style, a beautiful song:
… and here some more weird stuff – don't miss the last solo (from 3:38 on) and watch how he uses the tuners for that low e string note. Note that he plays totally different from everyone who uses standard scales. By the way, the drummer is Dave Mattacks, one of my favourites. Mark played with him on a session for Joan Armatrading, on a song called 'The shouting stage':
– – Video not available on youtube anymore – –
Here is Richard playing solo acoustic guitar:
and another old one from Rockpalast, lots of guitar from 3:45 on:
and a more recent one:
BBC Radio 2 Folk Awards 2006, Richard Thompson got an award from …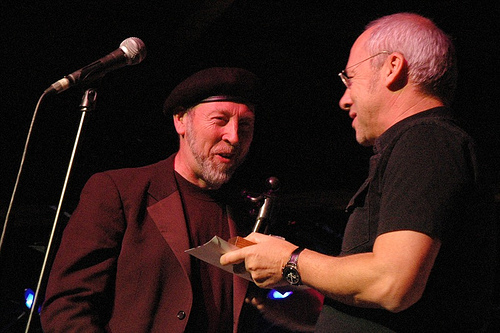 (picture courtesy Bryan Ledgard)