A red Stratocaster has always been one of THE rock'n'roll logos – something that started with Hank Marvin, guitarist of the Shadows, who had the first red Strat in England. He started a desire for exactly this guitar among thousand of English kids in the early 60ies, one of these was a kid named Mark Knopfler. In fact it was rather coincidence that Hank Marvin got a red Strat: he wanted a guitar like his idol James Burton (guitarist for Ricky Nelson) but unfortunately nobody knew for sure what guitar Burton played except that it was a Fender – no internet, hardly magazines, only little information in the 60ies.  So Marvin ordered the most expensive Fender (Cliff Richard bought it for him) from the catalogue – and this was a maple-neck Stratocaster with gold parts and custom colour – fiesta red. (James Burton played an 'ordinary' Telecaster by the way.)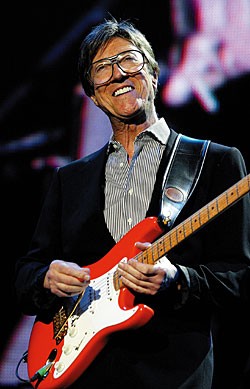 Hank Marvin soon became a synonym for the red Strat. The next picture shows him with a fiesta red Strat with rosewood fingerboard. There is even a rumour that Selmer (Fender's UK distributor back then) could not satisfy all demands for red Strats and thus simply refinished sunburst Strats in their own factory. (There is contradicting information about if this is really true and to what extent.)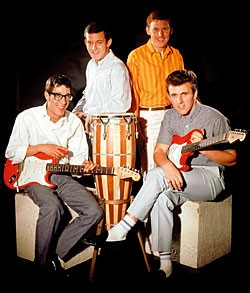 In fact, Fender did not only offer Fiesta red but also some more, different kinds of red. One is Dakota red which is darker than fiesta and closer to the firebrigade red .
And a third one was a metallic red called candy apple red which looks similar to Dakota on many pictures that often do not justice to that metallic look. Candy apple red means the guitar is finished in silver or gold first before a translucent red finsih is added. For this reason there are two different variations around (over silver and over gold), the one over gold looks warmer. Mark Knopfler's red Schecter is an example of this finish.
The following pictures (courtesy of curtisnovak.com) show the different colours in direct comparision.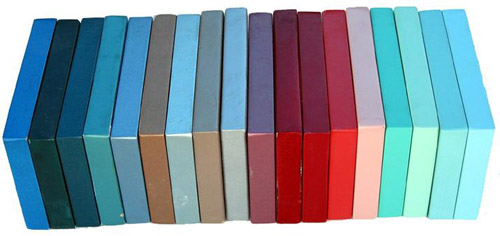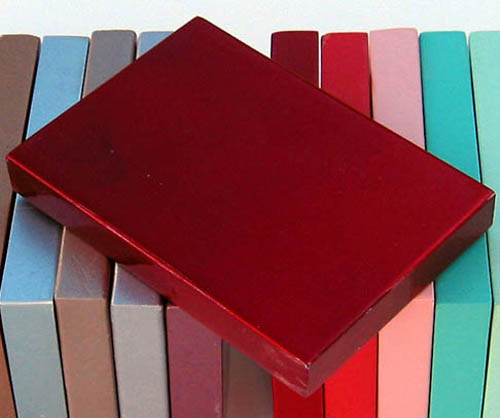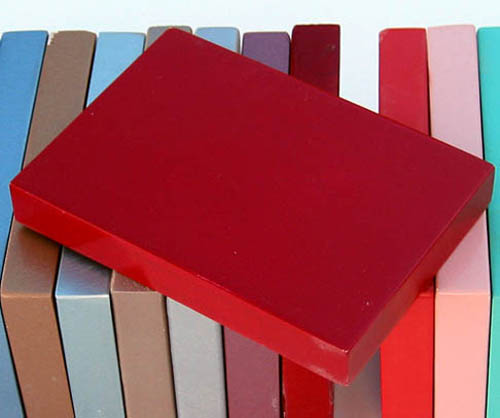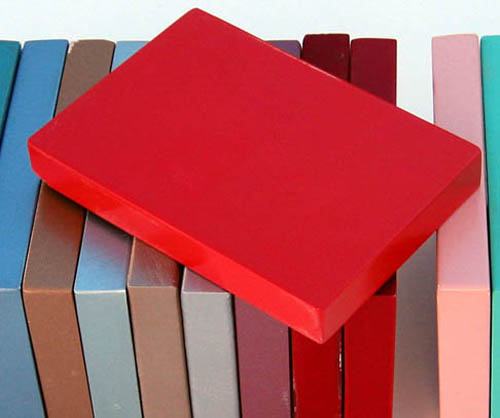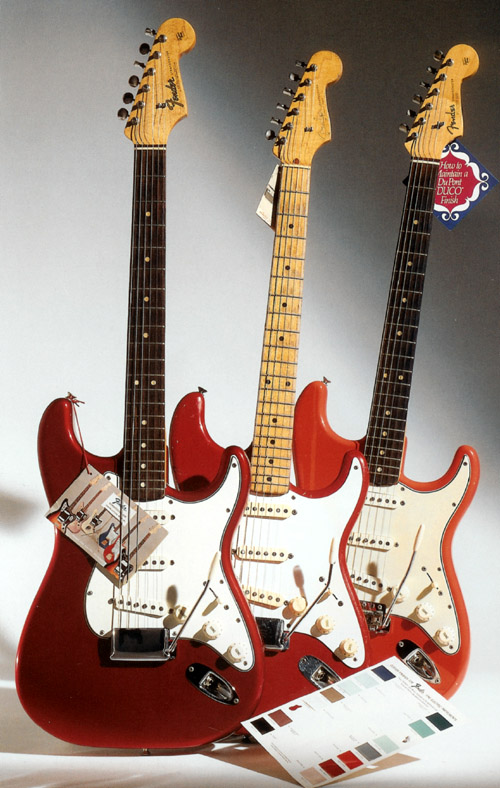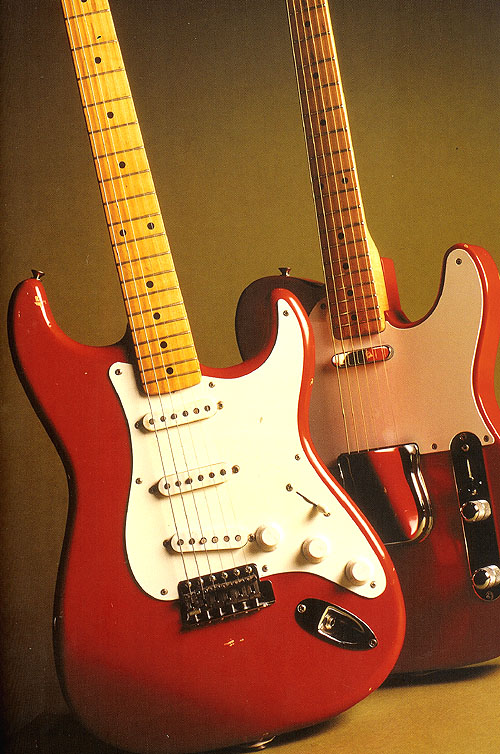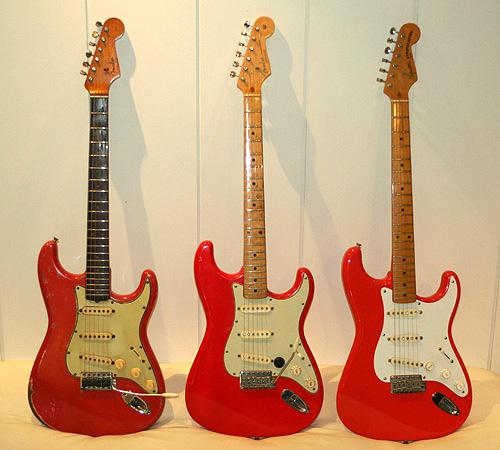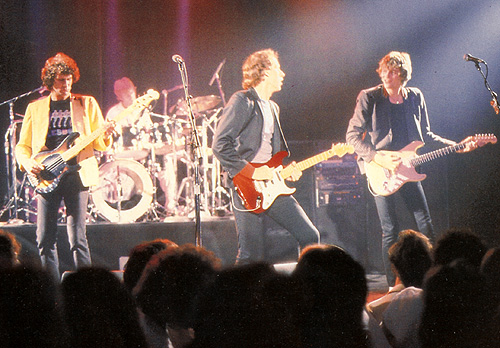 The two red Fender Stratocasters that Mark Knopfler played in the late 70ies when he started with Dire Straits were both refinished. As at that time noone refinished to any exact vintage Fender specifications, they were simply 'some' red, both did not not meet any of the original Fender colours. The one with the rosewood board (S.-No. 68354, he still has this one) was lighter and more of an orange, and closer to fiesta red than the one with the maple fingerboard (S-No. 80470), which was darker and more towards Dakota red. However, the 68354 was 'redder' than fiesta red which sometimes has a tendency towards tomato soup, while the 80470 was lighter and brighter than Dakota red.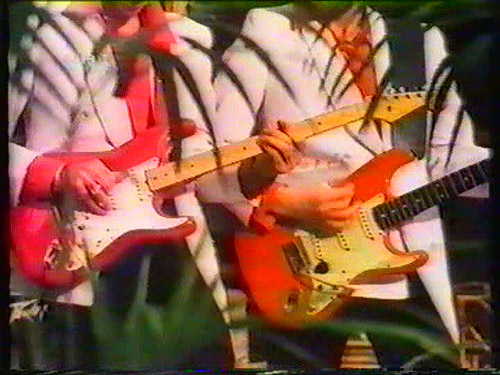 When Fender built something like a reissue of Knopfler's red Fender with the MK signature model, it seems they copied this red and called it hot rod red. Note however that as it seems meanwhile Knopfler's 68354 Strat was refinished again as the old finish cracked (see picture below) so it can't be said with certainty if this hot rod red is the same as that Dire Straits red.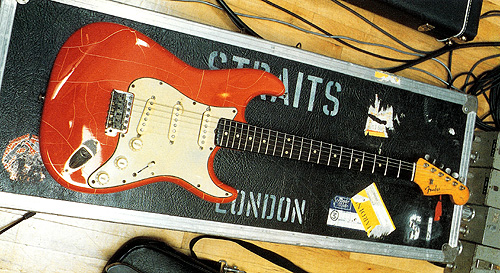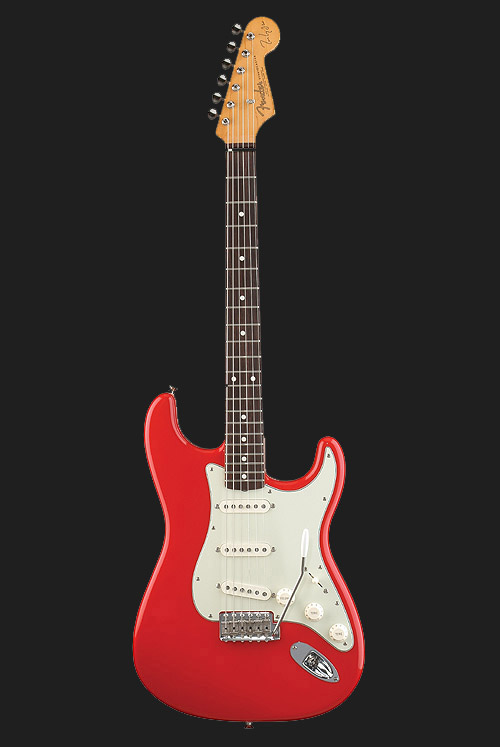 All kinds of red are generally photo reactive which means they easily fade when exhibited to light, something that was especially true for vintage laquer. Especially some fiesta red guitars today look rather pinkish so that names like Salmon Pink are also common. As said, this is the same as fiesta red, there has never been an official name like this in Fender's 'official' custom colour chart.