Please use the comment function at the bottom of the page to add any missing relevant info.
Facts
| | |
| --- | --- |
| Manufacturer: | Fender |
| Model: | Stratocaster |
| Year: | 1961 |
| Serial No.: | 68354 |
| Colour: | stripped to bare wood when he got it, refinished to red in late 1978 (similar to fiesta red but more intense), finish cracked in early 90ies and was refinished again |
| Woods: | alder body / maple neck/ Brazilian rosewood fingerboard |
| Pickups: | two original pickups, one DiMarzio FS-1 first in middle (1977/78) and later (after summer 1978) in neck position, was probably replaced to an original Strat pickup (or reissue) in the 90ies |
| Strings: | only little information available, according to David Knopfler Mark played 09-038 strings with Dire Straits, possibly D'addario 09 – 42 on the Sailing to Philadelphia tour |
| First seen with MK: | summer 1977 |
| Still in MK's possession/Last seen: | yes |
Info
Info: This was Mark Knopfler's first Stratocaster. This guitar changed his tone (he mainly played a Gibson Les Paul Special before) and playing style, e.g. he immediately adapted some chords and patterns of Sultans of Swing – which was originally composed on his National steel guitar – to the new sound he got with this guitar plugged into a Vibrolux amp. This Strat- and his second red Fender Strat, the one with the maple neck – were the guitars to create Knopfler's unique guitar sound on the first two Dire Straits albums. It is almost impossible to tell which of the two Strats was played on which song on the albums. On tour he normally prefered one of the two and used the other as backup, changing his preference after a few weeks again (a detailed list here).
The volume knob was replaced with a black plastic knob. In fact the poti itself was replaced to one with a solid shaft so that the original knob did not fit anymore. This was already true on the first available pictures of this guitar so presumably the modification had been done before he got it. The volume knob was on the middle poti. We don't know if only the knobs were exchanged or if the function of the potis was modified as well (compare the blog post on the idea behind the iSound-ST).
The tremolo back plate is missing, some pictures seem to indicate that the tremolo had 5 springs.
After he changed to Schecters for the Making Movies tour in 1980, this guitar was only rarely used but made a comeback for the recording of On Every Street, and also on some songs on the Sailing to Philadelphia tour in 2001. The guitar was restored to the original condition (no black volume knob, volume knob on the upper poti again, no DiMarzio anymore) as can be seen on the picture below.
He still owns it, it is one of the guitars that seem to be around in the room over his British Grove studio.
Pictures
Pictures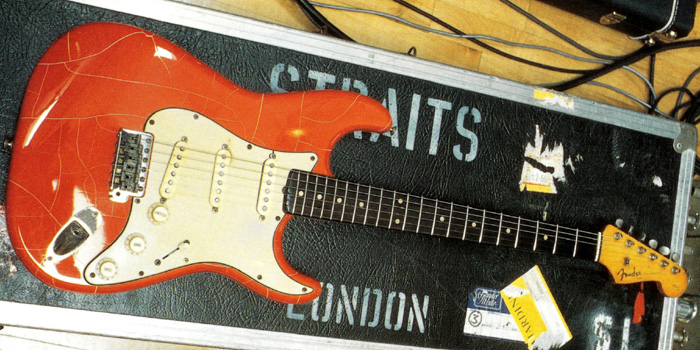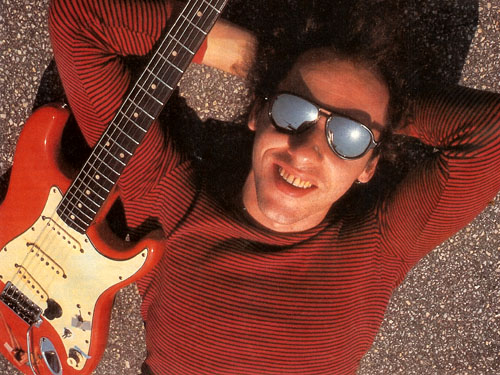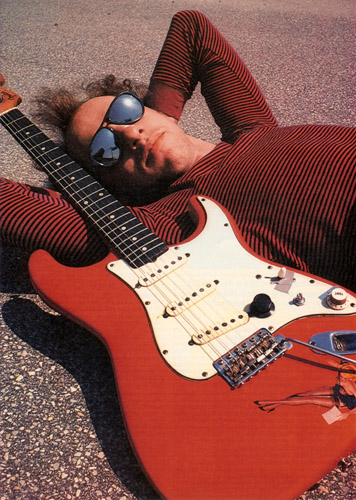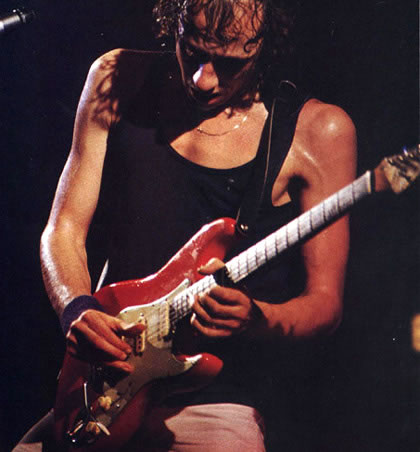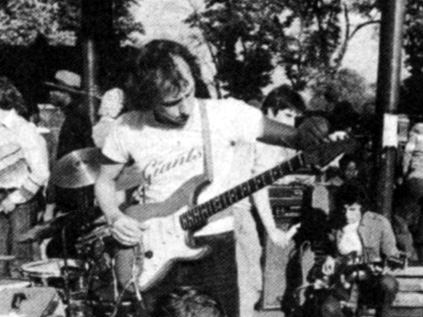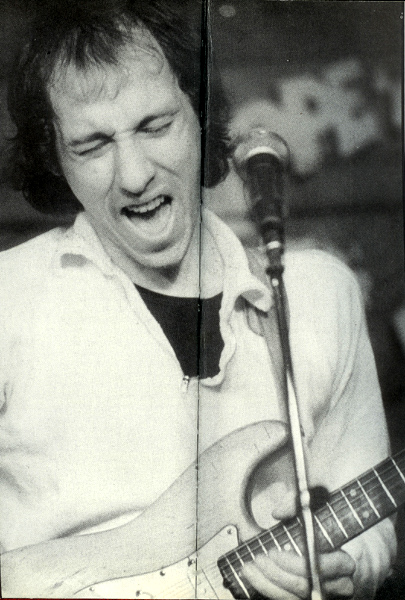 Reader picture gallery
Related Blog Posts