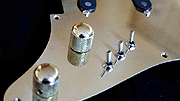 Blog Post Categories

Pages
Recent Forum Posts
Recent Comments
Archives
Links
Meta
Latest updates and news
Tweets by @mk_guitar_com
Tag cloud
Tags
Top Comment Authors
Ingo (421)
Jean-François (166)
Jeff - Anthony (36)
Erik (33)
Fletch (29)
J.Francois (29)
Dermot O'Reilly (28)
Arthur Luz (23)
TheWizzard29 (22)
zach (22)
John (20)
Knopfleberg (20)
Philipp (19)
Eduard (18)
Morten (17)
danny (14)
Jim (14)
thomas (13)
Alex Mircica (12)
Lapelcelery (12)
Chris (11)
Ryan T. (11)
David (10)
liftedcj7on44s (10)
dave (9)
The BOSS DR-80 is an astonishing little device with a vey high fun-factor. In short, it is a digital 8-track multitrack recorder with a lot of effects, and at the same time a virtual band  with a great number of jam grooves. And maybe the most astonishing feature is the price which is just about 200 Euros.
I already had a lot of fun with this little device. Here are two spontaneous jam videos that were created with nothing but the effects and grooves from the device. Partly I even used the suggested effects and amp simulation for the backing tracks, without any further editing.
"Buy me a beer" - donate for the site via PayPal. Or buy a backing track in my online shop :)
Related articles
I recently watched a few Youtube videos by Tomas Dolby about recording for his new album. One track – 17 Hills – features Mark Knopfler on lead guitar. There is one video in which Thomas tells about recording the guitar at Mark's British Grove Studio. Mark recorded various  guitar takes for this song, and Thomas explains how the recording session developped – "and how to give direction to a demigod" (quote from Thomas).
It is quite interesting to hear the different takes in comparision. They reveal Mark's approach of jamming along the song, and reacting to Thomas's suggestions. The guitar sound is still very direct with lots of dynamics, still without all the effects they will put in in the final mix. Enjoy!
"Buy me a beer" - donate for the site via PayPal. Or buy a backing track in my online shop :)
Related articles
Like many others,  I recorded an entry for the Puresolo competition (you could play your solo over one of the following backing tracks:  Sulans of Swing, Calling Elvis, or Speedway at Nazareth). I always find it a bit frustrating to take part in such a competition because as it seems nobody knows before who decides basing on what criteria (authenticity, accuracy, originality, creativity, …??) Anyway, as the backing track was really great – the original recording of  Sultans of Swing without the lead guitar –  I simply used the opportunity to try how close I can get to the sound of the original. Note that you had to record the guitar with Puresolo's software which did not allow you to fix mistakes later, so you had to play the whole song in one part and leave in all mistakes, or try it again with a second attempt.
Instead of a link to the competition entry, you will find a  player module with my version  at the end of  this post, mainly because Puresolo only plays back uploaded stuff in a horrible quality (something like 64 kbs). The guitar sound is surely not 100% as the original but closer to it than any of my previous attempts so I thought you might be interested in some details on the gear and settings.
The gear I used
I first played a few guitars I had here to see which one sounds closest over the backing track. I originally felt to go for one with a maple neck, but finally my '62 Strat with rosewood fingeroard had something the others had not. This does not mean that Mark also played his rosewood Fender Strat instead of his maple-neck, you can never be sure of these things.
I first played the guitar through a Morley volume pedal which makes the sound generally sweeter (it takes out some harshness) but for this particular recording I felt I need a lot of treble, so I left out the pedal. For the same reason a Fender Pro Reverb made it compared to an old Music Man amp. I dialed in enough treble and put on the bright switch. The sound was much brighter than I normally play here in the room but sounded alright over the backing track.
I tried an exciter effect – an old Pearl Thriller – which made the sound even shine a bit more.The last effects I used was some chorus and a limiter. Here I took a software plug-in from my Creamware Scope system.
I used an old Schoeps CM64 tube microphone which sounded sweeter than the Shure SM 57.
Which Pick-Ups?
The next decision was the pick-up combination to use. Normally you'd say Sultans of Swing was the bridge & middle pick-up. I am still not sure what it was but bridge & middle definitely did not sound right here. The middle pick-up alone was too sharp, so I ended with the neck & middle pick-ups. However, note that this Strat has a Dimarzio FS-1 in the neck position, and this pick-up has a totally different impedance than a stock Fender Strat pick-up. This is why it does not sound as nasal when you play it together with another pick-up.
I had rather thin (08) strings on the guitar, maybe too thin. I also did not more experimenting to get that little bit of distortion that seems to be on the original recording. It sounds like an abrupt clipping, maybe from the desk (?!).
So, here is the result in uncompromised sound quality (MP3 320 kbs) as I can hear it from my hard disk. Unfortunately Puresolo compressed everything down to 64 kbs directly after the upload, what a shame since some of the entries are really great!
Audio clip: Adobe Flash Player (version 9 or above) is required to play this audio clip. Download the latest version here. You also need to have JavaScript enabled in your browser.
Simply click on the blue progress bar to make the player play a different part of the song.
"Buy me a beer" - donate for the site via PayPal. Or buy a backing track in my online shop :)
Related articles
This week-end I found time again to record another cover version – Brothers in Arms. After Six Blade Knife and Wild West End, this is the third video I put some additional effort into, which means I did not record the  audio with the microphone of the camcorder but with the gear in our homerecording studio. Nevertheless it should be considered rather as "live video" and not as studio recording because I played the  guitar plus the vocals in one complete live take – without any overdubs and without correcting little mistakes to leave it in a more authentic state.
This time I recorded four takes all in all and then decided which one to take. The backing tracks were done some time ago – regular readers might remember the blog article about recording the acoustic guitar (my Gibson MK-81) and another one where I jammed to it and played a few solos.
The backing track is available here.
Recording gear
I recorded all audio with Cubase and a Creamware Scope system (now by Sonic Core) with which I also mixed the final tracks. The Hammond B3 emulation is also from the Scope system, and so is the reverb and all other effects (except a bit spring reverb from the guitar amp, and a sleight delay from the MXR analog delay). The drums are from Native Instrument's Battery, a VST plug-in in Cubase.
Maybe you are wondering how I synced the Cubase audio to the digital video file: in fact I did not sync them at all. Instead I recorded the audio in Cubase,  and filmed myself while playing the guitar plus vocals. I later imported the video file and the mixed audio track into a friend's Adobe Premiere. Here I visually aligned both tracks so that the waveform of the master audio track and the audio of the video file start simultaneously – at high zoom this is pretty easy to achieve. I found that for some reason both tracks do hardly drift apart over a time of just a few minutes. Then I simply muted the audio of the video file so that you hear the master audio only – that's it. The same I did with the second video file.
Gear used here – signal chain
Gibson Les Paul Custom '74 (10s strings)
Morley Volume pedal
MXR Analog Delay
Music Man HD 130 212
Shure SM 57
Some notes on how to play it and how to get the sound – dynamics are the key
I guess there are a zillion tabs around that tell you which notes to play (I myself never play or learn anything from using tabs, by the way), so I am not going to talk about this stuff here again. Besides I improvise a lot here: I found that as long as you stay in the G#m scale you can play more or less what you feel to and it sounds alright, the rest are all those licks I remember hearing in one of the many version Mark Knopfler did of this song. Each time I play it, I play it totally different, I never stick to a particular version.
What however seems important to me is the use of dynamics. What I mean is to remember that good music consists of loud notes which are contrasted with low, subtle notes. Many players I see on youtube seem to play everything rather loud. The problem is that when you start a song like Brothers in Arms and hit all those first notes at – let's say – 80% percent of maximum strength, you cannot go really higher to highlight other notes. If you however start at rather 20% – which I am doing here – you have more to add later. Besides, the sound will be completely different. Be aware that Youtube also compresses the dynamics, so in the room I played with even more contrast between loud and quiet notes than you are hearing here. Similarly, something like the original Sultans of Swing is played with a huge dynamics range (which is later reduced technically for some other reasons) and this causes a huge sound difference compared with playing with a small dynmaics range. I guess I might come back to this topic with a dedicated future blog article.
"Buy me a beer" - donate for the site via PayPal. Or buy a backing track in my online shop :)
Related articles
Today I was on the Fender website and accidentally found a nice little tool there: the online guitar tuner.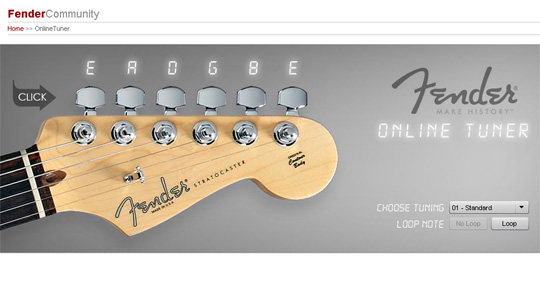 When you click on one of the six tuners of the peghead, the software will play a sample of the corresponding note, played with a clean Fender sound.
There are some very useful options: loop on or off (the note will be played again and again in loop mode), and you can select the tuning – standard or all different kinds of open or special tunings. You can even create your own tuning.
The only thing that is missing is the option to fine tune to another root pitch than 440Hz – but to be honest, not something many of us really need.
I like the idea to tune the guitar using your ears instead of a tuner device – helps to keep your ears fit

"Buy me a beer" - donate for the site via PayPal. Or buy a backing track in my online shop :)
Related articles
Older Posts »