Have you ever wondered why Mark Knopfler's Gibson Les Pauls (he has a '58, a '59, and some replicas of late 50ies models) differ so much in their colour? And what is the colour called, simply sunburst, or is it cherry sunburst, or tobacco sunburst? Have you ever heard the term 'unburst'?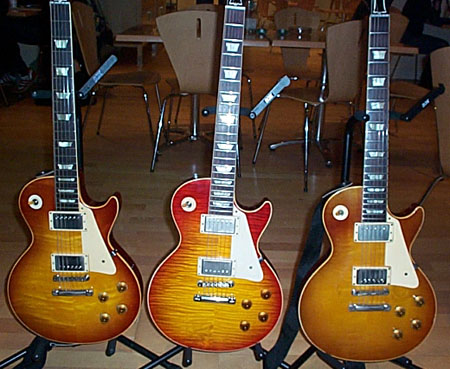 The answer is simple: all those Les Paul Standards from that era (they were only built in this version from '58 to '60) were cherry sunburst, a sunburst which goes from red on the outer area to yellow in the center. However, the red paint Gibson used in those days was very sensitive to light exposure (especially UV radiation) and easily faded. This is a general problem of red, but it depends of the kind of laquer to which extend this might happen. Modern laquer is almost stable in this respect, but the laquer on the early Les Pauls has proven to be extremely sensitive, much more than the one of Fenders from that time.
While there are old Les Pauls Standards that look like new – which means a bright red -, there are others which have lost all the red and seem to be completely yellow. These got the nickname 'unburst' – Peter Green's Les Paul from the Fleetwood Mac days (later this guitar belong to Gary Moore who meanwhile sold it) is maybe the most famous example of these.