Mark Knopfler owns two beautiful vintage Gibson acoustic guitars which he seems to play a lot on his studio albums these days. One is a 1953 Gibson Southerner Jumbo, the other a 1938 Gibson Advanced Jumbo which I would like to feature in this article.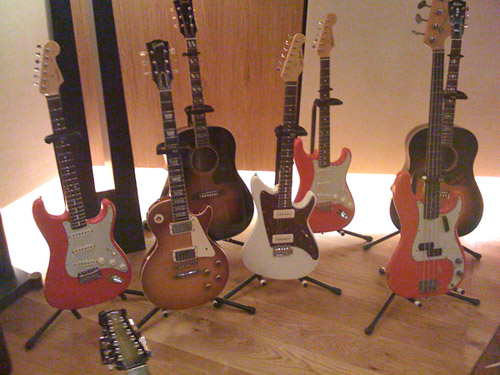 Both have a sunburst finish and thus look a bit similar at first glance. Besides the different body shape, the different fingerboard inlays tell you the model when you see Knopfler playing one of these on any pictures or videos. While the 1953 has double parallelogram pearl fingerboard inlays, the 1938 has the so-called diamond and arrowhead inlays.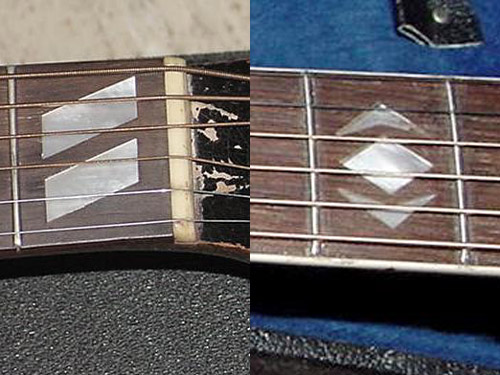 The Advanced Jumbo was only produced this way from 1935 to 1940 (but was reintroduced in 1990) , and only about 300 of these were made. It was the top of Gibson's acoustic guitar line back then. The neck has a slimmer shape than on some other Gibson models. Maybe for this reason Knopfler prefers it for playing licks and different stuff on it, and possibly rather uses the 1953 for strumming.
The back and sides are of rosewood, while the neck is mahogany. The Advanced Jumbo was only available in sunburst, note that guitars from before 1938 had less yellow than the 1938 on the following pictures (courtesy provide.net/~cfh/).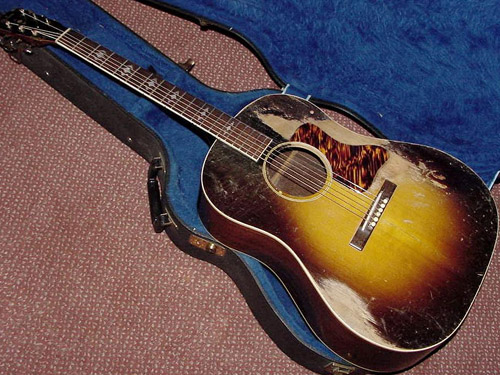 If you want to learn more about all special features and specs of this guitar, I recommend this great site.
I played a few old Gibsons but not an Advanced Jumbo, but all I played sounded great, sometimes even "too good to be true" (like an 1958 LG-1, which I could not afford at a price of about 1,400 € in the early 90ies, wish I had sold whatever back then and would own the best acoustic I heard now). So I can imagine that Knopfler's Advanced Jumbo is a great sounding guitar, something way beyond the stuff we normal mortals come along.
You can watch and hear Knopfler playing it on this BBC video:
Or watch this guy on youtube playing another 1938 AJ:
I am still dreaming of buying one of these on the next flea market for a few bucks (dream on, Ingo…)