The song You can't beat the House of Mark Knopfler's latest album Get Lucky is a traditional sounding blues song, reminding of some Chicago blues. However, something in its chord scheme sounds somewhat surprising and fresh, so I had a closer look at the chords and the structure of the song.
You can't beat the house is based on a standard 12-bars blues scheme. Of course there is not only one blues scheme, but many common variations. If you try to break it down to the very basics, the following 12-bar scheme seems to be the purest blues scheme (here in the key of C major):

Compared with this, the first verse of You can't beat the house runs over the following scheme: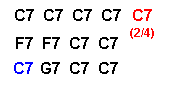 Everything is quite normal up to bar 5, where an additional 2/4 bar (red) is inserted before the change to the subdominant (IV) chord, the F7. This chord goes together with the line of the lyrics which says  "you can't beat the house". It is totally unexpected and thus has a surprising effect. Generally, inserting 2/4 bars into a 4/4 song is one of THE typical elements of Mark Knopfler's songwriting, a topic to be covered with a future blog article.
The second change to the original scheme affects the 9th bar of the original scheme: the first G7 (change to the dominant chord) is substituted with a C7 (blue colour) here.
The second verse and the last verses are almost identical to the first with one exception, the 9th bar is left out: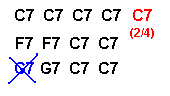 As you see, we don't have a 12-bar scheme anymore but a 12.5-bar scheme in the first and an 11.5-bar scheme.
The solos are over the standard blues scheme as in the first figure. Just to make it complete, the bridge (from 2:00 to 2:18) is just over a C chord.