I recently had three different 4 x 12″ cabinets here to play around with. They all were different, and they all had different speakers. In the video below I am playing various licks and chords over the three cabinets, it might be helpful to find out for yourself what you like most. But first, the candidates are:
Electro Voice EV 12
On the left you can see a birch cabinet made by House of Speakers, which we got on ebay for just 60 € (without speakers of course). It is equipped now with four Electro Voice EV 12L, the same that Mark Knopfler has in his two red Marshall cabinets. The EV 12L is not available anymore, but you normally can easily get one on ebay. It really is a workhorse that was found not only in countless guitar amps but also in PAs or stage monitors. Each of these speakers can handle 200 watts (!), the only drawback: it is very heavy. A cabinet with four of these is like a bank safe!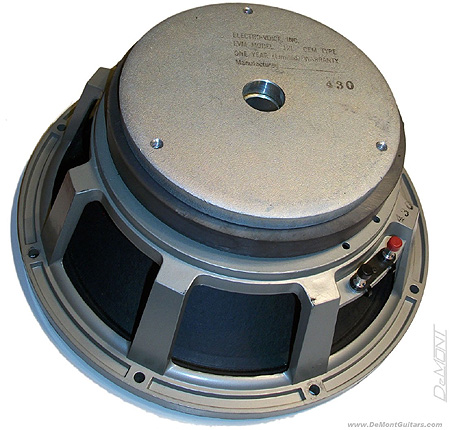 Celestion Vintage 30
These are in a Fame cabinet. They are very common because they are not too expensive, loud, and can handle enough power (60 or 70 watts). They are probably one of the most frequently used guitar speakers these days, although they have not that much to do with any vintage Celestion speakers (and do not even have 30 watts as the name suggests).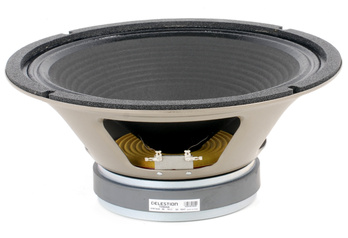 Celestion G12M "Greenback"
These are the current version of the legendary 25 watts Celestion speaker, as used in most cabinets from the late 60ies or early 70ies. Mark Knopfler uses these, too, he got some nice vintage Marshall cabinets in his studio. Brothers in Arms was a song recorded over these speakers for example.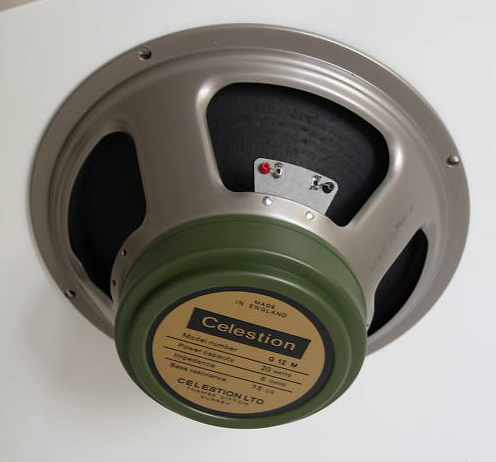 The video
My verdict
I must say I like all of these. They all are different and each has some particular advantages over the others. The Vintage 30 always sounds transparent because of his strong high end, and it is also rather loud which is nice to save power (just 3 dB more volume of a speaker would require two times the power of the amp!). Having much treble always sounds nice in a shoot-out but  I think you need to be careful a bit because the treble can be too much in some situations.That Fame cabinet was returned by the way because it was not – as advertised – made of plywood (like the Marshall cabs) but of particle board. Nevertheless it is really good value for the money (a bit more than 400 € with speakers).
The Greenbacks have a very sweet sound, they never sound harsh, even if you dial up treble on the amp. On the other hand, they can appear slightly muddy compared to speakers like the Vintage 30. They also have a very deep and warm bass, and creamy mids.
The EV 12L finally seems to be a good allround speaker to me, the best of the different worlds. It has clear treble end, enough mids, and not too strong in the bass.  It might not win every shoot-out with the world's sweetest sound, but it still makes a good figure in most situations. It is loud and can handle more power than any other speaker. Maybe Mark decided for these as the workhorses in his stage cabinets for the same reasons. If only they were not that heavy…
Your opinion?
Tell us in this poll:

Loading ...