I recently had a problem with a Music Man HD130 amp (the one Mark Knopfler used in the early days of Dire Straits). One speaker was creating a scratchy, distorted sound, surprisingly only at very low volume while it was fine at medium or high volume. I managed to cure it with an easy trick, nothing too special or secret but nevertheless something I want to share in case someone runs into similar problems with his amp.
When I removed the speaker to have a closer look at what might be wrong with it, I immediately noticed that infamous scratchiness when moving the cone carefull with two fingers. It was worse when pushing more on particular places while it disappeared when doing so at some other spots. I quickly came to the suspect that the problem came from "standing" upright for decades (it was a 1976 amp with original speakers). The voice coil is not really a heavy part but still it has some small weight, and after years this weight can deform the cone slightly so that the voice coil scratches on one side. For the same reason you should always store speakers horizontally but who stores a combo amp or a speaker cabinet this way?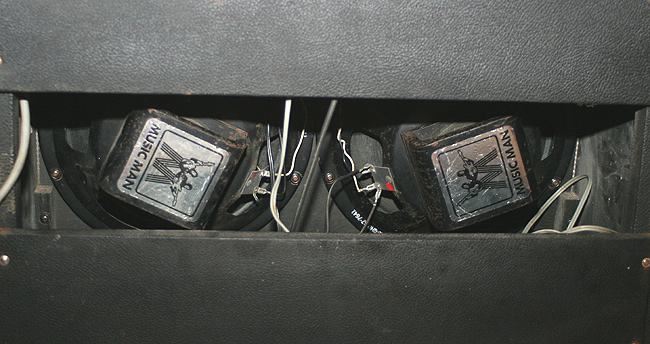 The solution was very easy and inexpensive, even without any costs at all: all I had to do was turning the speaker for 180 degrees, so that what pointed to the top became the bottom end. I did the same with the second speaker, not only to prevent similar problems with it in the future but also to make the connectors of both speakers look to the middle between the speakers again, which means I also swapped the left and the right speakers. Hopefully it will work fine for the next 41 years now 🙂
Of course this easy fix does not always work, if the cone or the voice coil is damaged only a recone job will help. But before doing so you should give it a try.