There will be some new products in the online shop soon, or already are.
**Guitar Effect: Sex Drive by Durham Electronics
The effect you could see in the Guitar Stories documentary when Mark demonstrates his Les Paul in his British Grove studio. Already available in the online shop.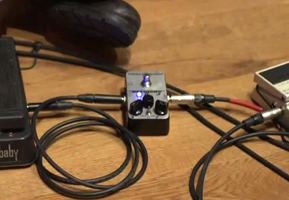 **Guitar Sound: The Dream Machine Tremolo by mk-guitar.com
A tremolo system of finest solid bell brass, made in Germany by ABM Guitar Parts exclusively for mk-guitar.com, just like the tremolo bridges on the vintage Schecter Dream Machines, available in gold-plated brass like on Mark Knopfler's sunburst Schecter Strat, or with chrome finish like on his metallic red Schecter. Available very soon (about mid December).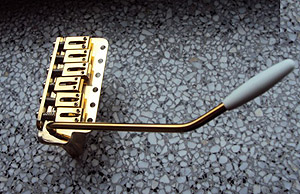 **Hardware: Telecaster Metal Pickguards
Telecaster pickguards from white enamel aluminium or brass, like on Mark's red Schecter Walk of Life Tele, available in Schecter style (5 screws plus screws for the neck pickup) or Fender style (8 screws, no screws for neck pickup), available about December/January.
**Pickups: Tapped Telecaster Dream Machine Pickups
Tapped Telecaster pickups like in Mark's red Walk of Life Schecter Telecaster, made by Haeussel Pickups in Germany to our specifications, available in January 2013.