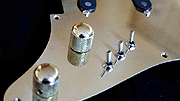 Blog Post Categories

Pages
Recent Forum Posts
Recent Comments
Archives
Links
Meta
Latest updates and news
Tweets by @mk_guitar_com
Tag cloud
Tags
Top Comment Authors
Ingo (421)
Jean-François (166)
Jeff - Anthony (36)
Erik (33)
Fletch (29)
J.Francois (29)
Dermot O'Reilly (28)
Arthur Luz (23)
TheWizzard29 (22)
zach (22)
John (20)
Knopfleberg (20)
Philipp (19)
Eduard (18)
Morten (17)
danny (14)
Jim (14)
thomas (13)
Alex Mircica (12)
Lapelcelery (12)
Chris (11)
Ryan T. (11)
David (10)
liftedcj7on44s (10)
dave (9)
The b5 notes means the flattened fifth note of any scale. If we have e.g. a  C-major scale (c – d -e -f -g – a – b – c ), the fifth note is the g , and if this note is flattened, we get the gb. The same logic works with any major or minor (or other) scale.
The following video demonstrates the usage and the position of this note. You will find Mark Knopfler licks from Sultans of Swing (Alchemy version), Calling Elvis, In the Gallery, Down to the Waterline, and many more.
I did not tab these licks here, but I think you will not have problems to see how they are played. Remember, it is not important to play something authentically but rather to understand the idea behind what is being played. Only this way you will be able to transfer the licks into your own repertoire, and to use them for your own music.
The video is in high quality here. If you have bandwidth problems, click here to go to youtube and watch it at standard quality. Enjoy.
"Buy me a beer" - donate for the site via PayPal. Or buy a backing track in my online shop :)
Related articles
Posted in: Misc by Ingo on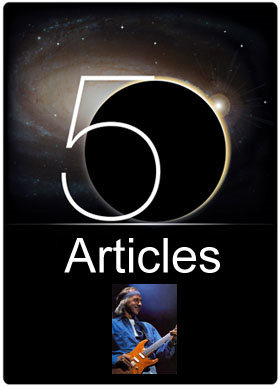 With this post I am proud to annouce the 50th article of this blog, which went online on August 10, 2008.  50 articles in 104 days means an average of 0.49 article per day, or 3.4 articles every week.
In these three months the blog built up a reputation among Mark Knopfler fans and guitar players, and the number of daily visitors is still steadily rising.
Thanks to every visitor and to all who expressed how much they like this blog. Also thanks to all who commented here, and this way helped to make the blog really interactive.
I really enjoy writing about what I am interested in myself, so be sure that there will be many more articles in the future.
"Buy me a beer" - donate for the site via PayPal. Or buy a backing track in my online shop :)
Related articles
In 1982 Dire Straits recorded their Love over Gold album in New York. According to Knopfler himself, he spent some time before with learning new chords and licks from a book by Mickey Baker. This circumstance, and the collaboration with Jazz musicians of the New York jazz scene – like Mike Mainierei, Michael & Randy Brecker or Tony Levin – seem to be the reason why sudenly more jazz elements appeared in his playing.
A short time later Knopfler recorded the Local Hero soundtrack, again some of these musicians appeared on tracks like Smooching. In 1984 the soundtrack for Comfort & Joy was released. The licks in the following video are from this 3-track soundtrack – from the track Joy (orginally released on a maxi vinyl single). They illustrate Knopfler's jazzy approach -typical elements are chromatic notes, e.g. using the b5 note of the scale, or the swing rhythm.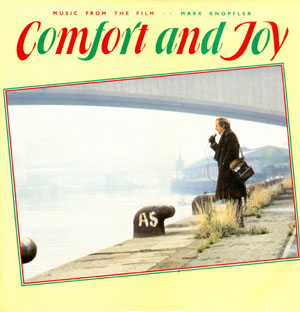 I have not heard the soundtrack for years I must admit, and generally I do not care too much about playing 100% authentically, I rather try to catch the feel and play it the way it sounds good to me, so forgive me if some details are not accurate. Nevertheless the video should give you some insight of what is going on.
Video in high quality: (in case of bandwidth problems, click here to go directly to youtube and watch it at normal quality)
If you don't know this rather rare soundtrack, you can hear the intro of the song Joy here:
Audio clip: Adobe Flash Player (version 9 or above) is required to play this audio clip. Download the latest version here. You also need to have JavaScript enabled in your browser.
"Buy me a beer" - donate for the site via PayPal. Or buy a backing track in my online shop :)
Related articles
Posted in: Misc by Ingo on November 28, 2008
Today I surfed into some early Dire Straits photos I have never seen before on flickr.com. These belong to – guess who – Dire Straits' bass player John Illsley. He has his own photo channel there. Check out!
Update: I meanwhile also found a comment from John about these pictures on his great looking site at johnillsely.com:
Dire Staits in 1978
————————————-
Thanks to Henk for sending me photos from 1978 of the Straits in Greenwich, London, standing in the mud after the tide had gone out. You can look at them on our Flickr page.
We were rehearsing at The Wood Wharf Studios for a UK tour at the time, which was a short walk from the flat that me, Mark and David used to share in Deptford. As you can see, food was pretty scarce in those days!
If I remember rightly, some of these pictures ended up in Time Out.
"Buy me a beer" - donate for the site via PayPal. Or buy a backing track in my online shop :)
Related articles
Have you ever wondered why Mark Knopfler's Gibson Les Pauls (he has a '58, a '59, and some replicas of late 50ies models) differ so much in their colour? And what is the colour called, simply sunburst, or is it cherry sunburst, or tobacco sunburst? Have you ever heard the term 'unburst'?
The answer is simple: all those Les Paul Standards from that era (they were only built in this version from '58 to '60) were cherry sunburst, a sunburst which goes from red on the outer area to yellow in the center. However, the red paint Gibson used in those days was very sensitive to light exposure (especially UV radiation) and easily faded. This is a general problem of red, but it depends of the kind of laquer to which extend this might happen. Modern laquer is almost stable in this respect, but the laquer on the early Les Pauls has proven to be extremely sensitive, much more than the one of Fenders from that time.
While there are old Les Pauls Standards that look like new – which means a bright red -, there are others which have lost all the red and seem to be completely yellow. These got the nickname 'unburst' – Peter Green's Les Paul from the Fleetwood Mac days (later this guitar belong to Gary Moore who meanwhile sold it) is maybe the most famous example of these.
"Buy me a beer" - donate for the site via PayPal. Or buy a backing track in my online shop :)
Related articles
Older Posts »