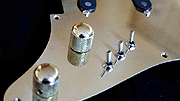 Blog Post Categories

Pages
Recent Forum Posts
Recent Comments
Archives
Links
Meta
Latest updates and news
Tweets by @mk_guitar_com
Tag cloud
Tags
Top Comment Authors
Ingo (421)
Jean-François (166)
Jeff - Anthony (36)
Erik (33)
Fletch (29)
J.Francois (29)
Dermot O'Reilly (28)
Arthur Luz (23)
TheWizzard29 (22)
zach (22)
John (20)
Knopfleberg (20)
Philipp (19)
Eduard (18)
Morten (17)
danny (14)
Jim (14)
thomas (13)
Alex Mircica (12)
Lapelcelery (12)
Chris (11)
Ryan T. (11)
David (10)
liftedcj7on44s (10)
dave (9)
In the videos below we were comparing two Mark Knopfler Signature Strats to a 1964 Fender Stratocaster, also in red (fiesta). Talking about red, note that one of the signature Strats is in the 'wrong' colour the very first ones came with, while the other one is the normal hot rod red. It is always interesting to hear how different three Strats will sound, even Strats of exactly the same model with the same specs. We feel the hot rod red Strat sounds warmer and fatter while the darker one has a nice transparent sound, a bit crisper but also warm. The '64 Strat does not have an ash body like the signatures, but one of alder (like Mark Knopfler's 1961 Strat), and the fingerboard is not the slab board (that was produced between 1959 and 1962) but the thinner veneer board. This particular guitar has a bell-like transparent sound with a typical slygthly nasal midrange. All in all, three great guitars which all sound different but all great.
All guitars had 10er strings and were played over a Music Man amp, no effects.
Here is a poll in which you can let others know which one you personally like best.

Loading ...
"Buy me a beer" - donate for the site via PayPal. Or buy a backing track in my online shop :)
Related articles
Today I was on the Fender website and accidentally found a nice little tool there: the online guitar tuner.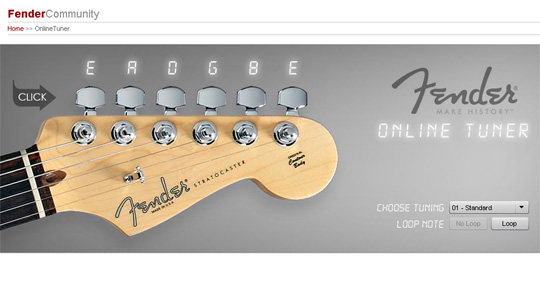 When you click on one of the six tuners of the peghead, the software will play a sample of the corresponding note, played with a clean Fender sound.
There are some very useful options: loop on or off (the note will be played again and again in loop mode), and you can select the tuning – standard or all different kinds of open or special tunings. You can even create your own tuning.
The only thing that is missing is the option to fine tune to another root pitch than 440Hz – but to be honest, not something many of us really need.
I like the idea to tune the guitar using your ears instead of a tuner device – helps to keep your ears fit

"Buy me a beer" - donate for the site via PayPal. Or buy a backing track in my online shop :)
Related articles
I often read threads in forums about how to check if a certain part on a Fender vintage guitar is original or not. Of course there are countless books and websites which show many details that help to do so. However, there is one particular detail which is only rarely mentioned: the 'dowel holes' on those old Fender bodies (I am not talking about 'nail holes' here!)
Dowel holes
If I understand it right, Fender used some clamps to hold the wood plank when sawing out the body. These clamps left two holes in the body which were filled with wooden dowels. These dowel holes are at exactly the same location on all old Stratocaster bodies – in fact all other models seem to have them as well, however, at completely different places than the Strat.
So if you happen to see an old stripped Fender body, you can easily spot these. New Fender and all the reissue bodies don't have them. Thus this seems to be a reliable detail to tell an old body from a fake.
Unfortunately, you normally can't see them on a painted body, at least not easily. However, if you know exactly where they are and observe carefully the way the body reflects light at these places, you might see them through the finish. This is because old nitro finish is often really thin and the dowel holes leave a tiny inaccuracy in the body surface. And of course there are all those Stevie Ray Vaughn or Rory Gallagher-like looking battered Strats which are partly bare of any finish and allow to see those dowel holes directly.
I am not sure in which year these disappappeared, I guess somewhere in the 70ies, when Fender switched to a different method of cutting out the bodies.
Theoretically  it is possible to fake these holes, too, but I think this is rarely done – yet …
"Buy me a beer" - donate for the site via PayPal. Or buy a backing track in my online shop :)
Related articles
Mark Knopfler's "Sultans" Strat (ser.-no. #68354) is from 1961. The second red Fender Strat he played with Dire Straits (ser.no #80470) was from about the same period (apart from the question in how far it was original Fender at all). For this reason I put together a table to give you a survey about the distinctive features that are different on a 1961 Strat compared  with earlier or later Strats.
1961 Strat
before
later
Body wood
alder (ash for models in blonde)
light ash (swamp ash) until 1956
heavy ash in the 70ies
Fingerboard
slab board made of Brazilian rosewood
one-piece maple nack until 1959
curved rosewood venue from mid 1962 on, optional maple board in the late 60ies, one-piece maply neck available in the 70ies again
Pick-ups
staggered pole-pieces, formvar wire insulation, magnetic northpole on top
magnetic southpole on top in the early 50ies
enamel wire insulation from about mid 1964 on, flush polepieces from 1974 on
Pickguard
three layers (white/black/white) pickguard of celluloid, fixed with 11 screws, screw #3 between middle and neck pick-up
one layer plastic pickguard (or bakelite before 1957) until 1959, fixed with 8 screws (a few models with three layers and 8 screws in 1959)
screw #3 moved to middle pick-up in 1963, three layers plastic pickguard from 1965 on
Bridge
6 individual bridge saddles made of bent steel, separate steel tremolo block,
same
no separated tremolo block from 19xx on, diecasted bridge saddles,
Laquer
thin nitro laquer, standard was three tone sunburst (yellow/red/black), many custom colours available
thin nitro laquer, standard was two tone sunburst (yellow/black) until 1958, only a few (and rare) custom colours available
glossy polyesther finish from 1968 on
Tuners
made by Kluson, stamped with one line with "Kluson deluxe"
same
stamped with two lines with "Kluson deluxe" from 1964 on, made by Schaller from 1968 on
Pick-up switch
3-way
3-way
5-way from 1977 on
Body contours
deeply contoured
- individual differences due to hand work
deeply contoured
- individual differences due to hand work
becoming less contoured from the mid 60ies on
Stratocaster decal
gold "spaghetti logo" with two patent numbers
gold "spaghetti logo",
no patent numbers until 1960,
In late 1964 Fender changed to the fatter gold transitional logo,black logo from 1968 on
three patent number 1963-1964, later 4 numbers
Peghead size
small
small
big head from 1966 on
String holders
one butterfly string holder
one round holder until 1956
two string holders from 1974 on
Number plate / neck fixation
4 screw number plate with stamped serial number
same (1954 models sometimes with serial number on tremolo plate)
stamped with big F from 1966on, three hole number plate from 1972 on
Serial numbers
5 digits, ca. 50 – 80,000 range
lower numbers
higher, starting with the letter L from 1964 on, 6 digits from 1965 on
Detail pictures
"Buy me a beer" - donate for the site via PayPal. Or buy a backing track in my online shop :)
Related articles
*Note: As there was an issue with this guitar – the neck warp was too big to play properly with 08 strings – the guitar was returned. For this reason, I removed all names – of the builder and the client.
XY* – a reader of this blog and singer / guitar player in the band XY*- recently sent me an email about his latest guitar: a clone of the famous original maple-neck Fender Stratocaster (# 80470) that Mark Knopfler used in early Dire Straits. The guitar was hand-built by XY* of XY* guitars.  I found XY'*s website some months ago and was indeed fascinated by his art of copying vintage Fenders.
Here is XY*'s report:
"I was lucky enough to  have a number of genuine old Strat parts that I had scrounged over the years that I didn't really know what I'd ever do with; a '61 pickguard and shielding plate, pickup covers, knobs and switch tip, an early '63 neckplate and old saddles and bridgeplate as well as various screws. And a weird black knob that I can't even remember getting. It's bigger than a Fender so I've no idea what it is. It has nothing printed on it such as "TONE" or "VOLUME". So who knows?
These I augmented with a few pieces from a number of "relic" sites. I also sourced a "relic" wiring harness for an early '60s Strat. My original '61 pickguard was in a rather poor state so I've retired it and was lucky enough to find a genuine cellulose replacement. I also wasn't to keen to drill a hole through my '63 neckplate so that was replaced as well. To this, XY* added the fake 80470 serial number.
I guess I've always entertained the idea of putting a really good retro Strat together at some point but I've never really known who to turn to. I've used a number of customised guitars over the years. Some better than others. I never had access to the fabulous guitars I saw in magazines but I'm a child of the post-Schecter tradition where guitar kits ruled and proved that the name on the headstock is just a way to throw money away. It's ironic how those guitars are now so expensive themselves. The standard of what is out there these days is extraordinary: Musikraft make wonderful necks. The bodies from Warmoth are superbly machined and the likes of  XY* have shown that the accountants that run the huge "name" companies haven't a clue about what goes into making quality instruments. Sims Custom guitars is very close to whereI live and Martin Sims, the owner, tells some wonderful horror stories of what he's had to repair. He also recently received a number of old Schecter parts from a luthier who died recently and he let me have a look at them. Honestly, the workmanship and woods make the more recent Fender stuff look ridiculous. It's sad but devolution is well on its way…

The reflected blue sky has mixed with the red to make it pink! As you've seen from the other pictures it is actually bright red.  As a rule, XY* never fits decals but for this project he kindly threw one in for me. Being the meticulous craftsman that he is, (yup, you guessed it) it's a '61 decal to go with the serial number.
The real cellulose pickguard is a lovely touch! I have chosen to go with hand-wound BK "Apache" pickups in the bridge and middle position as they sounded the best out of the choices I had tried and they work a treat. The DiMarzio FS-1 is in the front.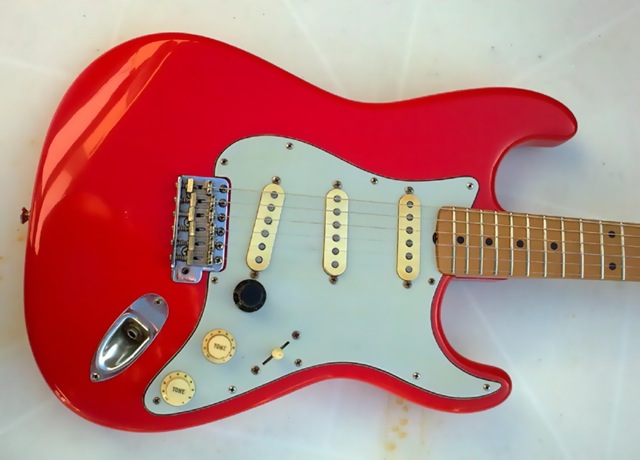 We decided not to "relic" the finish too much as the guitar had been recently been refinished back then but I look forward to letting it get a few miles on the tyres!
XY* added some lovely little touches: putting the "correct"  80470 serial number on the neckplate, flattening out the neck radius of the slab fingerboard (about 12″ so I don't think it's quite as flat as the original appears to be…) for those exaggerated bends and he did a fantastic job on the custom hot red nitro finish. He even gave the neck a "refinished" look; leaving the maple wood at the back of the neck a bit stained and used under the nitro finish as would be the case.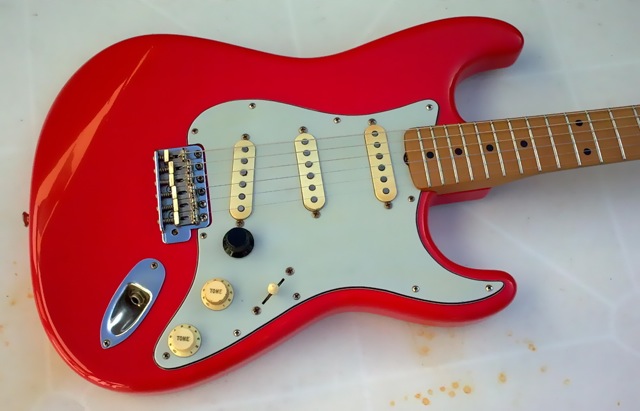 There are a couple of personal touches in that the frets are a bit bigger (medium jumbo) and I've used a brass block instead of steel.
I've also gone for the very light strings; 8's. XY* was a bit concerned about this, especially after the 11's he favours, but I explained how, although lighter than what I'd normally use, it does seem to work for the early DS stuff and it certainly encourages a far lighter touch. He went on to admit that he got used to the light strings and was amazed at the tone that he's able to get from the guitar.
I had no idea where this little project would lead me but it has been a wonderful, wonderful journey. Not the least of it being a rummage around the playing of Mr Knopfler. Your fine site has been invaluable in providing all sorts of information. I thank you… "
*Note: As there was an issue with this guitar – the neck warp was too big to play properly with 08 strings – the guitar was returned. For this reason, I removed all names – of the builder and the client.
"Buy me a beer" - donate for the site via PayPal. Or buy a backing track in my online shop :)
Related articles
Older Posts »