*Note: As there was an issue with this guitar – the neck warp was too big to play properly with 08 strings – the guitar was returned. For this reason, I removed all names – of the builder and the client.
XY* – a reader of this blog and singer / guitar player in the band XY*- recently sent me an email about his latest guitar: a clone of the famous original maple-neck Fender Stratocaster (# 80470) that Mark Knopfler used in early Dire Straits. The guitar was hand-built by XY* of XY* guitars.  I found XY'*s website some months ago and was indeed fascinated by his art of copying vintage Fenders.
Here is XY*'s report:
"I was lucky enough to  have a number of genuine old Strat parts that I had scrounged over the years that I didn't really know what I'd ever do with; a '61 pickguard and shielding plate, pickup covers, knobs and switch tip, an early '63 neckplate and old saddles and bridgeplate as well as various screws. And a weird black knob that I can't even remember getting. It's bigger than a Fender so I've no idea what it is. It has nothing printed on it such as "TONE" or "VOLUME". So who knows?
These I augmented with a few pieces from a number of "relic" sites. I also sourced a "relic" wiring harness for an early '60s Strat. My original '61 pickguard was in a rather poor state so I've retired it and was lucky enough to find a genuine cellulose replacement. I also wasn't to keen to drill a hole through my '63 neckplate so that was replaced as well. To this, XY* added the fake 80470 serial number.
I guess I've always entertained the idea of putting a really good retro Strat together at some point but I've never really known who to turn to. I've used a number of customised guitars over the years. Some better than others. I never had access to the fabulous guitars I saw in magazines but I'm a child of the post-Schecter tradition where guitar kits ruled and proved that the name on the headstock is just a way to throw money away. It's ironic how those guitars are now so expensive themselves. The standard of what is out there these days is extraordinary: Musikraft make wonderful necks. The bodies from Warmoth are superbly machined and the likes of  XY* have shown that the accountants that run the huge "name" companies haven't a clue about what goes into making quality instruments. Sims Custom guitars is very close to whereI live and Martin Sims, the owner, tells some wonderful horror stories of what he's had to repair. He also recently received a number of old Schecter parts from a luthier who died recently and he let me have a look at them. Honestly, the workmanship and woods make the more recent Fender stuff look ridiculous. It's sad but devolution is well on its way…

The reflected blue sky has mixed with the red to make it pink! As you've seen from the other pictures it is actually bright red.  As a rule, XY* never fits decals but for this project he kindly threw one in for me. Being the meticulous craftsman that he is, (yup, you guessed it) it's a '61 decal to go with the serial number.
The real cellulose pickguard is a lovely touch! I have chosen to go with hand-wound BK "Apache" pickups in the bridge and middle position as they sounded the best out of the choices I had tried and they work a treat. The DiMarzio FS-1 is in the front.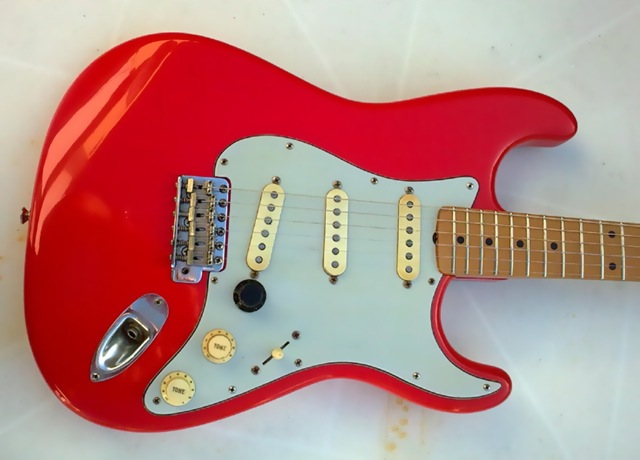 We decided not to "relic" the finish too much as the guitar had been recently been refinished back then but I look forward to letting it get a few miles on the tyres!
XY* added some lovely little touches: putting the "correct"  80470 serial number on the neckplate, flattening out the neck radius of the slab fingerboard (about 12″ so I don't think it's quite as flat as the original appears to be…) for those exaggerated bends and he did a fantastic job on the custom hot red nitro finish. He even gave the neck a "refinished" look; leaving the maple wood at the back of the neck a bit stained and used under the nitro finish as would be the case.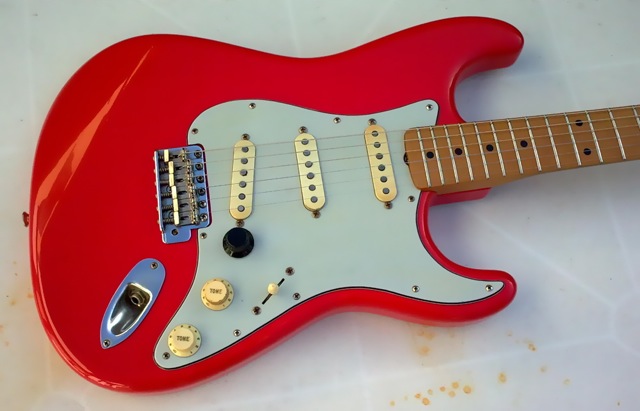 There are a couple of personal touches in that the frets are a bit bigger (medium jumbo) and I've used a brass block instead of steel.
I've also gone for the very light strings; 8's. XY* was a bit concerned about this, especially after the 11's he favours, but I explained how, although lighter than what I'd normally use, it does seem to work for the early DS stuff and it certainly encourages a far lighter touch. He went on to admit that he got used to the light strings and was amazed at the tone that he's able to get from the guitar.
I had no idea where this little project would lead me but it has been a wonderful, wonderful journey. Not the least of it being a rummage around the playing of Mr Knopfler. Your fine site has been invaluable in providing all sorts of information. I thank you… "
*Note: As there was an issue with this guitar – the neck warp was too big to play properly with 08 strings – the guitar was returned. For this reason, I removed all names – of the builder and the client.