I often read threads in forums about how to check if a certain part on a Fender vintage guitar is original or not. Of course there are countless books and websites which show many details that help to do so. However, there is one particular detail which is only rarely mentioned: the 'dowel holes' on those old Fender bodies (I am not talking about 'nail holes' here!)
Dowel holes
If I understand it right, Fender used some clamps to hold the wood plank when sawing out the body. These clamps left two holes in the body which were filled with wooden dowels. These dowel holes are at exactly the same location on all old Stratocaster bodies – in fact all other models seem to have them as well, however, at completely different places than the Strat.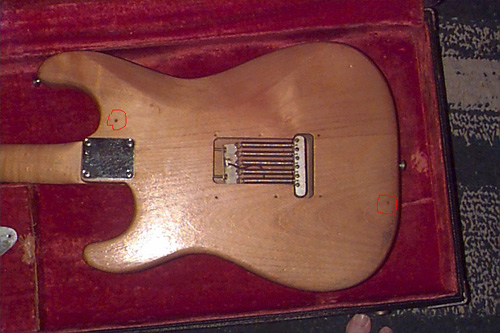 So if you happen to see an old stripped Fender body, you can easily spot these. New Fender and all the reissue bodies don't have them. Thus this seems to be a reliable detail to tell an old body from a fake.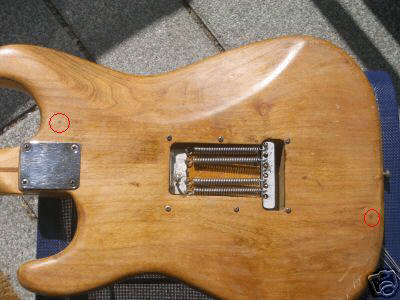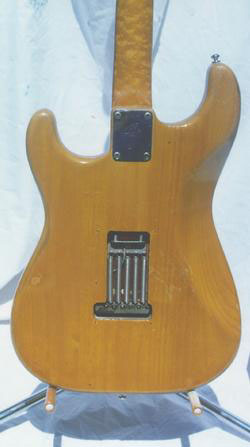 Unfortunately, you normally can't see them on a painted body, at least not easily. However, if you know exactly where they are and observe carefully the way the body reflects light at these places, you might see them through the finish. This is because old nitro finish is often really thin and the dowel holes leave a tiny inaccuracy in the body surface. And of course there are all those Stevie Ray Vaughn or Rory Gallagher-like looking battered Strats which are partly bare of any finish and allow to see those dowel holes directly.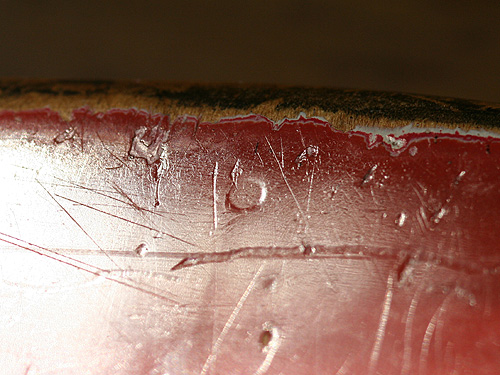 I am not sure in which year these disappappeared, I guess somewhere in the 70ies, when Fender switched to a different method of cutting out the bodies.
Theoretically  it is possible to fake these holes, too, but I think this is rarely done – yet …